Last week I pointed out how Kieron Gillen in Journey Into Mystery was able to summarise the entire issue of Fear Itself, poetically, into a couple of pages.
This week, Brian Bendis takes the whole issue of Avengers to cover whan happened in about half of Fear Itself #2 and one page of Journey Into Mystery.
Seriously, it ends on a cliffhanger that was resolved two thirds of the way through Fear Itself #2. Now some of you are really going to rankle over that.
Because what Brian Bendis is writing here, with some able facial acting from Chris Bachalo, is an issue of talking heads. There's a double page splash used to juxtapose extreme action against the 12 panels-per-page chat, flicking from participant to participant being interviewed for the prose history of the Avengers that's been running in the back of the Avengers comics for the last few months. Here is where that book becomes continuity (and they're publishing it as a collection as Avengers Assemble: An Oral History of The Avengers) Because this is character not seen through action, at least not super action, but mini-monologues and dialogues cut together, juxtaposed to show a group of people in costume, with different needs, motivations, attitudes, desires, all knitted together to create a a very attractive tea cosy., It's just that some people really really don't like tea cosies and insist that this comic book is meant to be a coffee shop.
And much of this book reads less like The Avengers and more like Strangers In Paradise. If you like that kind of thing, you;re really going to love this book. If you don't you are going to hate this book more than any other and what's more, feel tricked by the classical cover of Thor by Alan Davis.
Expect division over this one.
There are also a couple of flubs here, even for those like me who enjopy the book. Jarvis is drawn so off-model that when Noh-Varr appears the reader could easily mistake them for each other, which leads to some confusion and rereading before the author's intent was clear. Costumed characters should make this easier, not harder – but not in this case.
Booster Gold, tying into Flashpoint, is a lot simpler and more traditional. Totally set within the Flashpoint world, Dan Jurgens gives us an idea of what this means for the multiverse and some of the forces at play in this world, as Booster finds himself no longer just a man out oif time, but out of reality too. The exposition does get  little laboured and repetitive though. Mistaken as an Atlantean attacking the USA by the mere fact that he can fly,  Booster Gold is set upon by the nation's defenses. And we get told why he's attacked, what the armed forces believe Booster to be, we are shown the decision making process, but that after the attack we still get the below to hammer it home for the stupid.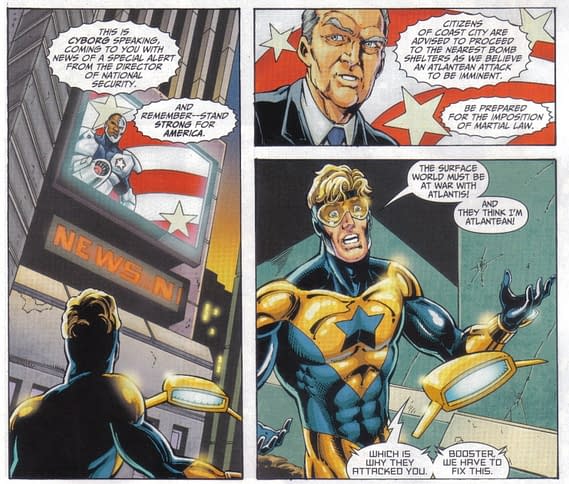 Yes! We know! You told us! And while the differences in this world are fascinating, with the sense of danger of a world at war innate and everpresent, reminiscent slightly of the Fringe alternate universe, and the mini-big bad at the end surprising with all sorts of implications, I really feel like I'm being talked down to in places.
So in Avengers we learn too little, in Booster Gold we get too much. Which do you prefer?
Comics courtesy of Orbital Comics in London. See their Paul Duffield exhibition right now.
Enjoyed this article? Share it!