Back in August, Frank Cho launched a contest to find an artist for his upcoming Image book 50 Girls 50 with Doug Murray. They did awfully well, and set successful applicants a number of tests.
Newsarama reports on the winner, Axel Medellin, with his winning submission.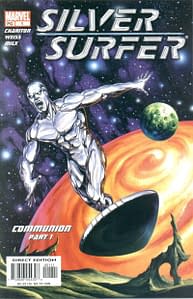 But there's a much more interesting story. One of the runner ups is a chap called MILX. Who, if it is the same guy, and all indications are that it is, has a very interesting backstory. A Malaysian artist, he broke into comics with work for Steve Niles for IDW and on Silver Surfer, with a beautiful painted style, then, vanished, swamped by the workload unable to carry on with any comics. There was quite a hunt for him at the time, as he didn't contact anyone to tell them he'd stopped work, and eventually sent a letter to Marvel asking them please not to sue him. A few years later he worked with Steve Niles again on 30 Days Of Night, but we haven't heard much of the fellow of late.
Well, now he's come second in a talent contest. A bit of a drop there.
Watch and learn, Tony Lee, watch and learn…
Enjoyed this article? Share it!