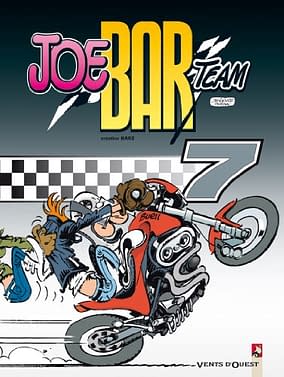 While the American comics market may be heading towards stagnation, the French comics market is holding its own. An estimated 1% fall year on year was made up of a heavy slump at the beginning of the year with a surge through the rest of it.
But they've been busy bees, with 5165 products in the graphic novel category published in 2010 as compared to 4863 in 2009, itself a 2.4% increase on the previous year. That's 7.9% of all books produced in France, and up from 7.5% in 2009. In social sciences, literature or fiction children's books, comics make up 14,1%, 13,7% and 13,1% respectively.
Of those 5165 copies, 980 were reissues or revised versions of previous published titles. 297 were art collection books of comic artists raher than stories in heir own right. 2094 were translations from foreign material, 177 were collections of previously published material that had never been collected. 77 were collections of short stories.
Leaving 1539 brand new graphic novels published in 2010, only 8 more than in 2009. But increased work all round helped to make up for the lack of a new Asterix or Titeuf book. More books were considered bestsellers than last year, with the new Joe Bar Team by Pat Perna and Jenfaivre hitting the number one spot with half a million sales. The next nine were;
Largo Winch de Jean Van Hamme et Philippe Francq (470.000)
Lucky Luke de Daniel Pennac, Tonino Benacquista et Achdé, d'après Morris (470.000 ex)
Blake et Mortimer de Jean Van Hamme et Antoine Aubin (450.000)
Le Chat de Philippe Geluck (300.000)
Le Petit Spirou de Tome et Janry (290.000)
Thorgal d'Yves Sente et Grzegorz Rosinski, d'après Jean Van Hamme (250.000)
Lanfeust Odyssey de Christophe Arleston et Didier Tarquin (250.000)
Blacksad de Juan Diaz Canales et Juanjo Guarnido (245.000)
Les Passagers du vent de François Bourgeon (220.000)
The Simpsons comics, translated, published seven volumes in 2010, netting a total sale of 800,000. Other translated work, such as the Twilight Manga, sold 250,000 and Naruto, with six volumes, took in 1,500,000 sales.
Publishers are preferring to print smaller print runs and reprint when necessary, as storage and returns costs have risen, which has led to fewer sales as shops are out iof stock more often.
9 of the 299 publishers put out 60% of the content.The largest group, Media Participations, composed of the likes of Dargaud, Dupuis, Lombard and more contributed over 30%, with Glenat making up 15% on its own and Editions Delcourt 10%.
Translated books are increasing, with 1477 books from East Asia and 359 books from the USA seeing publication in 2010.
There are approximately 1446 creators trying to make a living in the French market – but not all succeed. More and more creators are working on comics without it being their main source of income. Only 12% of creators, 176, are women, though that number is increasing. Of colourists, not counted in these numbers, over half are women.
There are thirteen main distributors of French comics, pushing product into bookstores. But festivals and comic fairs are increasingly providing publishers with direct sale to customer opportunities. There were 351 in France alone last year, with 9000 author invites attended. Angouleme in January had 215,000 attendees, dwarfing the likes of San Diego and New York Comic Con.
Comic strips, and serialised stories are finding more and more places to be published, 68 magazines are identified in the French market printing these.
And the internet is changing things… although France has not adopted the eReader as much as other countries, the adoption of digital renting of comics, and the industrial action by a number of comic creators has stirred things up nicely. But numbers seem as hard to come by as they are in the English speaking world…
Thanks to Arnaud Savry and Stéphanie Chaptal for help with translation.
Enjoyed this article? Share it!