Graham Crackers Comics is, as any regular Bleeding Cool reader will know, is an Illinois comic book store chain that recently jumped from eleven stores to twelve. And with C2E2 coming to Chicago next weekend, they have a very special welcome for convention-goers coming into the Windy City, on Thursday, March 21st.
Their newsletter says it all;
Come join us for our monthly theme night installment of Bondage A Go-Go. Held every 3rd Thursday of the month, Bondage A Go-Go is EXIT's longest running night featuring professional domination and live performances! This month we pay tribute to all our favorite comic book heroes and villains. Just in time for C2E2 come over, dry-run your cosplay outfit and take this extra opportunity to cut loose with fellow Chicago nerds, show off your creativity, and unleash what kind of Hero or Villain you truly are!

Come dance the night away, experience a taste of kink with a professional mistress, and enjoy side show performances from The Sinner's Sideshow throughout the night. Plus remember to dress to impress in your best Hero or Villain outfit, for a chance to win prizes and tickets giveaways to I Ya Toyah, Zwaremachine, Rasplyn, royb0t at Underground Lounge [4], March 29th. Provided by CK Promotions & Graham Crackers Comic Books Andersonville.

Graham Crackers Comic Books Andersonville will be at the event, bringing comic books and other pop culture goodies that you can purchase! So make sure to stop at their merch table, check out all their neat products and say hello to their awesome crew! Best Hero or Villain costume contest at 1AM!
Would you call that a pop-up store, Graham Crackers…? Here's the flyer…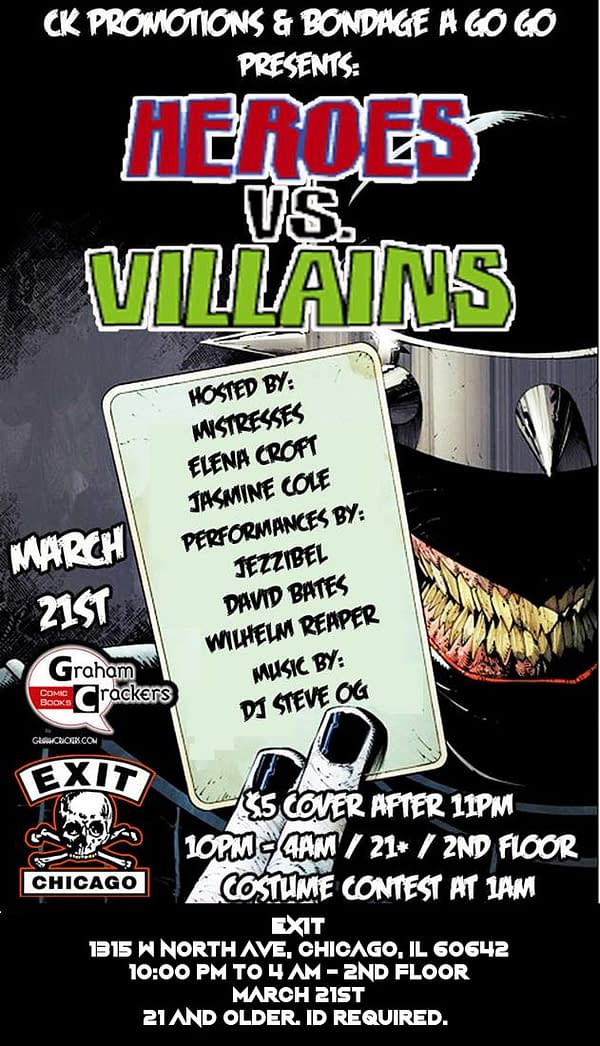 Enjoyed this article? Share it!