Improper Books Slay Storytelling Boundaries With Knight And Dragon
Alasdair Stuart writes for Bleeding Cool; Porcelain, the first Improper Books title still hasn't been beaten as my comic of the year. It's an amazing book, clever, horrid and beautiful and easily the most assured publisher debut I've seen in a long time. Now, Improper have announced the follow up, Knight and Dragon. Written by Matt Gibbs, with art by Bevis Musson and colors by Nathan Ashworth, it starts with a tired Knight riding into a small village. He's distracted by a beautiful maiden and, before he quite knows what he's agreeing to, has been drafted into slaying the local dragon in return for her hand in marriage. Terrified at what he has to do, the Knight sets off and…
the story diverges.
Designed for print and digital, Knight and Dragon contains multiple narrative paths and endings that change depending on what the reader chooses to read. Here's Matt with a little more detail;
'It began as an idea to create a comic that allowed changes in the sequence and resolution of its scenes, enabling different stories to be told…This lends itself seamlessly to digital comics, but in a similar fashion to gamebooks, a print version is just as possible with a bit of additional heavy lifting, or page turning, on the part of the reader.'
'It has also allowed Bevis and I to explore our mutual love of fairy tales, and I'm delighted that the branching script didn't put him off. I'm a big fan of his work, especially the excellent Dead Queen Detectives, and it has been brilliant seeing each page come to life in his style, which is being perfectly complimented by Nathan's colours.'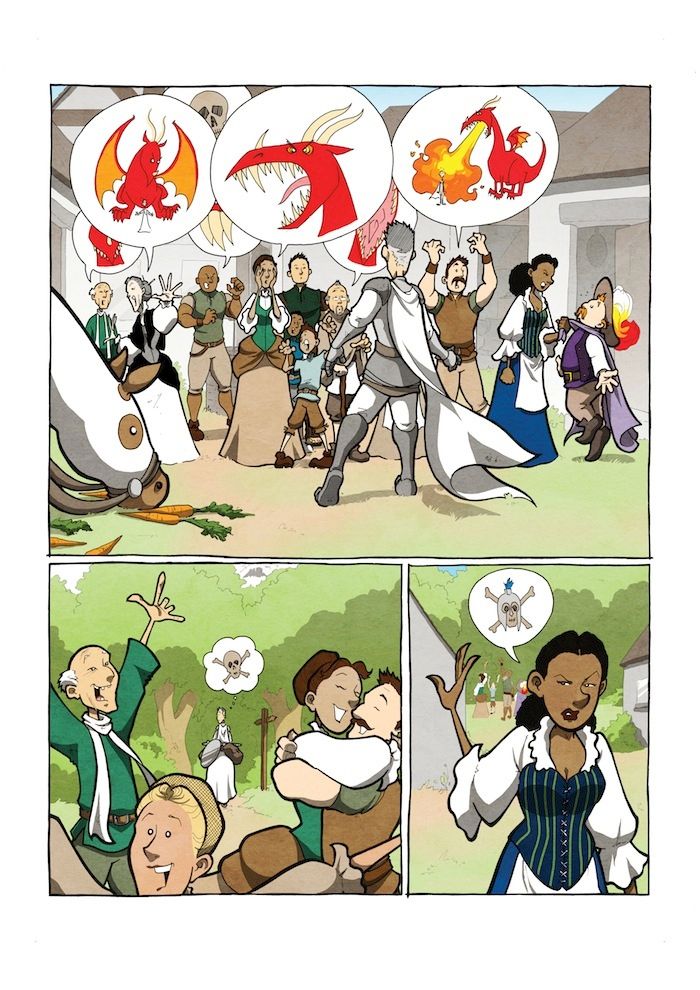 And here's Bevis;
'It's always a pleasure to take things you love and approach them in a new way, so with Knight & Dragon I get to combine my love of fairy tales and comics and do something that is both familiar and surprising…How could I not jump at the chance to draw a story with romance, drama, action, adventure and a whacking great dragon? In the end I even enjoyed drawing the horse, once I worked out he could wear a tablecloth.'
The book is due out later this year and I can't wait. Matt's a great writer, Bevis has been one of the shining lights of the UK indie circuit for years now and Nathan's exemplary colour work looks amazing. We'll bring you more details as soon as we have them.