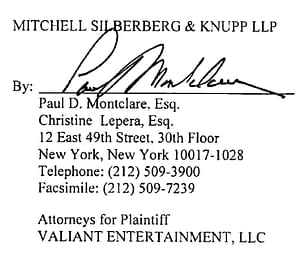 Bleeding Cool has received a copy of the filed lawsuit against Jim Shooter by Valiant Entertainment, the company currently publishing hardcover collections of early Valiant Universe titles which have featured new stories written by Shooter. But his role in the company went a lot deeper, as the suit reveals.
We discover that, unbeknownst to the industry at large, Jim Shooter was Editor-In-Chief of Valiant Enterprises and an officer in the company from December 2008 until July 2009, with an out to do some non-competitive work for Illustrated Media.
This also included participating in a plan to reintroduce the Valiant Universe line as a line of new comics, graphic novels, games, films, whatever, with the publishing line starting in 2010 with Jim Shooter as Editor-In-Chief.
And an essential part of this was acquiring the licenses to Magnus Robot Fighter, Solar Man of The Atom and Turok Dinosaur Hunter, all characters previously published but not owned by Valiant. At the time Dark Horse Comics was publishing classic sixties and seventies stories featuring the characters. And that VEI were in negotiations with Classic Media, the current holders of the rights to the characters.
The suit states that Shooter was aware of the details of these discussions and that he'd signed a non-disclosure agreement with the company. That by June 30th 2009, there was an agreement for Valiant to license the characters from Classic Media. And that Jim Shooter knew all the details of the Classic Media Proposal as it was known.
And then ten days later, a member of Classic told VEI that there was a rival bid from Dark Horse and Jim Shooter was lined up to write those books too. Shooter was asked by VEI to write a letter to classic Media telling them that he wasn't a part of any bid from Dark Horse. The suit states that after banking his paycheck, five days later Shooter refused to send the email. The next day he resigned from VEI.
Nine days later, at San Diego Comic Con, Dark Horse announced a new line of comics using the Turok, Solar and Magnus characters headed up by Shooter.
The suit also states that Shooter removed confidential documents before this from the office. That he shared VEI proposal plans with Dark Horse, the terms of the Classic Media Proposal and creative ideas, plots and scripts for the characters. And that while working for VEI, he met with Dark Horse people a number of times, and delayed the Classic Media agreement with Valiant, giving Dark Horse an opportunity to make a counter bid using his name.
The allegation is that Dark Horse's upcoming Gold Key line is based on concepts and ideas created by Jim Shooter for VEI when he was working for them. That he broke his confidentiality agreement and his non-compete clause.
And VEI are claiming damages of over three million dollars, and they want his salary and perks back, with interest, on top.
Enjoyed this article? Share it!