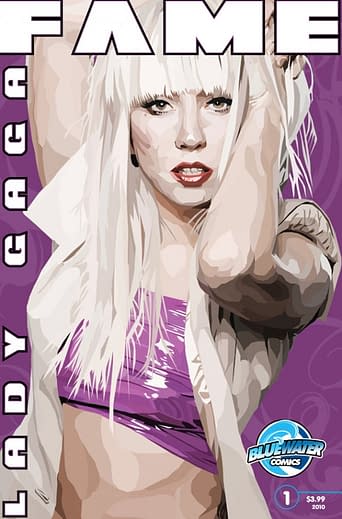 Bluewater Productions continues to relive Revolutionary Comics' history with startling similarity.
Kenneth Feinswog, has sent cease and desist notices to Bluewater on behalf of his clients Justin Bieber and Lady Gaga, over Bluewater's unauthorized biographical comics featuring those performers. Serious damages and injunctions are being threatened.
Los Angeles lawyer, Feinswog is the same lawyer who (unsuccessfully) sued Revolutionary Comics on behalf of the New Kids on the Block and Motley Crue in the early nineties over that company's comic book biographies.
Bluewater have produced a number of comic book biographies of politicians, pop stars, authors and actors, and has recently signed a deal to reprint much of Revolutionary Comics' past material.
In the original Revolutionary court case, the judge declaring that comics have the same First Amendment rights as any unauthorized book bio. That judgment protected Revolutionary Comics for the remainder of its publishing days, and one might think the precedent would protect Bluewater's efforts as well –
However, Mr. Feinswog likens Bluewater's comics to be more akin to a bootleg album or poster, and thus they're actionable on trademark and intellectual property and likeness rights.
He claims to have researched other recent comic cases, like Johnny and Edgar Winter VS DC Comics/Jonah Hex, and the Todd McFarlane/Spawn/Tony Twist lawsuit.
Diamond Comic Distributors are notoriously risk-averse when it comes to distributing comic books when under any legal procedure, no matter how unfounded. After the Revolutionary case, Diamond refused to distrubute any unofficial biographical comics work for some considerable period of time. This kind of legal approach could be very problematic for Bluewater, whether they win or lose.
However this time around, Bluewater are represented by Diamond Book Distributors in the book market, who will be unlikely to want to let go of such a significant source of income right now in the mainstream book stores.
In a related note, I understand that the 2005 documentary film Unauthorized and Proud Of It: Todd Loren's Rock 'N' Roll Comics will come out on DVD around the beginning of next year, from Wild Eye Productions. Comics guest stars include Gary Groth, Denis Kitchen, Mary Fleener, Dennis Worden (Stickboy), famed lowbrow painter Robert Williams (who did Revolutionary Comics covers), and others, along with music folks like Alice Cooper, Gene Simmons, and Mojo Nixon. The DVD will be announced soon.
This news comes just as Bluewater announce a sequel to their Lady Gaga comic book, their first sequel comics biography to date.
Bluewater, Kenneth Feinswog and Diamond declined to comment when approached.
Enjoyed this article? Share it!