TNT's 'The Last Ship' Gets Season 5 Teaser Ahead of Series Dry Dock
With TNT's The Last Ship heading to dry dock for the final time, the network is giving fans their first official look at the drama series' fifth and final season ahead of its September premiere. Highlighting the aftermath of a global catastrophe that nearly decimated the world's population, the series stars Eric Dane (Grey's Anatomy), Bridget Regan (Jane the Virgin), and Adam Baldwin (Firefly).
Turner's Studio T shares production duties with Platinum Dunes, with Platinum Dunes partners Michael Bay, Brad Fuller and Andrew Form serving as executive producers. The Last Ship co-creators Hank Steinberg and Steven Kane (who also serves as showrunner) serve as executive producers, along with director Paul Holahan.
Set to premiere on Tuesday, September 9th, at 9 p.m. ET, here's a look at the teaser for TNT's The Last Ship season 5:
This season, the world is finally recovering from the deadly virus that devastated the population, but global political unrest remains. Tom Chandler (Dane) has retired and his former crew has scattered, many having risen in the ranks within the Navy. Sasha Cooper (Regan), Lieutenant Danny Green (Travis Van Winkle), SBS WO-N Wolf Taylor (Bren Foster) and Sergeant Azima Kandie (Jodie Turner Smith) are on a covert mission in Panama.

When they are wrongly blamed for an attack on the Panamanian president, the consequences for the United States are dire. The Nathan James must fight to prevent invasion by Latin America — and the next world war. Season five is The Last Ship at its most epic, upping the ante on action and excitement, but at its core, it underscores the costs of prolonged war and the toll it takes on the heroes who fight it.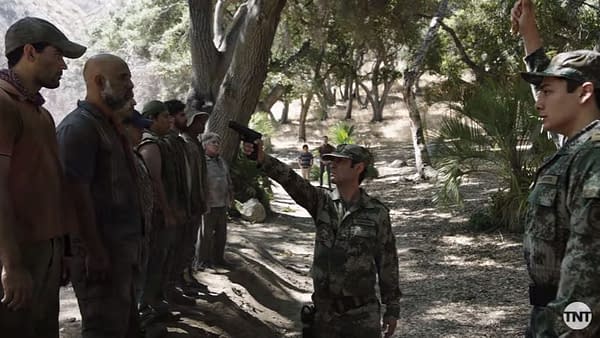 The Last Ship stars Dane, Regan, Baldwin, Charles Parnell (Pariah), Travis Van Winkle (Heart of Dixie), Marissa Neitling (Leverage), Christina Elmore (Fruitvale Station), Jocko Sims (Masters of Sex), Bren Foster (Days of Our Lives), Kevin Michael Martin (Kirby Buckets), Emerson Brooks (Captain America: Winter Soldier), and Jodie Turner Smith (Newness).