Written by Christine Marie Vinciquarra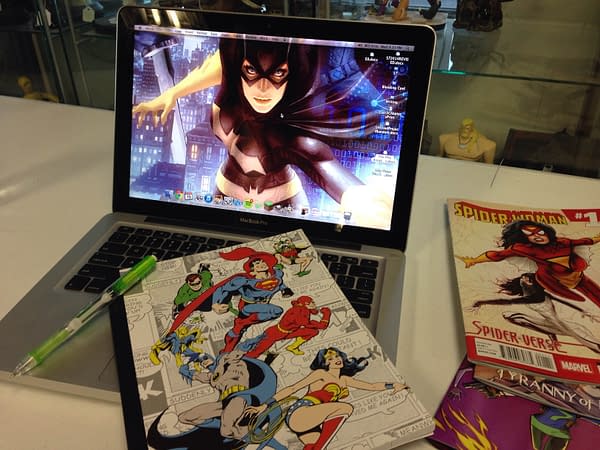 It's a chilly Wednesday here at Conquest Comics in Bayville, NJ. Winter has come early, but that's okay because I'm always happy when I'm reading new comic books. On to the comics!

A couple of years ago I picked up the trade paperback of Spider-Woman: Agent of S.W.O.R.D. written by Brian Michael Bendis, and read it cover to cover. I remember how much I loved the story, and how much I wanted to read more of Jessica Drew's adventures, but never got around to picking more of her comics up. Spider-Woman: Agent of S.W.O.R.D., was my first and only encounter with Spider-Woman, until today. Spider-Woman #1 from Marvel Comics, written by Dennis Hopeless, with art by Greg Land takes us on a dimension hopping adventure and features a lot of Spider-Verse characters. I think that the number one thing that drew me to this book was being a fan of Jessica Drew's personality and badass nature. She has a "no-bullshit" type attitude, and that's something I can really get on board with, especially when dealing with female superheroes. I'm always looking for someone that I can admire.
I will admit that I really haven't read much of anything dealing with the Spider-Verse, but I was still able to enjoy this comic. The plot is very upbeat, and filled with a hefty amount of action. Silk plays a big part in the storyline, and possesses a kind of rebellious teenager attitude. Her interactions with Spider-Woman provide a good amount of tension throughout the story. I would assume that fans of the Spider-Verse would be happy with the amount of guest appearances in the issue. My only complaint is that I would have liked there to be a few mentions of the characters names. Don't get mad, I recognized Spider-Man, but I didn't know who everyone was. Greg Land's art is fantastic. His ability to transport us through time and actually make that feeling come across on the page is really well done. Obviously, this series has a ton of potential, and I will definitely continue reading it. I look forward to see what Hopeless has in store for Spider-Woman in upcoming issues.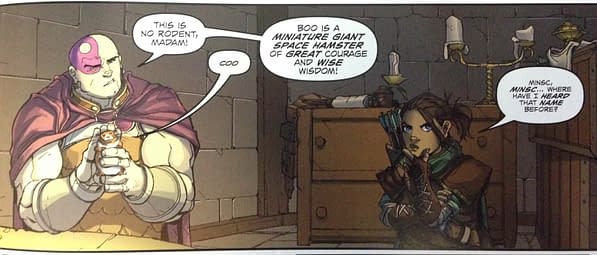 You might remember my enthusiastic review of the first issue of Legends of Baldur's Gate last month. Needless to say, I couldn't wait for another issue. Legends of Baldur's Gate #2 from IDW Publishing, written by Jim Zub, with art by Max Dunbar, and colors by John-Paul Bove continues to be an action packed tale. In my last review I talked about how much I enjoy Delina's character, and I was happy that the beginning of this issue provided us with a bit of her character history. We get a peek into the past and are able to witness a young Delina interacting with her younger, missing, brother, Deniak. The scenes give us a taste of what life would have been like for the two of them way back when. In present day, the dynamic duo of Delina and Minsc continue on their adventure to find Deniak, but it doesn't take long before they collide with another duo, Krydle and Shandie.
What starts out as a threatening situation, quickly turns into the realization that they are all being chased by the Watch, and they find refuge together. The addition of Krydle and Shandie provide another layer to this story. You can tell that they have a different set of rules as to how their duo operates. Minsc continues to be my favorite character, and no it's not just because he carries around the adorable hamster, Boo. He is loyal to a flaw, insanely strong, and adds some comedic relief to the more intense scenes. Filled with fierce action, this issue will have your heart racing. Being transported to this colorful D & D world is something that I thoroughly enjoy. I will definitely keep coming back for more.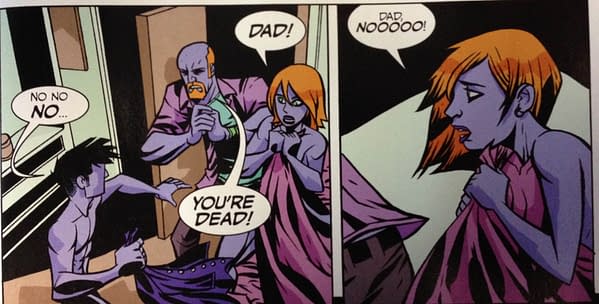 Most of you can probably tell that I gravitate towards a lot of Image titles, and with the release of a few new first issues this week, it was difficult for me to choose which one I wanted to review. After some thought I decided on Sinergy #1 from Image Comics, co-created/written by Michael Avon Oeming and Taki Soma with art by Oeming and colors by Soma. I have to say that I was very surprised at how much I enjoyed this comic. I always feel really inspired when I read an issue that starts off with a "hook type" opening, and Sinergy does just that. The issue begins with main character Jess, losing her virginity to her boyfriend Leaf. What's the hook you ask? He turns into a monster during their sexual encounter. If that's not enough to hook you, Jess' Dad also walks in. This all happens within the first four-five pages, so don't think I ruined the whole issue for you.
Things only get more interesting and complicated from that point on. For those of you that didn't get a chance to read Image's description of this comic, "Sinergy" is energies emitted by sin that monsters live on, and Jess' Dad wants her help him rid the earth of these monsters, because she has the ability to see when humans are really monsters. Pretty cool, huh? I want to take a moment to talk about Soma's use of colors. A normal family is colored in a whimsical way while all of the chaos is happening. For example, when the Dad walks in on Jess and Leaf, everyone is colored in different shades of purple. The next scene, everyone is colored in different shades of green. Being an observant reader, I can't help but wonder if there is a deeper purpose to why Soma is using this type of style. To conclude, the concept of this story is incredibly intriguing. I look forward to seeing how Jess' story unfolds.
To finish off my Live report, I'll share co-owner Pete's pick of the week! He chose Pax Americana from DC Comics written by Grant Morrison with art by Frank Quitely, because each issue of the Multiversity series focuses on a different earth, and this one specifically focuses on the Charlton characters.
Well, it has been a fantastic Wednesday here at Conquest Comics. Thanks for reading Live From The Comic Shop! Be sure to come back next week for more new release reviews!  If you're looking for some more awesome things to read on Bleeding Cool, check out Typing on the Dead and Sweet Release by Jared Cornelius!
Conquest Comics is located in Bayville, NJ. You can find out more about their awesome shop @ conquestcomics.com or follow them on Instagram @ConquestComics.
Christine Marie Vinciquarra is a writer and bibliomaniac with a love for all things creative. Some of her favorite things include: Batgirl, Star Wars, Harry Potter, Saga, Game of Thrones (the books and the show), Johnny Depp, and all things Disney. She spends her weekends feeding her competitive side while she plays tabletop and/or video games with her husband and friends. She is currently working on a series of young adult fantasy novels. You can find her on Twitter and Instagram @AWritersWay or on her blog writerchristinemarie.wordpress.com.
Enjoyed this article? Share it!