All Marvel Comics Trade Paperbacks Out Today Are, Again, 99 Cents on ComiXology
Today, sees the publication of nine collections from Marvel Comics priced from $8.99 to $19.99. And each one has, inexplicably, been priced at 99 cents on ComiXology and 69 pence on ComiXology UK. This is not an accidental glitch, the ad on ComiXology confirms this is an official Marvel promotion, and like last week's, limited in time.

The collections collect titles which, if bought individually digitally, would dwarf the price of this less-than-a-dollar collections. And before comic stores had a chance to open, they were on sale at this price, massively undercutting comic stores at a price below even remainder stock.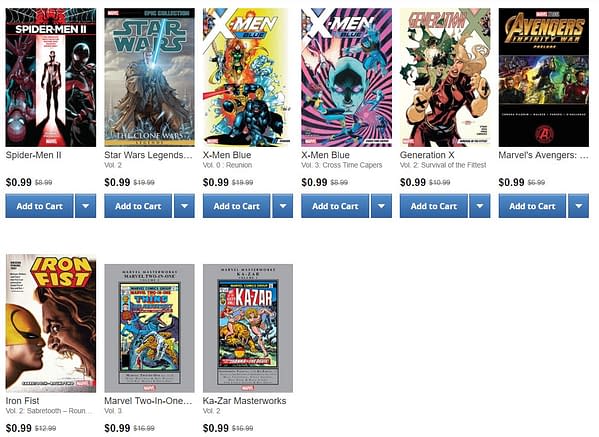 Last week saw hundreds of trade paperbacks so discounted, but that was fixed soon after with only those out that week discounted thus. And last week's new trade paperbacks are still all also discounted at 99 cents each.
I understand that Marvel Editor-In-Chief C.B.Cebulski will be at the Diamond Summit of comic book retailers before C2E2 this year, in Chicago. I might suggest he comes armed with an explanation or two.
Oh, one word of warning, the X-Men Blue Vol 0 collection, as we told you last year, has nothing whatsoever to do with the X-Men Blue series in plot, in tone, in content, it rather collects some earlier X-Men related issues written by Joe Kelly and Steven Seagle, that at one point, a few issues in sees the original X-Men reuniting for a winter break for a couple of issues, as well as some backmatter they wrote for Wizard Magazine, and so rather than calling it X-Men Blue Vol 0, should really have been called X-Men Of Action or something.
UNCANNY X-MEN (1981) 351-359, X-MEN UNLIMITED (1993) 17, UNCANNY X-MEN/FANTASTIC FOUR ANNUAL 1998, CEREBRO'S GUIDE TO THE X-MEN
But 99 cents for 300 pages, who's going to quibble?
And yes, that does means that right now you can pick up all nine Marvel collections for $8.91. And will make for another interesting ComiXology top ten tomorrow… as it did last week.