Mark Millar has announced that the first five short stories submitted by newcomers to CLiNT magazine have been chosen. They are;
Emergency Pit-Stop by Mateus Santolouco
The Diner by Manuel Bracchi
Treasure by Stephen Baskerville (though this needs tweaked and also relettered)
The Fall of the Fortress by Bruno Letizia
Loop by Percy Gutierrez
Talking to Manuel, he told us;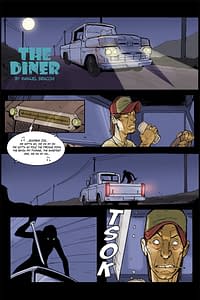 I'm from Italy and i'm 34. I grown with the american and english comics, with a taste for the more edgier like the Vertigo Comics and the few 2000AD things that made it into Italy.

My story is a clear homage to EC comics, in which i tried to mix the crazyness and the smartness of english comics of '80 and '90 like Tank Girl, Marshall Law etc… etc…

For me being selected for a magazine supervised by Mark Millar is like a dream because i think he is one of the finest scriptwriter in the World (his Authorithy run was a blast, the start of my complete subjugation to his genius).
Bruno was equally pleased – indeed, I  found myself breaking the good news to him. He told Bleeding Cool;
I'm 28 years old, I mainly work as a comic book artist, but I also write and teach in a private art school.

In english I've published as an artist 11 Commandments for Fail Comics (Script by Gar Cummins), some Cabra Cini stories written by Sam Johnson for IF-X by Hamtrack Idea Man.

So Clint is really going to be my first mainstream gig in english, this is something that gets me extremely exited as it's really my objective in life.

In Italy I've published as an artist for Nicola Pesce Editore, Coniglio editore and more recently, for Alacran. I've also written a comic book porn situation comedy called Food Girls for Coniglio Editore under the pseudonym Savage Dolls. As a writer I've also published for Repubblica XL a mainstream project called H.E.R.O.I.N., with art by Valerio Schiti. We are discussing with various editors a H.E.R.O.I.N. book written by me and divided in 3 chapters, one will be drawn by Valerio, one by myself and one by Chesterquest winner Serena Ficca.
 
In regards to teaching, I work at Rome's Scuola Internazionale di Comics. I've worked there as assistant teacher for the last 3 years and from the next year I'll have my own classes. So my life is really changing recently and I hope things will always go in this direction!

I would like to say it's all because of my will and determination, and it sure is a part of it. But I think in order to work in comics it's very important to meet figures that help you in your artistic growth. So thanks to Paul Karasik, to Saverio Tenuta and to David Messina for their help.
Clint is published in September with Kick Ass 2, Turf and Frankie Boyle's Hereditary/Project Bloodline. Here are some more winning entries;
Enjoyed this article? Share it!