PCH @ The Movies – Ex Machina With Alex Garland!
By Chris Thompson

[audio:http://popculturehound.net/podcast/PCHAtTheMoviesEpisode7.mp3]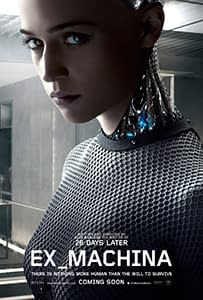 Following on from my last film-based podcast with Bill Plympton to discuss his new animated feature Cheatin' (which you can still listen to here), this time I'm back with writer/director Alex Garland to talk about his recent sci-fi thriller Ex Machina which is in cinemas now.
Alex & I discuss the many stages his career has gone through, how his father influenced his approach to storytelling, what gaming means to him as both a subject and as an outlet, and what he'll be working on next.
To get in touch, send feedback or submit projects for consideration, please email reviews@popculturehound.com. And if you missed last week's episode (or any others) you can find them right here or subscribe via iTunes. You can also support the Pop Culture Hound podcast by clicking here to make a donation. Your contributions are greatly appreciated and will help us maintain the site, get new equipment, and encourage us to keep going on those cold lonely nights.
Chris Thompson's Twitter: @popculturehound
Chris Thompson's website: www.popculturehound.com
Orbital Comics' Twitter: @orbitalcomics
Orbital Comics' website: www.orbitalcomics.com
Alex Garland's IMDb profile: www.imdb.com/name/nm0307497
Ex Machina's Twitter: @exmachinamovie
Ex Machina's website: exmachina-movie.com
Ex Machina is in cinemas now.