ABC's Scandal, How To Get Away with Murder Crossover Confirmed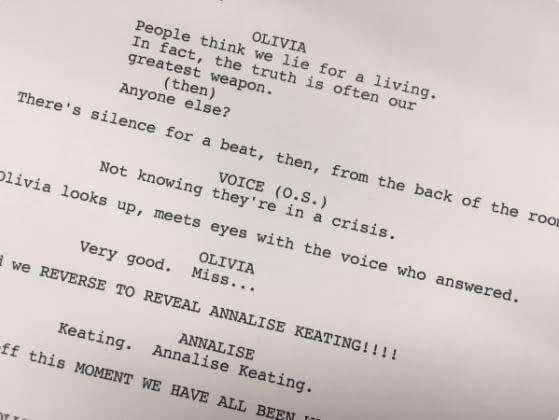 Looks like the Shonda Rhimes' "universe" is about to get a little smaller in a very big way, with the Scandal creator and How to Get Away with Murder creator Peter Nowalk confirming to Deadline: Hollywood that the two series would be part of a major crossover event on ABC later this season. Both Rhimes and Nowalk took to social media to post a screen shot from the crossover script, revealing the first meeting between Kerry Washington's Scandal fixer Olivia Pope and and Viola Davis' How To Get Away with Murder law professor Annalise Keating.
You can check out the posts here:
In what should come as absolutely no surprise to anyone who's a long-time fan of either show, details are painfully scarce at this point but here what we do know: the crossover will be a two-hour block that begins with Scandal and ends with How To Get Away with Murder, with both leads spending time with each other and on each other's respective shows; both leads will interact with other characters from the show that they are "visiting;" some supporting characters will also crossover between shows; and fallout from the crossover will have ramifications on both shows. Translation, fans? This one matters.
Here are some additional highlights from Deadline: Hollywood's interview with Nowalk:
DH: How did the idea about a Scandal-How To Get Away With Murder crossover come about?

NOWALK: At the beginning of the season, my writers and I were planning out Viola's entire arc and something in her story organically came up that was very appropriate for Scandal. When I went to Shonda, she heard it. I said, we don't have to do it, Viola's arc doesn't need this, but it's possible that their stories could cross really organically. She actually pulled up a clip of something from Scandal and their side of the story coalesced perfectly. So it was one of those serendipitous things where we both realized it was good for both characters, and it almost felt like we had been planning it since last season.

At that point, we just thought about it because we didn't want it to feel forced, and we just wanted it to happen really naturally. And then if anything bumps along the way, we just won't do it. We kept getting closer and closer, and it just made more and more sense. I will say, the Scandal read-through, I, as an audience member, just found it so refreshing and fun, and it really felt like Annalise fit in that episode really well. So now the pressure for us for Murder is just to match that level of excitement that they created.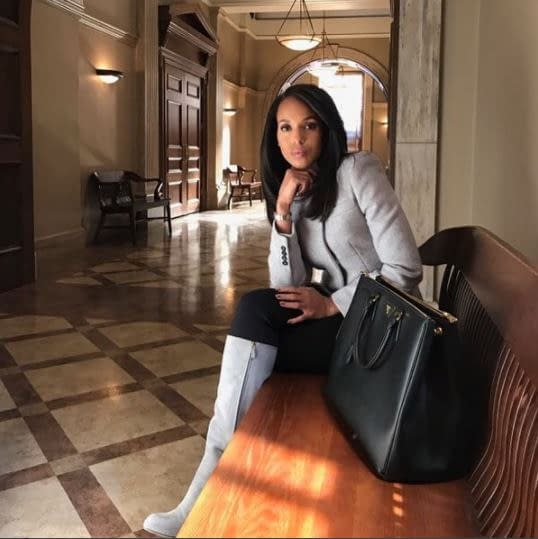 DH: Is it fair to say that Annalise and Olivia will team up to do something together?

NOWALK: I don't think we want to give that away yet. If I were a viewer, the thing I would want to see is Kerry and Viola in a scene together, that was really the reason to do it. To have storyline together and really shed light on both of their characters in a new way. That, of course, means that Annalise is in Olivia's world during the Scandal episode, so she'll be meeting the Scandal characters, and Olivia is in the Murder world, and she'll be meeting some of the Murder characters. You'll see that crossover.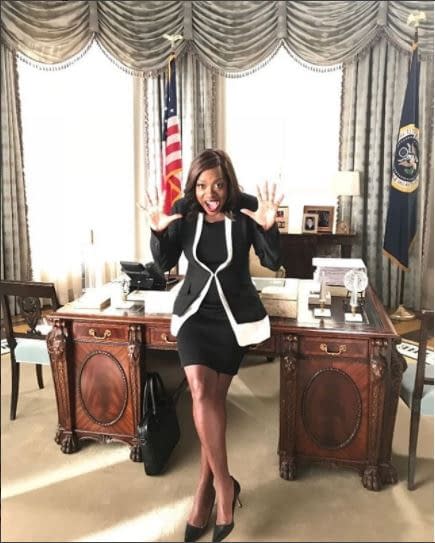 DH: What was the reaction of Kerry and Viola, of the writers on the two shows to the news of a crossover?

NOWALK: What's lovely about working with the writers on Scandal and vice versa is that we all know each other, and we all have worked together, and so, for me, it was really fun to get to see what their process is and get to just hang out with my old friends who we never get to see each other because we're all so busy.

For the actors, I've heard secondhand that Kerry was really excited when Shonda told her. Viola had an instant smile on her face, and I think they've wanted to work together for a really long time outside of doing publicity. So I think it was really fun for both of them, even though I will say I have to give them both credit. They're working double stories in these episodes because they added a whole other episode to their schedule. So they're very tired right now, as they should be, but I think in the end, it will be something really memorable for Shondaland, and I'm loving it. It feels like a boost of energy for us.