By Ray Flook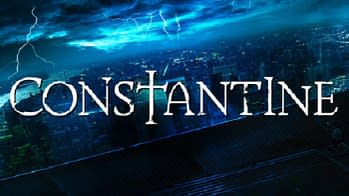 Heading into San Diego Comic-Con with a pilot that "somehow" (I'll explain that later…) found its way onto several torrent sites and a major shake-up in the show's casting (Lucy Griffith's Liv Aberdine replaced by Angelica Celaya's Zed), I was expecting Constantine executive producers Daniel Cerone (Dexter) and David S. Goyer (The Dark Knight trilogy) to look/sound a bit nervous and defensive regarding the reaction they would receive at their panel on Saturday at San Diego Comic Con. More importantly, how would they handle questions from the audience about the casting changes and about the pilot itself, which many attendees (myself included) had the opportunity to screen almost a month in advance of the convention?
It's simple. They didn't.
To clarify, the presentation opened with a screening of the pilot episode and was followed by a panel discussion with Cerone, Goyer, Matt Ryan (Constantine), Harold Perrineau (Manny), Charles Halford (Chas) and Celaya (Zed). Unfortunately, the screening began a few minutes late and left only a few minutes after for introductions by TV Guide's Michael Schneider and a few brief comments from Goyer and other members of the panel; but no time for a Q&A with the audience.
To avoid spoilers for those of you who haven't seen this version of the first episode (yup…they made changes, folks), I kept my real-time running commentary during the screening a little vague but you can piece it together if you try and you'll definitely get the references once you see it for yourself.
The Screening
-Ryan's accent for Constantine seems a bit a much…might take a few episodes to get used to it.
-The show itself has that Hannibal/"spending-money-so-it-doesn't-look-like-regular-broadcast-television" look and feel to it, so I hope NBC maintains the quality.
– "I hate to put on airs." : quality line delivered with the right amount of venom by Ryan…liking his interpretation of the character so far.
-Painting with bugs is never not creepy, and makes it harder to render those Bob Ross-fluffy white clouds.
-Music during the fight scenes needs to be dialed-back a bit: lessens the seriousness and intensity of those scenes.
-Interested to see where Liv Aberdine's storyline is going to go now that we know it's living on borrowed time.
-Not the best position to be in when your car's acting like that, Liv…
-I don't know of a show yet that isn't made instantly more interesting the moment Perrineau enters a scene.
-Again, glad they're not pulling-punches with the violence…again, probably need to thank Hannibal for making NBC more comfortable with it.
-Chas has the makings to be a break-out character on the show.
-Need to download Social Distortion's Ring of Fire…
-POV-like intersection crashes in movies and television shows never cease to disturb the hell out of me.
-I like the back-story that they're going with for Constantine, but they need to work on the visualization a bit more so that it comes across more horrific.
-At this point, a scene takes place between Constantine, Liv and Chas that really doesn't work that well. Without giving too much away, something "shocking" happens that then leads into what will be a commercial break. After the break, these is an exchange between two characters as they make their way through the woods that completely betrays what had just taken place. Even if you don't know anything about the characters prior to watching this episode, you know by watching these characters interact that our "shocking scene" probably isn't going to end-up that shocking. That was wordy. I know. But you'll know what I'm getting at…trust me.
-Justice Society of America fans and "Nabu groupies" will dig this scene.
–Constantine's "Lost Appreciation Society" membership grows by one with the appearance of Jeremy Davies' Ritchie Simpson.
–"Newcastle was a nightmare, John. A nightmare!"
-Ryan doing a great job bringing a sense of menace to the character: you really believe he'll do to Ritchie what he threatens he'll do to him.
-The whole "he-was-a-better-father-then-you-realized-and-he's-been-watching-you-from-afar" idea has been done so many times before (ex: Absolute Power), and adds a level of sentimentality to the show that it doesn't need.
-See? Audience watching the screening not surprised by the "surprise" at all. Told 'ya.
-"If you're not confused, you're not paying attention."
–"Neither am I, mate." Great "punchline" to what otherwise would've been a throw-away exchange between Constantine and a security guard.
-Ryan really sells the story of his nickname"killer" to the audience, but Liv's comment should be edited-out because it undercuts the seriousness of what's taking place.
-Now HERE'S a huge change from the original pilot, and a great judgment call from the creators. Can't stop thinking NegaScott from Scott Pilgrim Vs. The World, though…
-Anyone else notice how Hollywood makes it look like it's really easy to get access to a city's power grid and shut it down? Kinda' creepy.
–"NegaScott" better fits the mood they're trying to achieve and is pretty disturbing.
-Nice job by Ryan in that face-off speech: needed to nail it and he did, intense without going over-the-top.
-I saw it, NBC! There was an ashtray…he was putting-out a lit object…he smokes! Don't deny it!
-And NOW we know how they're transitioning away from Liv and toward Zed…
–Constantine and Chas have nice chemistry together.
-Overall, this was a much better episode than the original…though there were a few more changes they could've made, the ones they did make improved the show dramatically. Which leaves me wondering whether the original pilot was actually "leaked," or if Cerone, Goyer and NBC found a quick and very cost-effective way to use social media as one big focus group.
The Panel
Goyer: Julian "Bear" McCreary (The Walking Dead, Agents of S.H.I.E.L.D.) as show's composer.
The Liv Aberdine storyline was phased-out because the it didn't fit well the tone they were going forward with for the show.
By the end of the first season, we will be introduced to the entire Newcastle crew.
"We have access to the occult side of the DC Universe."
(re: specific "easter egg" in pilot): "A sign of our intentions."
Will be dipping-into the entire three-hundred issue run of Hellblazer as well as The New 52 Constantine series.
After that, we were told that the panel was over but that that the cast would be in and around the FOX floor booths later on in the weekend.
Enjoyed this article? Share it!