The Comics Code's Last Executive Director — And Its Final Financial Records, Speak To The End Of An Era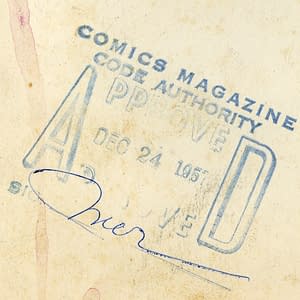 The recent statements by DC Comics and Archie that they are about to cease using the Comics Code Authority seal on their comics, and subsequent revelations that there are no publishers left actively using the Code, have in a very real way crystallized the comicsphere zeitgeist that major change is coming to our industry in 2011.
Given that the Code has not figured very prominently in industry business in some 20 years, that's an interesting thing. I mentioned how historic the moment feels in contrast to the practical reality of it in the comments of one of BC's earlier stories on the topic, and BC'er Arion replied, "It's a big deal. I opened up a bottle of sparkling wine and had a toast with a friend. For real."
The shadow of Dr. Wertham has loomed that long, and that darkly, over the history of the business of comics. As an aspiring comics history nerd some 25 years ago, I once wrote a letter to longtime DC Comics artist Creig Flessel and asked him what the atmosphere leading up to the Code was like. At the time he told me it was so bad he didn't even want to talk about it.
The Code allowed the comics business as a whole to survive those dark days — at a cost (most obviously, the EC line did not survive this era). The business reacted to extreme political pressure with a set of content guidelines. Film, music, and games have all been through similar things.
Now that the Code is in its final days, its history will be examined again — and I hope, brought into the light. Holly Munter Koenig, who was the last Executive Director of the Code's administrative body the Comics Magazine Association of America, had this to say on the end of the era when contacted yesterday:
I'll say something personal–there were a lot of long time, hard working supporters of the association. It wasn't just about the Code. Many of these remarkable people are now retired or have passed away. The CMAA was fortunate to have Ski (Marvel) amongst its leadership for years… and Paul Levitz, who very respectfully kept the organization together long after its founders passed away.

The Association belonged to the industry, not Kellen, but we definitely cared a lot about its existence.
During our brief email exchange it was indeed clear that Koenig had a high regard for the business and those she worked with in what at times must have been a difficult job. Kellen, of which Koenig is a VP, is a professional services company which handles administrative and pr duties for numerous trade associations and other clients. The CMAA was set up in 1954 and started filing tax returns as a non-profit trade association in 1959.
Koenig says that the CMAA's historical records and documentation have been forwarded to DC's legal department. Given the important role the CMAA has played in our business, one hopes that DC's lawyers will eventually allow historians access to what must be a fascinating look at our industry's history.
Newsarama's Vaneta Rogers reports in an excellent article on the subject that Kellen has not managed the CMAA since 2009, and further notes that no evidence has come to light that comics bearing the Code seal since that time were subjected to a formal approval process (a situation which would have been an industry-rocking scandal 25 years ago, but which has elicited little more than shrugs now).
However, Koenig says that the CMAA technically still exists:
It actually has not officially ceased as an organization yet — because Kellen, even though it did not get a fee in 2010, continued to maintain their bank account, filed taxes, etc. DC attorneys are going to handle what has to be done. All records have been in storage and are in shipment now to DC Comics.
But because the CMAA is a tax-exempt trade association, some of those records are already public. With the help of a tax law student, three years of the CMAA's returns have been uncovered so far.
Examining these few records, it's worth noting that former DC president Paul Levitz (who stepped down in 2009), longtime Archie Chairman Michael Silberkleit (who died in 2008) and Archie's Fred Mausser were listed as officers of the CMAA during this period. Noting this and given that Marvel dropped the Code in 2001 shortly after Joe Quesada became EIC, it's hard to escape the conclusion that the Code faded in importance as a direct consequence of the next generation assuming leadership roles in the industry.
As for the numbers, in summary the tax returns for the years 2006-2008 show a general range of income (which includes "program service revenue" and publisher membership fees) in the neighborhood of $38,000, and expenses of roughly $44,000, in each of those years.
Bleeding Cool invites you to examine the tax returns for 2006, 2007, and 2008 in greater detail, and encourages anyone with further documentation or analysis to comment.