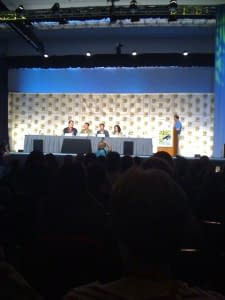 The Torchwood panel isn't until this afternoon at the San Diego Comic Convention. And, after the success of Torchwood: Children Of Earth, many are hoping for another series, hopefully in that vein, especially after the critical reaction and ratings. During the Doctor Who panel this morning, Russell T Davies stated that "Torchwood may be be back but maybe not the ones you want back".
But during the Torchwood panel, with BBC Wales producers, director and stars, they're not announcing a new series. They're hoping for one, wanting one, but not confirming. Not yet.
Well, last night Comic Mix ran some interviews with Torchwood/Doctor Who/BBC America people. And hidden in that coverage was confirmation of a fourth series from a BBC America rep.
Fight of the official statements!!!
Oh and John Barrowman really really really wants to play Captain America. You know, Marvel Studios have talked about a star who can appeal to an international audience… oh and he wants to release "The Doctor And I' as a  record…
Enjoyed this article? Share it!