Turn Left – Preview Day At The MCM London Expo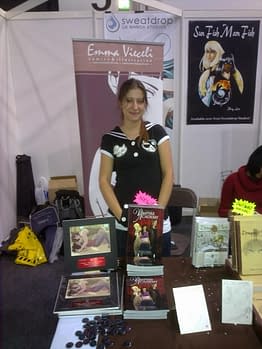 Those attending the MCM London Expo who usually swerve to the far right of the massive hall expecting the Comics Village may grow increasing puzzled as they make their way through zombie princesses, stormtroopers and pixies this year. Instead, the Comics Village, bigger than ever, is to the left. The left. Remember that.
It's still not the main day so the show is pretty relaxed, there is space to walk between booths, pavilions, and even space to sit down so that I can write… this. Tomorrow of course that all changes and I expect to be swept along with my children held aloft by a tide of humanity.
So it was nice to catch up with the likes of Emma Vieceli, Gary Erskine, Paul Duffield, Kate Brown, Rufus Dayglo, Ian Sharman, the boys of Marvel UK, the girls from Self Made Hero and DFC and more while I could still make out every word they said.
Tomorrow, the Torchwood folk, the Teen Wolf folk, the Secret Circle folk, the Warehouse 13 folk, the Haven folk, the Eureka folk, you know, basically the same show, will be here. Tens of thousands of young women in a variety of exposed underwear, and the legions of Harley Quinns will throng the aisles. But for now, it's just very very pleasant. Oh look, I can even get wi fi.
Of course I wouldn't miss tomorrow for the world…