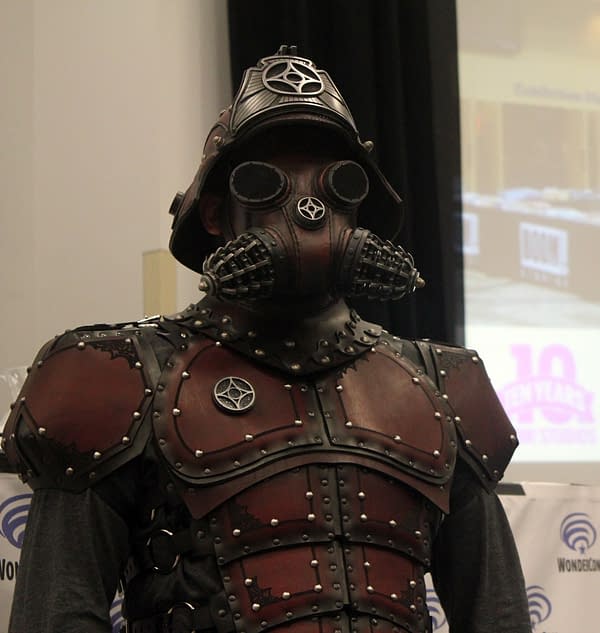 By Michele Brittany, West Coast Bleeding Cool Correspondent
If you are reading BOOM! Studios titles you may have noticed that the publisher is celebrating their ten year anniversary. While they are quite excited to reach this milestone that started out from Ross Richie's spare bedroom, Filip Sablik, President of Publishing and Marketing, said the company isn't looking back but looking forward to the next ten years. Joining Sablik in the panel titled Push Comics Forward: BOOM! Studios Celebrates 10 Years and Looks Ahead to the Next 10 was editor-in-chief Matt Gagnon, Bryce Carlson (Hit, Hit 1957), Trevor Crafts and Matt Daley (Lantern City), and Shannon Watters (Lumberjanes).
It's a fantastic time for comics. As recent as five years ago, according to Sablik, we didn't have progressive titles such as Ms. Marvel, Bat Girl, Saga, and Sex Criminals. What does it mean that they exist today? Per Sablik, the titles represent a change in the industry that shows more diversity. Seeing this change as an important trend that needed the support of a top-ten publishing company, BOOM! Studios developed a slogan – Push Comics Forward – that is "a movement to inspire publishers, creators, press, and fans to join the conversation on what is helping to improve the industry and what more can be done."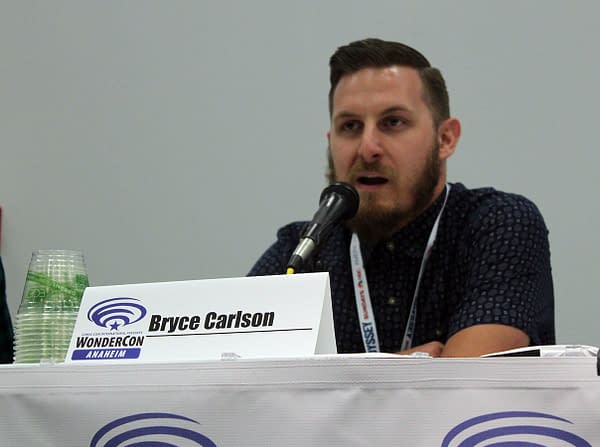 Per Sablik, there are several components to this campaign and the comics that come out of it. Accessibility to comics is important and should be available to a wider audience, not just the established readers. The stories should be progressive and push boundaries. They should give empowerment to the readers. BOOM! Studios is playing their part by being committed to content that appeals to the current fans, but is inclusive of prospective fans too.
At that point, Sablik asked each creator what their entry point was and what comic book issue or series hooked them. For Carlson, his entry point was actually trading cards and from there, he got into comics. He loved the covers and interior art of Batman. Crafts started with the Dark Horse Comics and being into films, he was excited to find comic book stories that expanded on franchises he liked and watched on the big screen, such as Predator and Terminator. Daley was into watching movies at a young age, so he looked for comics that could provide adventure stories that he could read while he was at school. Punisher #10 was his hook and for a long time he read Punisher and Daredevil, then onto Batman. Watters' interest in comics started with the newspaper. She would cut out the ones she really liked. Bone "blew her world open" and she eventually became integrated into the American independent comics scene. For Gagnon, it was Blanket. He had a copy of the book and shared with a number of friends. He liked that the story was a slice of life and honest.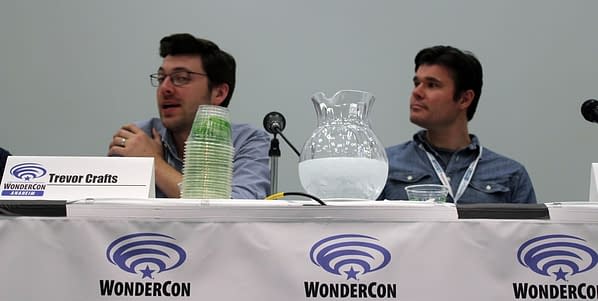 Since BOOM! Studios is looking ahead, Sablik asked what each panelist want to see. Gagnon said "honesty in story telling" and to have more diverse offerings and that mean in genre stories as well. Carlson wants comics that think outside of the box. For Crafts, he would like to see more intelligent, intricate storytelling that has depth and detail. Watters wants more intersectionality and to get away from nods and using token characters to having characters in the story that are a part of life. For Daley, he would to see woman tackling big IPs as a normal occurrence rather than pointed out by others as an exception.
An upcoming BOOM! Studios title that the publisher was excited to talk about was Lantern City that will be out in May. Crafts and Daley relayed it is a story about love and loss. It originated from a short story that Crafts wrote and he thought it would fit well within a steampunk setting. Crafts added that he and Daley have been working with steampunk experts and in fact in issue two, they are planning to solicit steampunk gadget ideas that they can incorporate in the comics and the show. As a special, exclusive treat, BOOM! Studios revealed the costume of a Lantern City guard. And, for audience attendees, each person received a limited edition lapel pin.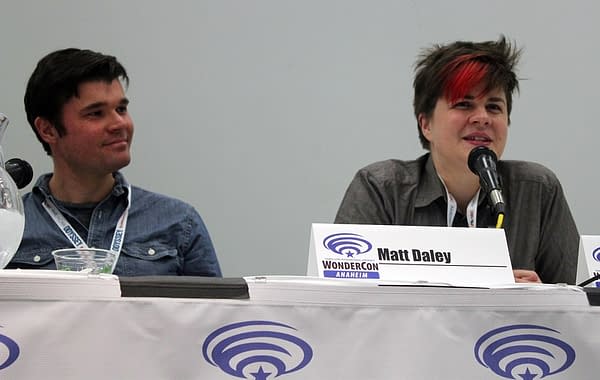 As the hour was almost up, Carlson added that he sees comics as a medium, not a genre. Too often, people who don't read comics, they tend to think that comics is only about superheroes, but comics is so much more than that. Crafts added that he hopes that there will be more integration between comics and digital in unique ways. And Gagnon likes seeing broader readership develop, however he would like to see same diversity reflected within the industry as well – at the writer, creator and publishing levels.
Sablik asked people to use #ComicsForward to share their passion, voice their support and join the conversation. BOOM! Studios has also set up a website as another way of continuing the dialogue and becoming part of the movement.

Michele Brittany is an independent popular culture scholar and semi-professional photographer and editor of James Bond and Popular Culture: Essays on the Influence of the Fictional Superspy (McFarland & Company). She regularly posts reviews and analysis on the spy/espionage genre on her blog, Spyfi & Superspies and can be followed at Twitter @mcbrittany2014.
Enjoyed this article? Share it!