The upcoming Free Comic Book Day Spider-Man issue looks like it requires you to do a little more reading. Here's the new solicitation…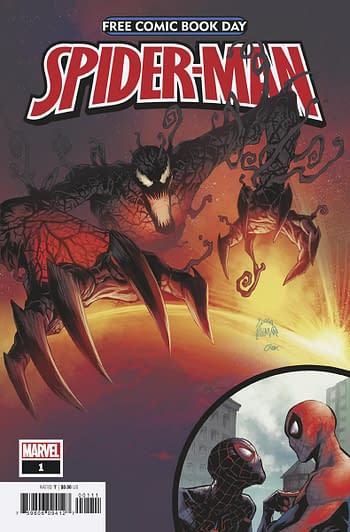 FCBD 2019 SPIDER-MAN

(W) Tom Taylor, Saladin Ahmed, Donny Cates (A) Cory Smith, Ryan Stegman

Everyone knows Miles Morales, who rose to fame in Marvel's acclaimed animated sensation Into The Spider-Verse – and with a second feature film arriving this year, Peter Parker will once again suit up to save the world with his web-slinging super powers! In a special FCBD story, creators Tom Taylor, Saladin Ahmed, and Cory Smith take these superstar heroes of the Spider-Verse in a shocking new direction, with a story that will build to one of Marvel's most fantastic and epic tales later this year!

And prepare for absolute terror within the pages of FCBD, as an original Venom story by Donny Cates and Ryan Stegman sets the stage for what will become one of the most fearsome events in the Marvel Universe…

Nearly a year after the epic red-hot arc of the Red Goblin, Venom's dynamic creative team is bringing you a story that's been brewing since classic Spider-Man tales like Amazing Spider-Man #252, The Spectacular Spider-Man #90, Marvel Team-Up #141 – a saga so big and so absolutely action-packed, it will deliver the most dramatic story in all of FCBD history! Fans will be well aware by the summer of 2019 that "everyone is a target"…and the 1st Saturday in May, Marvel invites you to experience the threat for yourself!
Go on then… handily these are all being reprinted in discount format, with the first one out this Wednesday.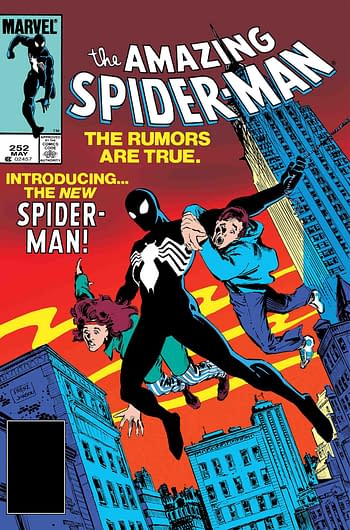 Amazing Spider-Man #252

(W) Roger Stern, Tom DeFalco (A/CA) Ron Frenz
The stunning debut of Spider-Man's black suit – the alien costume that would one day become Venom! As Spidey makes his homecoming from the super hero Secret Wars, he returns with a miraculous new outfit, a striking black-and-white Spider-Man costume that morphs and responds to his very thoughts – allowing him to change back to Peter Parker at will! But is it possible that this miraculous article of alien clothing may have a mind of its own? With New Yorkers made uneasy by his new look and the Secret Wars photos he took far too alien to sell to the Daily Bugle, can Peter pick up the life he left behind?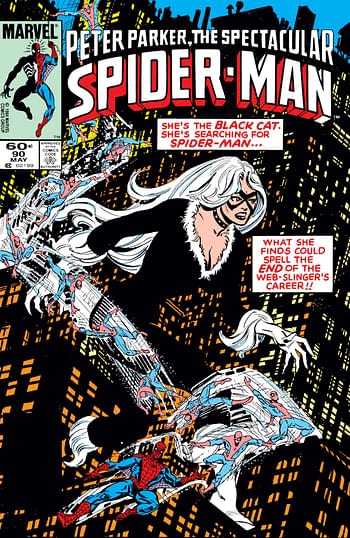 Spectacular Spider-Man #90

(W/A/CA) Al Milgrom

This story follows the events of Secret Wars #12… Spotlight on the Black Cat! She's looking for her on-and-off lover Spidey, but what she finds is going to change her relationship with him forever!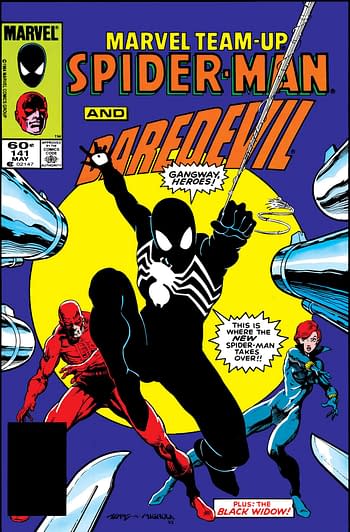 Marvel Team-Up #141

(W) Tom DeFalco, Priest, (A) Mike Esposito, Greg LaRocque (C) Arthur Adams, Mike Mignola

Spider-Man is missing! What has happened to the spectacular one? Regardless, Daredevil and the Black Widow must keep working on the pawnbroker murder case in order to prevent an innocent man from going up the river! The Man Without Fear and Natasha just about have the case solved, when the web-slinger suddenly reappears…in a brand new costume! They'll be glad to have Spidey's help to finish this caper…or will they? Daredevil's deal with the Kingpin may not go over too well with your friendly neighborhood Spider-Man! Cameo appearances by the Kingpin, the Arranger, and Dr. Curt Connors.
Free Comic Book Day is on May 4th.
Enjoyed this article? Share it!