Reed Richards has not the greatest reputation for making fantastic decisions, especially when it comes to those around him. Taking his family and friends to steal a space craft for a flight without sufficient protection against cosmic radiation must be up there.
He put nanobots inside his son Franklin Richards without even thinking to mention it to his wife. In fact, over the years he was often dismissive to Susan Richards He kept the news from the rest of the team that they were all dying, thinking he could fix it. He lied to Ben Grimm about why he turned into the Thing, leaving him to stay on the Secret Wars Warworld planet when he permanently became the Thing. Oh and the turned Ben into the Thing against his will. He hypnotised Skrulls into living as mindless cattle, forgetting about them until they were turned into burgers and entered the food chain. He put his over-powerful son into a coma. He sent the Hulk into space, He created Clor. Oh and he condemned his own uncle for standing up to the Anti-American Activities Committee.
So maybe this shouldn't be too unexpected. But in tomorrow's Marvel 2 In One #11 by Chip Zdarsky and Ramon K Perez, Ree Richards eplains why he, Sue, Valaria and Franklin went away and left Ben and Johnny behind.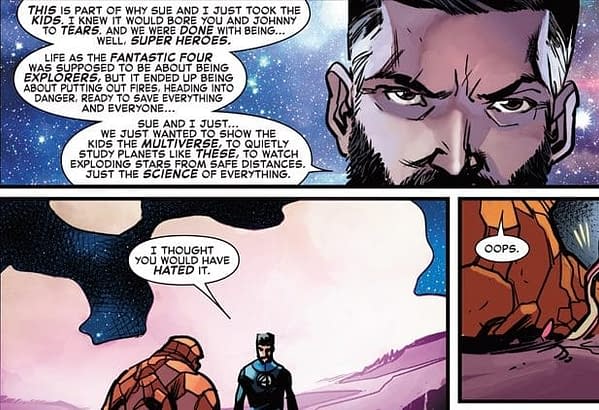 Again, without asking,. But also without telling that's what they'd done, leaving Ben and Johnny to mourn their apparent deaths. And the whole world for that matter. Reed Richards, dick to his wife, dick to his friends, dick to the world….
Here's the full preview.
MARVEL TWO-IN-ONE #11
(W) Chip Zdarsky (A) Ramon K. Perez (CA) Paul Renaud
THE FANTASTIC FOUR are BACK!
• But there's fallout from their absence, both in the universe and in the family. The THING and MISTER FANTASTIC go on a voyage to rectify mistakes and heal wounds.
• But is it too late?
Rated T In Shops: Oct 31, 2018 SRP: $3.99
Enjoyed this article? Share it!