Scott and Emma, Together Again – Uncanny X-Men #21 Preview
This Wednesday, the moment Scott and Emma shippers have been waiting for finally arrives. Cyclops is reunited with Emma Frost at last! Of course, this may be somewhat of a bittersweet reunion, given everything that's transpired since Scott's death and resurrection. First of all, there was the whole using Scott's legacy to engineer a war with the Inhumans that didn't end up going so well. And then there's the fact that Emma mindwiped Scott, and the rest of the X-Men, as soon as he returned from the dead, and has been using them to capture mutants she could hand over to General Callahan and the O.N.E.
Nevertheless, last issue, Emma released the mindblock and called on Scott for a rescue… and in this preview of Uncanny X-Men #21, Scott obliges.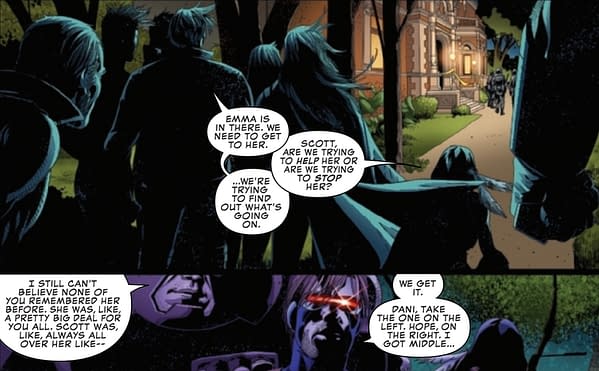 And infiltrating the mansion where Emma is being held on house arrest proves easy enough…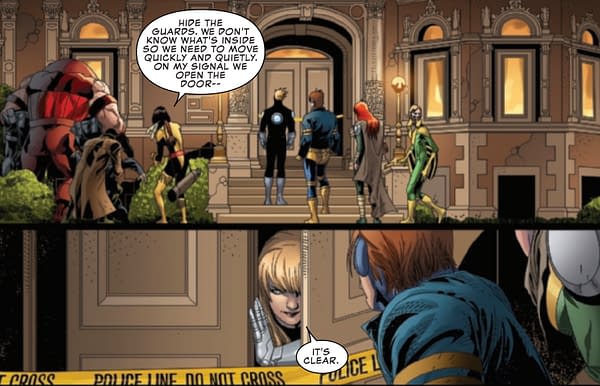 Even if some of the X-Men may have ideas in mind other than a rescue…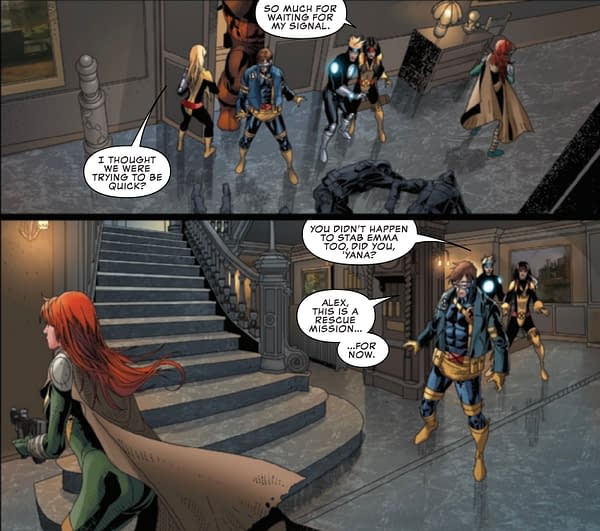 Nevertheless, our reunion does occur…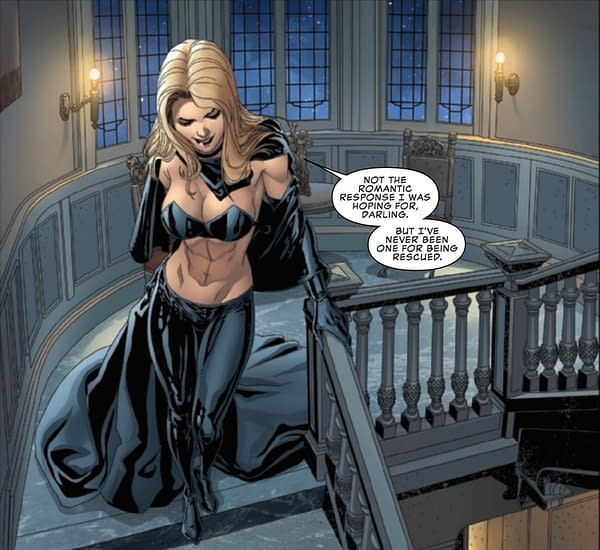 Now the happy couple has just two issues to sort all of this out before the whole world gets rebooted again.
Uncanny X-Men #21 hits stores on Wednesday.
UNCANNY X-MEN #21
MAY190897
(W) Matthew Rosenberg (A) Salvador Larroca (CA) Whilce Portacio
It all ends here. This is forever! As Cyclops' cleanup mission nears its close, all the problems the X-Men face come together. The truth behind the Hellfire Club's intentions, the culmination of the O.N.E.'s assaults on mutantkind and even the inner struggles within the team… It all ends here. This is forever.
Rated T+
In Shops: Jul 03, 2019
SRP: $3.99