Posted in: Comics | Tagged: frazer brown, kickstarter, Sleeze Brothers, Tales From The Quarantine
---
Sleeze Brothers And Sequels, But No Sign Of Tales From The Quarantine
Back in November, Bleeding Cool looked at the Kickstarter for the charity comic book anthology Tales From the Quarantine, launched by Frazer Brown.
---
Back in November last year, Bleeding Cool looked at the Kickstarter for the charity comic book anthology Tales From the Quarantine, launched by Frazer Brown and his Red Cabin Comics publisher in August 2020 and first mentioned by Bleeding Cool back in April of that year. As well as a film and stage producer, Frazer Brown was a former occasional reporter for Bleeding Cool, so he had an easy in. An anthology of comics work, provided free by creators to raise money for the Hero Initiative and help comic book creators, especially those affected by the pandemic and lockdown, many comic book creators, high and low profile, had created and donated pages to appear in the anthology… but then it was late. Really late. Fraser Brown put this down to a mixture of technical issues, waiting for comic creators to send in the work, his own health issues, and issues with printing and publishing, but promised Bleeding Cool that the book would be shipped out by Christmas. Bleeding Cool had our doubts; post office strikes were coming as well as the usual Christmas rush, but we thought mid-January would be reasonable given Fraser's expressed timeline.
Well, we are now past mid-March. Several people have received individual issues, as well as prints and other items, but not the main thing, the 200+ page Tales From The Quarantine book, which was what most people were in it for. On the 22nd of December, Frazer Brown stated that he had sent 160 copies of the softcover book out and that the rest would be sent the week after, followed by the hardcovers, but no one appears to have received a single copy then or in the months since.
In November, I advised Frazer should answer his critics rather than ignore them, something he now seems to regret and blames Bleeding Cool for persuading him to do so, saying in his December statement, "Having had surgery when this recent harassment debacle started, I wasn't entirely myself, or in the right frame of mind to deal with it properly. Hence a rambling statement at the start that Bleeding Cool persuaded me was a good idea." He stated, regarding our previous article, "Any deadline created by Bleeding Cool or anyone else but me is irrelevant."
So, right now, we have no update on what happened with the book, what happened to the 160 posted copies, or what happened to the copies meant to have been sent out before the end of the year. Now, a late Kickstarter is hardly news, medical issues can play a significant part in several such projects, and we do with Frazer the best of health. But communication is always crucial, which has been lacking in 2023, even while he posted other media and social updates. If he had apologised for delays, given regular non-corporate updates, or even asked for help getting this together, it may have gone over better. As it stands, no one knows what is going on.
And then, as I was putting this article together, something truly bizarre happened. We got news of two things. First that The Sleeze Brothers were to be in Tales From The Quarantine in a news release posted by Red Cabin Comics on Medium, then deleted, then reposted again, then deleted again.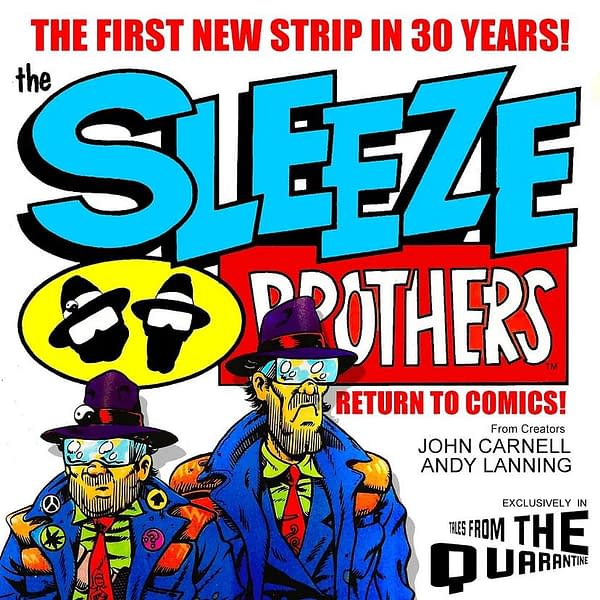 "EL APE and DEADBEAT SLEEZE 'THE SLEEZE BROS' will be RETURNING TO COMICS with an appearance in RED CABIN COMIC's record breaking anthology TALES FROM THE QUARANTINE 'The Sleeze Bros' were last seen in the MARVEL EPIC comic series' of the same name 30 years ago. THE SLEEZE BROS will make their RED CABIN COMICS debut in a BRAND NEW tale written by John Carnell, with Art by Andy Lanning with lettering by ROB JONES, and edited by FRAZER BROWN"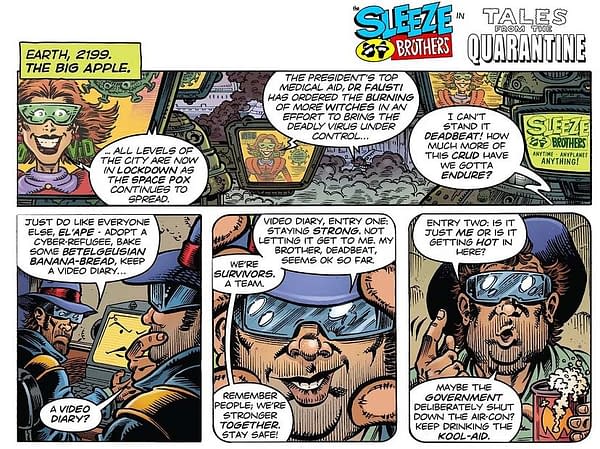 "ANDY LANNING: 'It's been over almost three decades since we wrote a Sleeze Brothers strip (oh God we are old!) and it's been a blast getting the band back together. The satire and humour seem as relevant today as it ever was back in the 80s, not sure if that is testament to the work or the fact the world is just as fucked! Oh well, pop another can of Mackleberries and enjoy it while you can!'
"JOHN CARNELL: 'It's been great fun bringing The Brothers back. They've aged well and seem right at home in the dystopian future world were living in right now. if only we had a crazy ex-president to poke fun at!'
"FRAZER BROWN: "I am blown away that Red Cabin Comics gets to be the home of the SLEEZE BROS even if it's for just one page! And what a page it is! The Sleeze Bros is one of my all time favourite comic runs, I'm hoping this is just the start of new adventures for El Ape and Deadbeat in 'The Big Apple'!."
Now, I bloody loved the Sleeze Brothers. Published by Marvel UK as part of Marvel's Epic line, which also gave them a UK newsstand presence where I found them as a kid, they were basically a sci-fi Blue Brothers. Actually, that's pretty much all they were. And they were great. And, apparently, part of the Tales From The Quarantine book. When asked about this on Twitter, Andy Lanning replied, "I knew nothing about this. The last communication I had with Frazer was in November last year asking that we don't reveal anything as he was waiting to announce the Sleeze Brothers' inclusion. Would have been nice to have the heads-up…" and later adding "Just checked and we were told that announcement was happening in October 2021! Our quotes are from July 2021!!"
Stephen Baskerville inked the story, and it was coloured by Darren Stephens, two-and-a-half years ago.
How time flies. Also posted to Medium was an announcement of two sequels to the original, still unpublished book, Escape From The Quarantine and Return From The Quarantine, but these were also deleted.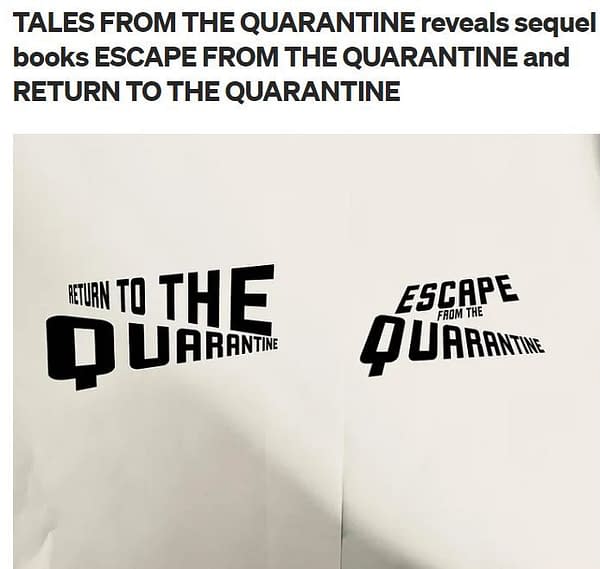 The Sleeze Brothers announcement is still up on YouTube. Things are being announced, just not when this comic book is coming out.
We want to hope Tales From The Quarantine is on its way. Again, to reiterate, Kickstarters are often late, it's the way of the beast, and some difficult circumstances may have been involved here. But communication is critical, and when so many people have donated their time and effort for charity, to be dismissed or ghosted will engender some rather adverse reactions. One way or another, Frazer Brown really should pull the plaster on this.
---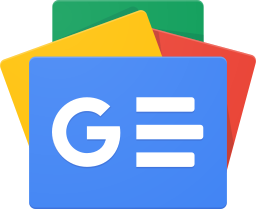 Stay up-to-date and support the site by following Bleeding Cool on Google News today!