Twitter user The Unholy Dragon works at Gnu Books in Oshawa, Ontario, and is in charge of ordering for the store. And he's been crunching the numbers. He posted, tagging in this very website, saying;
SO here's a thing: The new Batman/DC stuff from Spin Masters. I was all set to order some. Then I compared the price to cost. The Batmobile has a list price of $19.99 against a cost of $16.63 (or $15.99 if you buy 2 or more). Better ways to make $4. If it was listed for $29.99 or PI [Please Inquire – Interpretative Rich] that would be fine. But by setting a list price, the company is setting an expectation in consumer's heads as to what a fair price is. They're advertising their toys as cheap and affordable at the cost of their retail partners. It's not great. It's a decision that cuts out retail 'partners' from the equation and expects them to just accept that their share is maybe 20% of the profits. Which incidentally, on these margins, anything less than selling out at full price is a loss for me. Total waste of resources. I was excited at the prospect of carrying both Spin Masters and McFarlane DC stuff, but I guess it'll just be the latter. Not sure I'll buy any SM stuff for my own collection either, since this practice leaves a bad taste in my mouth. Terrible first impression. DC, Warner Bros, you may want to have a think about your licensing choice here. SpinMaster, do better.
Here's the item in question available non-returnable through Diamond Comic Distributors – if any store will take the rather low margins. I mean, not even Amazon is mad enough to offer discount on this one. Any similar stories out there?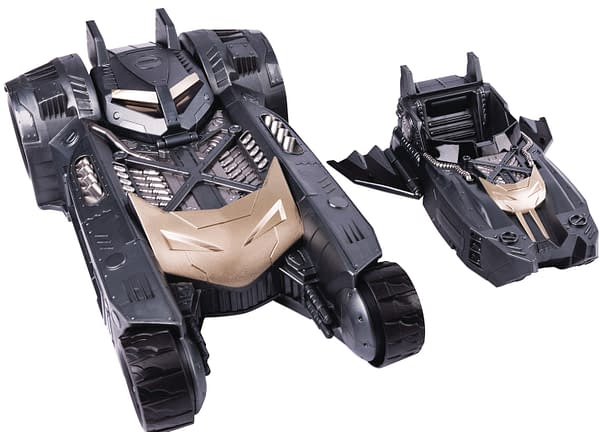 DC BATMAN 4IN SCALE BATMOBILE
From Spinmaster. Two Bat-vehicles in one! Take your Batman adventures to the next level with this 2-in-1 Batman 4-Inch Batmobile and Batboat Transforming Vehicle. When there's trouble in Gotham City harbor, lift the Batmobile's hatch and pull out the Batboat to deploy. Equipped with everything Batman needs to keep Gotham safe, this iconic vehicle is ready for action on land or water as the Batmobile or the Batboat! And it's compatible with other Spin Master Batman 4-inch scale action figures (sold separately). Don't let this Batmobile/Batboat get away!
In Shops: Feb 26, 2020 Final Orders Due: Jan 20, 2020 SRP: $19.99
Enjoyed this article? Share it!