Brian Michael Bendis and Alex Maleev are returning to the events of Event Leviathan in Leviathan Dawn this week. The preview includes a scene in which the captured Steve Trevor thinks about Wonder Woman.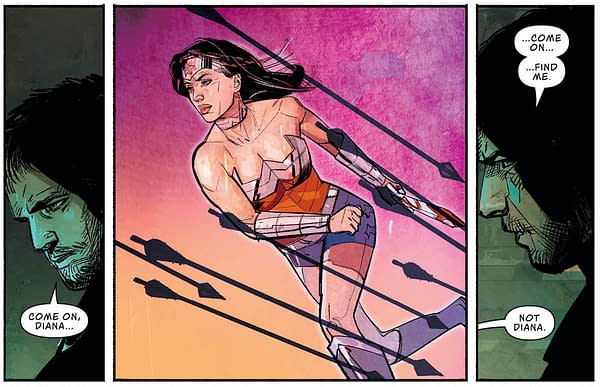 But rather than think of the current canon version of Wonder Woman from Rebirth by Greg Rucka, Liam Sharp and Nicola Scott that is still appearing in current titles, such as Wonder Woman #751 last week…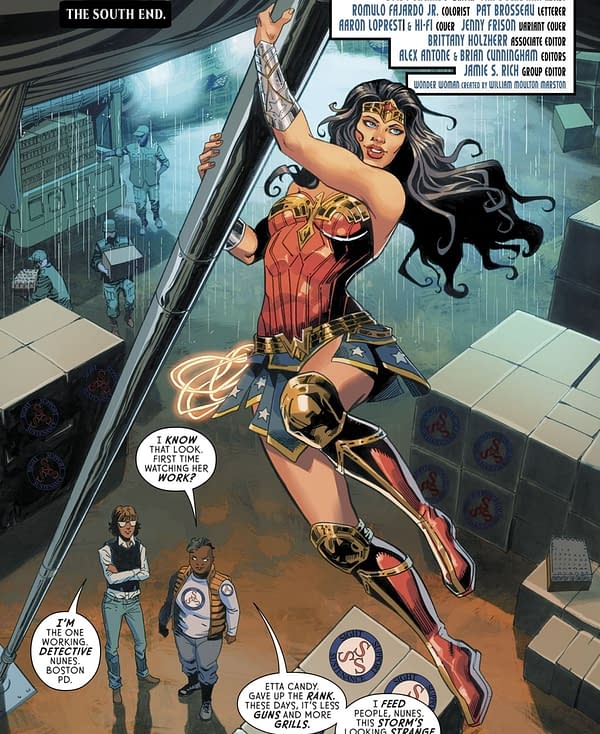 … the version he recalls is the New 52 version by Brian Azzarello and Cliff Chiang. Complete with arrows.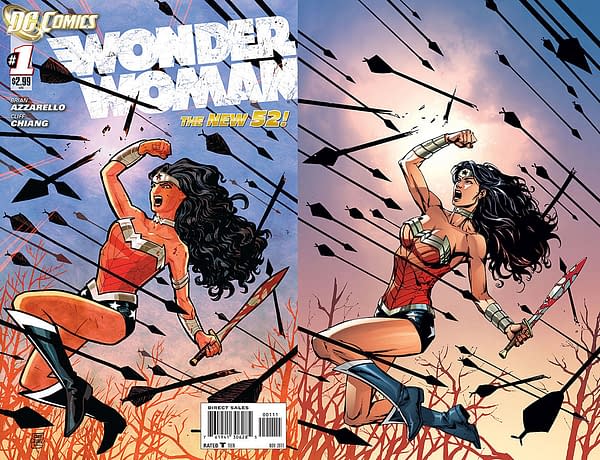 Another continuity cock-up along the lines of the current Justice League run occurring before Scott Snyder's run, despite containing events that definitely happened during it? Well, Bleeding Cool gets the word that DC's Free Comic Book Day title Generation Zero: Gods Among Us will address this head on, and other editorial foul-ups directly, and find a way to contain them all. So just hold on until May… and maybe comic stores, add a few more copies to your FOC order today.
LEVIATHAN DAWN #1
(W) Brian Michael Bendis (A/CA) Alex Maleev
Exploding out of the pages of the Event Leviathan miniseries, this all-new special blasts the DC Universe into a dangerous and brave new future! With Leviathan arrived, its leader's identity revealed, and its plans known, what happens next? Now the heroes fight back! Leviathan changed the rules of the game, so now's the time for the biggest players to get together and figure out a new strategy in this brave new world. It's an extra-sized super-spy yarn from the Eisner Award-winning team of writer Brian Michael Bendis and artist Alex Maleev!
In Shops: Feb 26, 2020 SRP: $4.99

FCBD 2020 GENERATION ZERO GODS AMONG US (NET)
(W) Scott Lobdell (A) Brett Booth (CA) Francis Manapul
UPDATED CONTENT! The march toward DC's future begins with Generation Zero: Gods Among Us! It all starts here, and everything counts. This issue features a version of the story "Flash Forward: Epilogue" that is expanded by 13 pages from its original publication in The Flash #750, with new material by the flash Forward team of writer Scott Lobdell and artist Brett Booth. In order to save his children and the multiverse itself, Wally West makes the ultimate sacrifice, taking his place in the Mobius Chair. Unbeknownst to him, the chair is packing a little extra power, having been imbued with the godlike powers of Dr. Manhattan! Now armed with infinite knowledge-and the powers of a god-Wally West can see the past, present and future of the DC Universe all at once…including what needs to be changed. This issue also includes a behind-the-scenes sneak peak at the upcoming Dark Nights: Death Metal!
Enjoyed this article? Share it!