Today saw the first of DC Comics' acetate covers hit comic book stores. with Justice League, Deathstroke and Harley Quinn titles having a peel-back cover to reveal a hidden truth regarding the comic that the initial cover may conceal.
Which is a good opportunity for DC Comics to tell retailers that the upcoming collection of Stjepan Sejic's Harleen series as a hardcover, as well as its page count being increased to 208 pages, will now also feature a two-layer acetate dust jacket.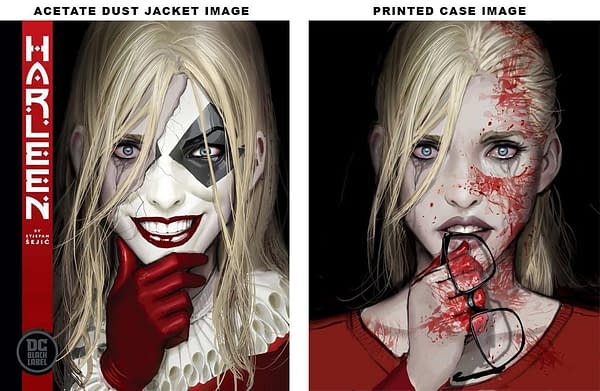 The first layer of the dust jacket shows the now-familiar image of Harley Quinn from Harleen #1. The second layer reveals a blood-spattered Harleen, hidden beneath. Here's how it will work.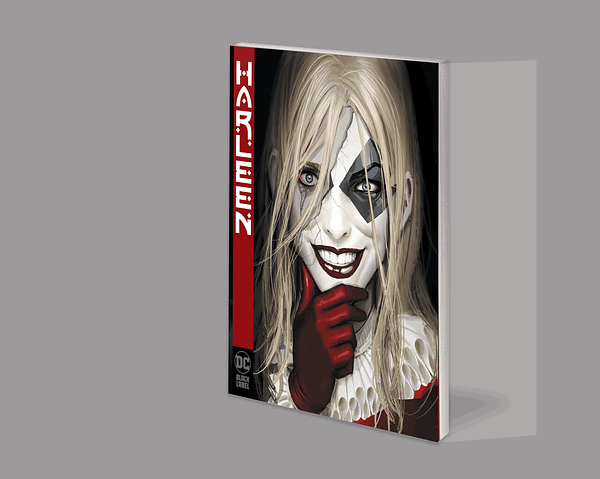 The acetate dust jacket double cover will be available on the book's first printing only. And the hardcover collection is on Final Order Cutoff this weekend, with an on-sale date of February 5th, 2020.
DC Comics tell retailers that its release will also be supported by a commercial/trailer, advertising campaign via YouTube, Facebook and Instagram, social media graphics, house ads, a DC Nation column and advertising on the CW App and CWTV.com during DC TV shows.
HARLEEN HC (MR)
(W) Stejpan Sejic (A/CA) Stejpan Sejic
It's been months since Dr. Harleen Quinzel began interviewing criminals at Arkham Asylum, and she's having strange dreams about one of them in particular: The Joker. What starts off as nightmares will soon evolve into fantasies. Despite warnings from the Dark Knight himself, she's utterly fascinated by this man who seems the perfect expression of her theory; who says all the things she needs to hear; who seems to know her better than she knows herself. Harleen is a bold new reimagining of the origin of one of DC's most beloved characters, as envisioned by writer/artist Stjepan Sejic. Collects Harleen #1-3. In Shops: Feb 05, 2020
Final Orders Due: Nov 11, 2019
SRP: $29.99
Enjoyed this article? Share it!