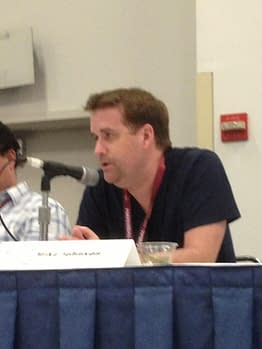 Peter S Svensson is giving us bullet points from the IDW panel at Wondercon.
We know the Mark Waid/Paul Smith news on Rocketeer/The Spirit as Pulp Friction…
Well, we also have Andrea DiVito drawing and Phil Hester writing T.H.U.N.D.E.R. Agents with Jerry Ordway and Dave Sim on covers.
And there's an arc of the IDW Star Trek ongoing comic which will act as a sequel to Star Trek Into Darkness called After Darkness, in issues 21-23. Bob Orci will be overseeing and Mike Johnson writing.
And… ta da! A new Black Dynamite comic! "He's a powder keg of black fury that's about to explode!"
Enjoyed this article? Share it!