Thank FOC It's Friday – a New Mailing List From Bleeding Cool
It was something Heidi MacDonald wrote the other week that got me thinking. She described Bleeding Cool as 'a direct conduit to comics retailers' and that 'retailers take BC as gospel and it's the only comics news site they give any credence'.
Which was flattering to hear, we have built up a lot of direct market comic book retailer coverage, with regular contributors including Rod Lambert of Rodman Comics, Aaron Haaland of A Comic Shop and all the retailers who contribute to the Bleeding Cool Bestseller List. Or the regular Advance Reorders analysis. We often look at the thoughts of Brian Hibbs, Cliff Biggers, Chuck Rozanski, Dennis Barger, Larry Docherty and maintain a strong relationship with my local London stores, Orbital Comics, Forbidden Planet and Gosh Comics. We cover the closing and opening of stores, and lots of stories that retailers often use to place orders with, and to discuss with their customers.
But Bleeding Cool is a large and unwieldy beast, doing lots of other things too. Maybe it's possible to bring a little focus?
So welcome to Thank FOC It's Friday, a new weekly mailing list, similar to The Daily LITG, but every Friday and planned to coincide and cover the demands of Final Order Cut Off. The date when retailers have a last chance to amend their advance orders for comic books without penalty. A last chance for publishers to promote books while orders can still be added. And a time for credits to be amends, new covers to be revealed and a final push given. This is an attempt to sift through them all and find the most relevant items. You can sign up here or with the form at the bottom.
Now, many retailers will know all this. But some things may slip through even the most diligent retailer's attention, like a brand new Spider-Man #1. And if nothing else, it may be useful to try for a one-stop shop that may start some thoughts, even if it doesn't finish them.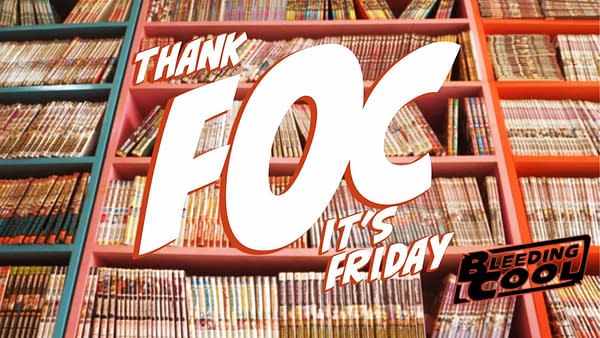 I discussed this idea with a retailer at MCM London Comic Con who was very much against the idea of such a list on the basis that he knew all this stuff and didn't want his rivals to know any better. Which is probably the best endorsement I could have asked for. This list is an attempt to create a filter, and inject some FOC-timed focused knowledge on a weekly basis. We'll work with creators and publishers and distributors of all types and not beholden to one master. No, not even Avatar Press.
Consider this Thank FOC It's Friday issue 0. A start of what might become and I would appreciate retailer commentary regarding what they would like to see here. Lets knock this monster into some kind of useful shape. But what could it be?
Well it could be Marvel revealing the Mark Brooks cover to Infinity Wars #6 for FOC.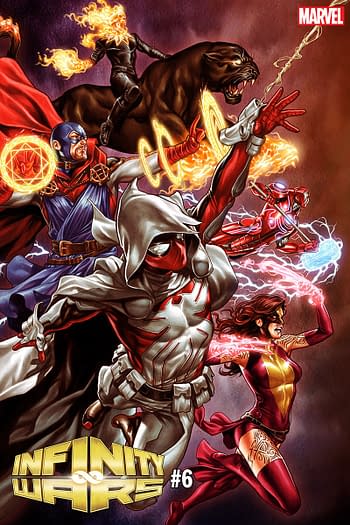 Along with a bunch of FOC DC Comics covers finally sticking their noses out. Other covers of note include The Flash #59 and Batgirl #29. But it is also FOC for Batman Damned #2 and you can find discussion regarding how retailers might approach that issue given that Batman Damned #1 isn't getting a second printing, right here.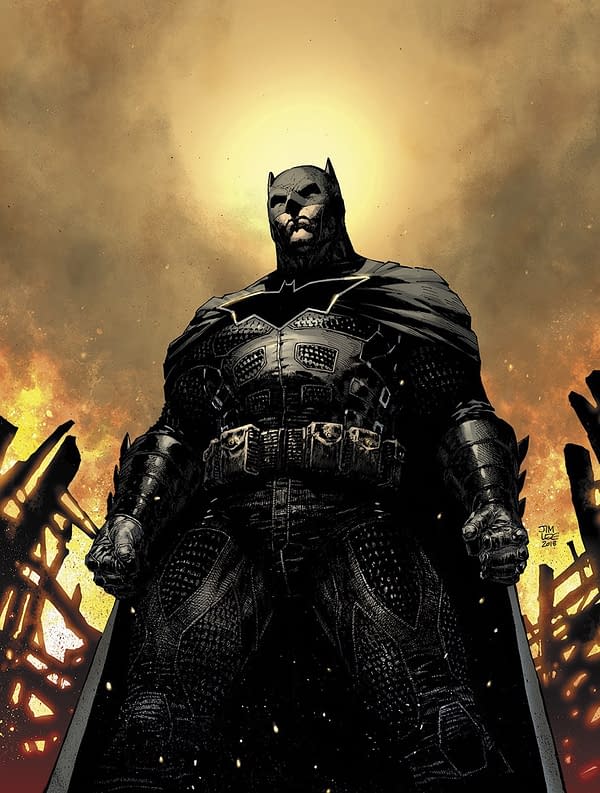 It is also FOC for Heroes In Crisis #3 and a reminder of a creative and content change for that comic book.
And we have Miguel Mercado's cover for Mighty Morphin Power Rangers #33 cover, timed for that comics' FOC date and looking like it is starting a new run of themed covers by Mercado.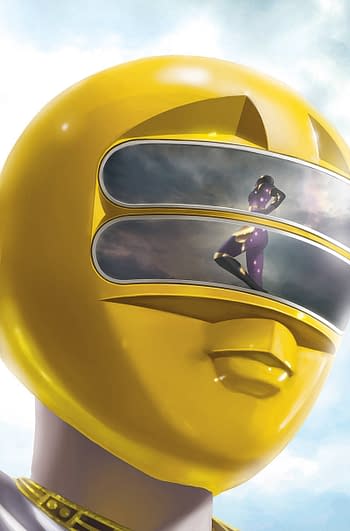 Also coming to FOC this week, there's the new Marvel Action: Spider-Man #1 all ages title from IDW perfect for Into The Spider-Verse audiences, and returnable with a small fee per book.
From Dark Horse there's a new Hellboy & The BRPD series set in 1956, which seems to tee off the 2019 movie. Might be worth checking your Stranger Things for #3.
From DC, check those numbers on Action Comics #1005, topping digital charts recently, and Doomsday Clock does not appear to be dropping demand. And is now the only place in DC Comics you can see a penis.
Remember you can actually order DIEDIEDIE from Image now. Even as, with #5, they won't let you see the cover. And a launch for new Image title Warning.
Charles Soule's Daredevil #512 comes to an end. Will he die too? Dead Man Logan #1 has and it's not stopping him. It's also FOC for those Defenders oneshots, will Al Ewing's rep on Immortal Hulk carry those through? There's also launch of Ironheart #1 which looks like Marvel will PR push that on release again. Killmonger #1 as well. And for movie fans, Marvel will adapt Infinity War as a prelude comic to Avengers 4 – which is where the name of the new movie will appear in print. Probably. There's Qui-Gonn Jinn's first Sar Wars solo, the launch of WInter Soldier and the Exterminated comic – will it have a funeral for Scott Summers by Chris Claremont? Another one?
You may want to watch for a Black Mask launch for Snap Flash Hustle, and for Lion Forge's Quincredible both FOCing this week too. But it's not just FOC.
Retailer Dennis Barger has also run a couple of his Diamond diatribes here and here which are generally entertaining even if you don't agree with him. And there is reminder of the curse of the pullbox right here too – $1000 worth.
Did you notice that Donald Trump appeared in Judge Dredd: Toxic from IDW last week? Might be worth a handsell to your more political minded customers, as well as mentioning that this is Peter Milligan's first Dredd work.
Oh and for those customers still obsessed with Batman's penis, maybe last week's Action Comics #1004 Superman/Lois Lane sex issue may be worth a revisit. And maybe even Dark Knight III: The Master Race #1. Oh and more Dark Knight from Frank Miller and Rafael Grampa is coming…
The Isola trade paperback may provide temporary relief for those on Saga sabbatical and Image has a promotion for the Isola Prologue you might want to up Isola #6 orders on for. Which is FOC this week too.
Fans of British stand up comedian Rogesh Ranganathan might want to know he has written a surprise strip in next week's The Wicked + The Divine Funnies oneshot from Image.
You can now order Iron Man HeroClix, and pins for 2019's Free Comic Book Day.
The boys of White Noise addressed retailers at MCM London Comic Con. And now you get to see what they have to say as well.
Is a free batch of Marvel Calendars enough for you to up your Fantastic Four #5 orders to match those of #2? Might it be cheaper to pay for the calendars?
Marvel continue to liquidate their hardcovers...
And the Captain Marvel: Monica Rambeau trade paperback will be only sold into the direct market. Though the price has jumped five bucks.
Watch out for longboxes and exclusive variant covers from Rebel Base Comics & Games, North Carolina, that were stolen.
Time to get excited about Artists, Writers & Artisans.
Oh yeah, and Shazam is late. And Stitched is back.
This is issue 0. Sign up below and we'll see what Thank FOC It's Friday brings next week…