Welcome to Thank FOC It's Friday Saturday, a weekly mailing list, similar to The Daily LITG, but (mostly) every Friday and planned to coincide and cover the demands of Final Order Cut Off. The date when retailers have a last chance to amend their advance orders for comic books without penalty. A last chance for publishers to promote books while orders can still be added. And a time for credits to be amends, new covers to be revealed and a final push given. This is an attempt to sift through them all and find the most relevant items.
You can sign up here or with the form at the bottom.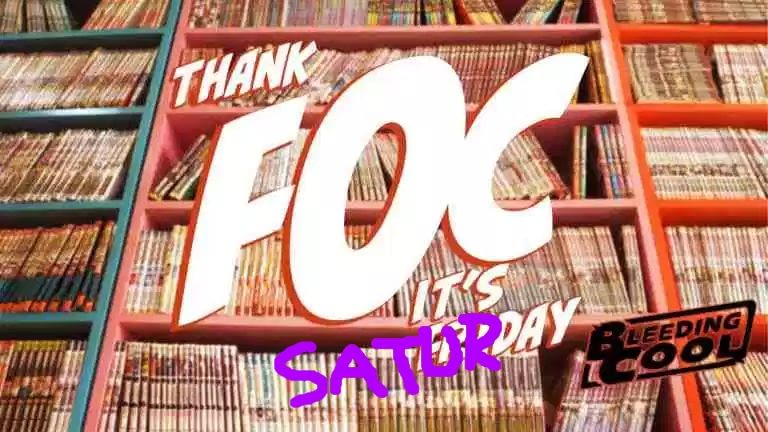 So what's on FOC this week?
Dark Horse is launching a new series of She Could Fly, and a new Incredibles 2 series, Secret Identities.
Those Batman Black & White Mini Figures Blind Bags will be accompaning a Detective Comics #1001.
IDW are celebrating the 35th Anniversary of Real Ghostbusters, and beginning of Star Trek Year Five #1.
Image Comics are launching Fairlady #1, a new series by Brian Schirmer, Claudia Balboni and Marissa Louise.
Marvel Comics have some big books for FOC – Kirby Returns King Size Hardcover, Marvel Comics 1 80th Anniversary HC and the Marvel Art Of Conan.
Marvel also have Grand Moff Tarkin and Princess Leia one shots, the launch of Symbiote Spider-Man #1 and Web Of Venom: Cult Of Carnage.
Marvel are launching two War Of The Realms series, Journey Into Mystery, War Of Scrolls, alongside War Of Realms #2.
Boom's launch of Faithless #1 is returnable for registered retailers, and now includes this all-new, open-to-order, virgin art FOC cover by Brian Azzarello's Batman: Damned partner-in-crime, Lee Bermejo.
And, um, an 'erotic' cover by Tula Lotay that got ComicsPRO all hot and bothered.
Ronin Island #2 is returnable for registered retailers, and now includes an all-new, open-to-order, virgin art FOC cover by Kris Anka (Runaways).
Firefly #3 third printing cover will feature Lee Garbett's original issue cover art with a shiny new color treatment.
Amy Chu and Edu Menna are launching KISS End #1 from Dynamite.
Action Lab launches Aberrant Season 2 #1, Cold Blood Samurai #1 from Massimo Rosi and Ludovica Ceregatti and Princelessness Season 8 #1.
And AfterShock is launching Orphan Age #1 by Ted Anderson and Nuno Plati.
So what are you FOC'ing up to this weekend?
Sign up below and we'll see what Thank FOC It's Friday brings next week… on time.
Enjoyed this article? Share it!