The Batman Who Laughs #1 Review: Snyder and Jock Show Off Their Brilliance In Great First Issue
I approached this new series with some wariness. Though Scott Snyder and Jock are some of the best creators in the industry at the moment I find the concept behind The Batman Who Laughs (an amalgam of the Joker and Batman who clearly owes a visual and conceptual debt to 2000AD's Judge Death) derivative and I found the previous Metal crossover that introduced the character tiresome.
(As an aside, anybody else find it strange that amalgam characters are in so many stories at the moment – Marvel's current Infinity Wars crossover seems all about that and there was of course so much of that stuff in Metal. Is the (flash in the pan) success of Gwenpool and Deadpool the Duck etc. to blame for all this? It's really weird when these trends take off in comics – like when Superior Spider-Man led to a rash of super-hero-turn-bad stores like Axis and Hydra-Cap. Have comics always been so influenced by trends? Or is just a more recent thing and a reflection of the quick pitch and editor-centric nature of current comics? Your take is welcome below!)
Anyway I needn't have been wary – Snyder and Jock are in top form here – telling an action packed, funny and enthralling story that sets up the 6-issue mini-series masterfully.
Smartly there is no attempt to make The Batman Who Laughs the protagonist – the story stars the apparently (who knows there may be a twist) regular Batman as he discovers an extremely familiar corpse and discovers that his Jokerized alternate universe counterpart (whom Batman describes as "me – he has my training, my memories, my mind … but he's me free from codes, morals, heart black as the Joker . He is the living embodiment of the idea that Batman Always Wins) has returned to wreak havoc.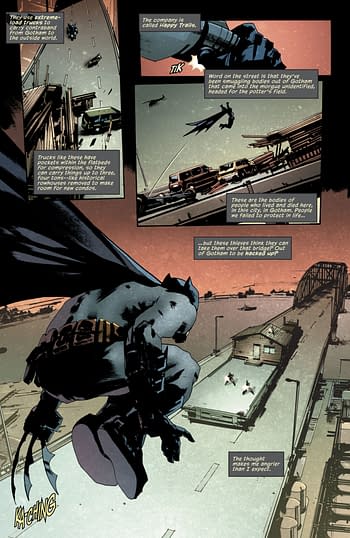 Jock's bold sense of design that makes him one of the industry's best cover artists is on full display here. Every page seems framed around a single striking image yet manages to tell the story with a crisp efficiency. There is a fair amount of plot and dialogue that Snyder needs to put in to this set- up issue and Jock's pages manage to give him plenty of space for all that while not seeming over stuffed or slowing the pace.
I do have a few qualms about the story – one editorially unkillable character is apparently killed twice in this issue (spoilers in link!) and this new idea that the Joker's heart contains some sort of jokerizng "super toxin" seems ridiculous, but these are minor quibbles. There is a lot to like here – like the unusual high speed chase that opens the issue, the questions about Batman's war on crime that the mysterious corpse provokes and a great joke about "Dark Knight Returns" – this is an easy issue to recommend, hopefully the rest of this series lives up to this impressive beginning.
SUMMARY: Writer: Scott Snyder, Artist: Jock, Colors: David Baron, Letters: Sal Cipriano, Cover: Jock Variant Cover: Greg Capullo & FCO Plascencia, Assistant Editor: Dave Wielgos, Editor: Katie Kubert Group Editor: Jamie S. Rich, Publisher: DC Comics, Release Date: Out Now, Price: $3.99.