Russian Robot War Aftermath Dead Kings #1 Review: Shaky Start, But Intriguing
It seems there's no escaping Russia in the popular imagination at the moment – whether it is in the news with Putin's hijinks subverting elections, mistakingly poisoning random British citizens and (worst of all) trolling Star Wars fans, or Tom King playing out his fantasy of punching Russians in the current Batman storyline. Writer Steve Orlando (Batman/Shadow, Crude, Midnighter) and artist Matthew Dow Smith's (October Girl, Suicide Squad, X-Files) recently debuted their contribution to this cultural moment in their post-apocalyptian series Dead Kings.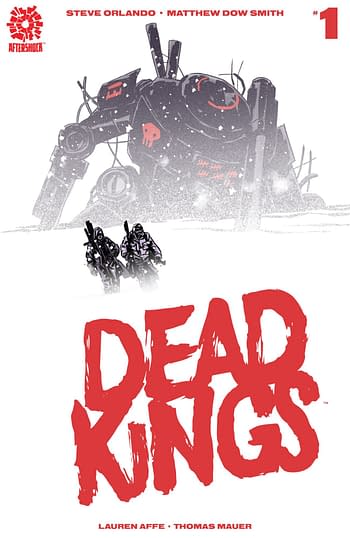 SUMMARY: Writer: Steve Orlando, Artist: Matthew Dow Smith, Color Artist: Lauren Affe, Letters: Thomas Mauer, Cover A by: Matthew Dow Smith, Cover B by: Michael Gaydos, Variant Cover by: Russ Braun & Jose Villarubia. Logo Designer/Production: Charles Pritchett, Editor: Mike Marts, Publisher: Aftershock Comics, Release Date: Out Now, Price: $3.99
Set entirely in a bleak post-industrial future Russia (or Rus) that is recovering from some type of civil war that involved giant robots the series follows protagonist Sasha as he goes about recruiting allies and avoiding dangerous forces on a quest to save his twin brother.
Orlando has clearly done a lot of work on this concept and he seems to have a very well developed idea of this world and its culture that he is keen to immerse the reader in. First issues of high concept series like this are tricky – you want the reader to feel transported to a rich and intriguing new setting but you don't want to make the world-building so dense that you alienate them and obscure the central narrative.
I'm afraid the first half of the book falls in to this trap – we are bombarded with tons of strange place names, jargon and slang terms – at times it seems like the script was actually originally written in Russian before being passed through the post-apocalyptian version of google translate.
But as the issue progresses a compelling central story starts to emerge – a man looking to find his twin brother and help him escape from unjust imprisonment in an original and distinctive setting.
The art goes a long way to fleshing out Orlando's concept. This is not a flashy book – if you love bright colors and lots of action scenes look elsewhere (I highly recommend Erik Larsen's Savage Dragon for that type of thing myself). This is a book about a bleak and broken world where the important stuff largely happens in dialogue scenes.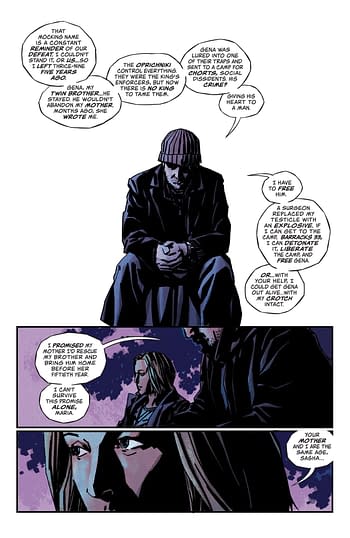 That may seem unappetizing but Dow Smith pulls it off – this world is monotone and worn down but fascinating in its detail and mood. His work is very reminiscent of John Paul Leon and Michael Gaydos, who provides a variant cover to this issue. The first panel in the page above – and important scene where Sasha imparts exposition about his backstory to the female lead character – uses negative space and breaks the panel grid to powerful effect, seemingly underlining the weight of the info that is being imparted.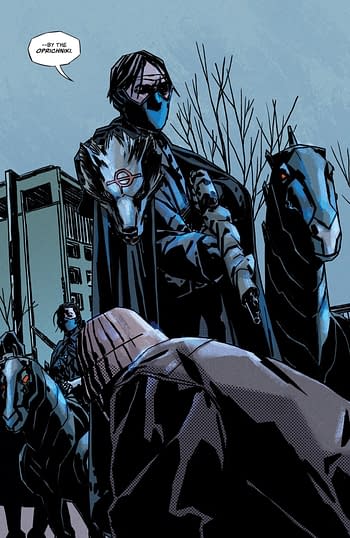 Dow Smith also uses his several splash pages throughout the issue very strongly, providing stark images that remind the reader of the fantastic and dynamic elements of the setting – essential in a book that involves so much set-up.
So a little but a shaky start to this strange and challenging book – there's more than enough here to make me come back for more and I hope enough of you have the patience and guts to give it a shot.