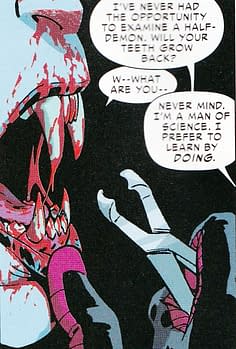 From Superior Spider-Man Annual today. Spoilers abound.
Because we have seen in the regular title, Spider-Man, now possessed fully by Doc Ock, trying to be a better man. He's not trying to take over the world, he's not trying to steal, he is trying to be a superhero. He is vicious, he makes different decisions, he has killed, but he saves people – both those close to him, and large numbers of strangers. His motives are positive, if warped by his previous nature.
In today's Superior Spider-Man, the character goes a little further. Into full blown Nazi-like torture/experimentation on his victims. By ripping out teeth and fingernails… Nice. This was touted as an "annual that matters" by Marvel, and there are certain consequences that one might expect from such activity. Because there was more than one two people in that warehouse…
Comics courtesy of Orbital Comics, London. With Ales Kot and Tom Murphy of Zero #3, out today, signing tonight. And Sean Murphy signing on Friday…

Enjoyed this article? Share it!