Tom King and Clay Mann Deliver Lois Lane Fan Service in Heroes In Crisis #4 (Spoilers)
Fan service: material in a work of fiction or in a fictional series which is intentionally added to please the audience. The term originated in Japanese, in the anime and manga fandom, but has been used in other languages and media. It is about "servicing" the fan – giving the fans "exactly what they want." Fan service usually refers to "gratuitous titillation", but can also refer to intertextual references to other series or story and visual elements that audiences tend to desire.
Consider this some kind of corollary to this scene by Tom King and Mikel Janin from Grayson #9…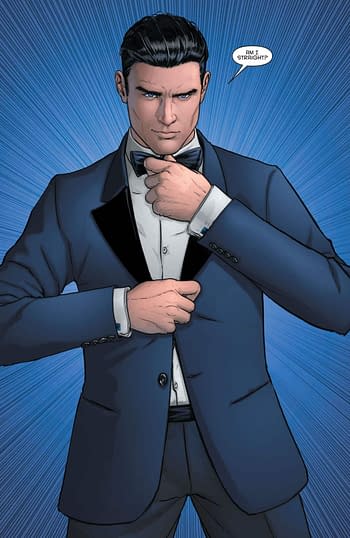 Or even from this scene from Batman by Tom King and David Finch – an artist who King insisted on despite his editor, and even managed to get his editor changed as a result?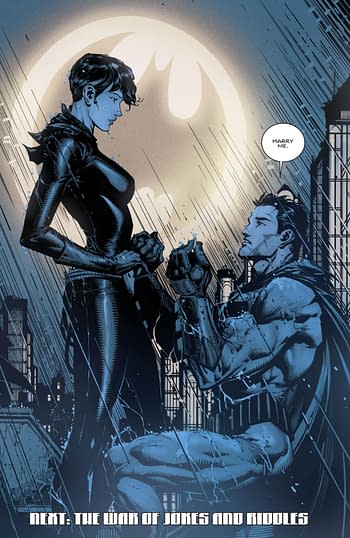 Tom King knows the importance of the full page image that will be taken, often used out of context, and shot around the world. And Heroes In Crisis #4 is full of them. You may have seen Bros Before Heroes already. But the comic also brings us Lois Lane Fanservice from Tom King and Clay Mann.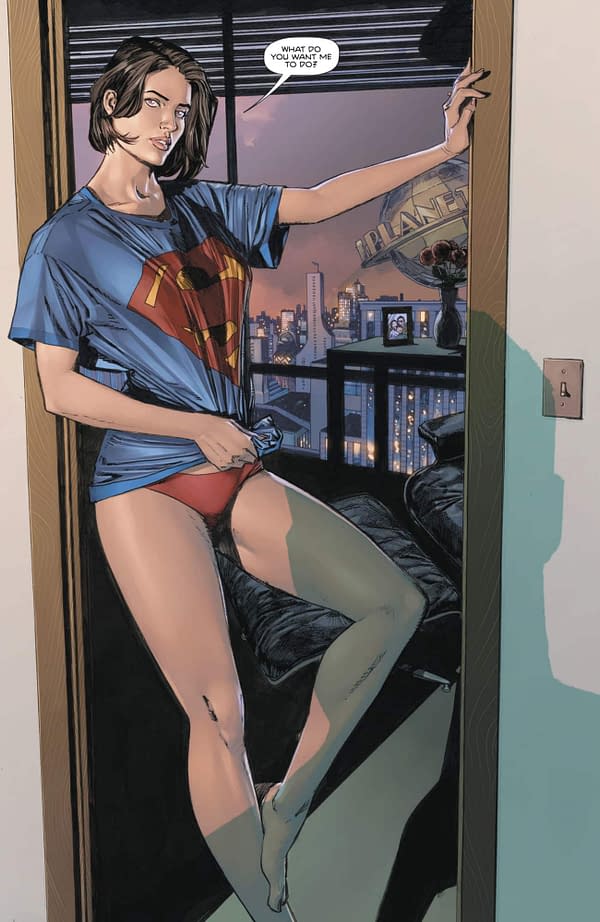 Posters? T-Shirt? Cosplayers reprising that scene both with a Superman T-shirt and with a T-shirt of this scene? It gets over the whole 'girlfriend wearing the boyfriend's T-shirt in bed' trope that indicates transgression of gender roles as well as that she 'just came over unprepared and what is a girl to do?' Although it's more like, they've been married for thirteen years and he hasn't bothered to do the washing while she's been at work.
So, Superman's reply?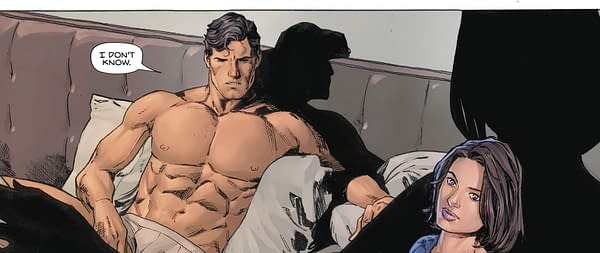 Cue many a screaming fanboy 'I do….' It's not the only scene that will be presented out of context. With King and Mann knowing just what they are doing. Take Harley Quinn and Batgirl…
With a Hall of Mirrors for multiple perspectives. Sigh. But back to Lois. Of course, she wasn't talking about what the image suggests she is talking about. It's about Lois Lane as a professional journalist receiving leaked videos from Sanctuary of the superhero confessions.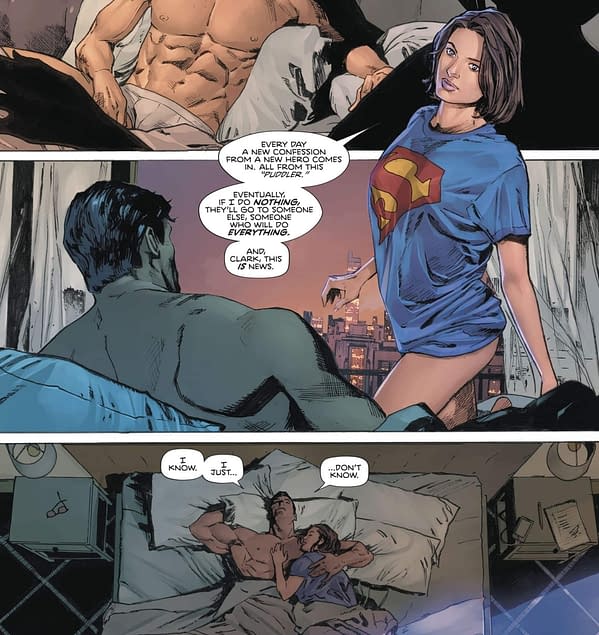 Yeah, Lois, you know what else is news? That Clark Kent is Superman. And that you are married to him. As Jordan D White over at Marvel tweeted yesterday,
No wonder I don't like to be called a journalist. Now, once upon a time, she did reveal all that. But it all went away of course. And, as we mentioned the other day, Superman goes all Watchmen on Batman and Superman…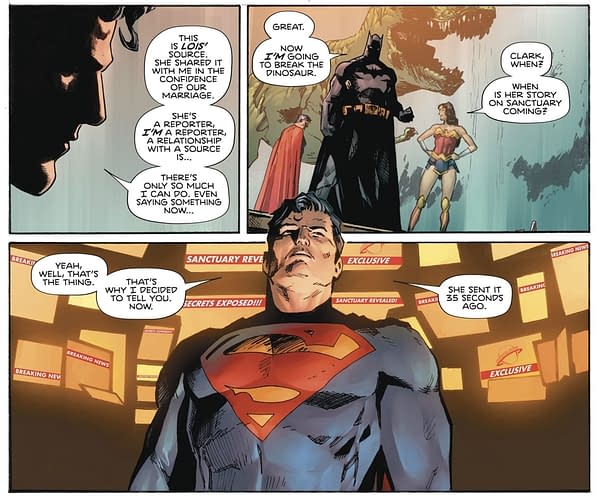 Because everyone wants to write an unauthorised sequel to Watchmen with Batman and Superman in it, these days.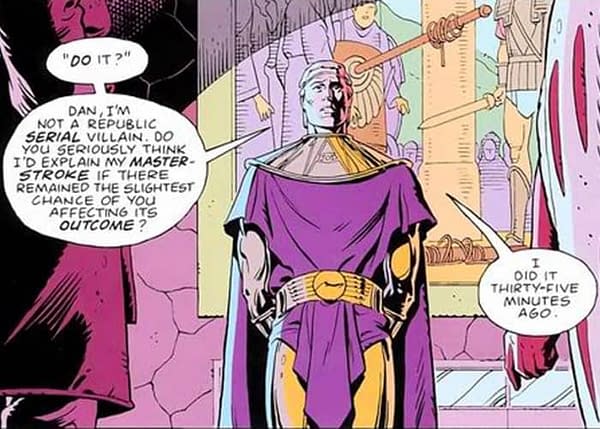 And we get the article – and the date. January 2nd 2019. Today. Given that the newspaper dates in Doomsday Clock are (mostly) from the summer of 20189 – could Sanctuary be seen as the starting gun for what might become The Supermen Theory?
HEROES IN CRISIS #4 (OF 9) VAR ED
(W) Tom King (A) Clay Mann (CA) Ryan Sook
Wonder Woman versus…Booster Gold?! Diana finds out the hard way that Booster can be a formidable opponent when his back's against the wall. Of course, being the prime suspect in a superhero massacre and exposing a secret trauma hospital for metahumans will do just that. Meanwhile, Batman and the Flash combine their detective skills to investigate what went awry at Sanctuary and uncover a serious glitch in the system-not to mention an explosive, spoiler-ific secret! In Shops: Jan 02, 2019
SRP: $3.99