Has Tony Stark Ever Looked as Much Like Robert Downey Jr. as He Does in Punisher #1?
Lots of comic book artists use famous folk as models for characters. Tony Stark himself was a little Howard Hughes and a lot of Errol Flynn. But he's pretty much stuck to that model over the years…
Though he has been known to look a little Keanu Reeves/Adam Levine as well.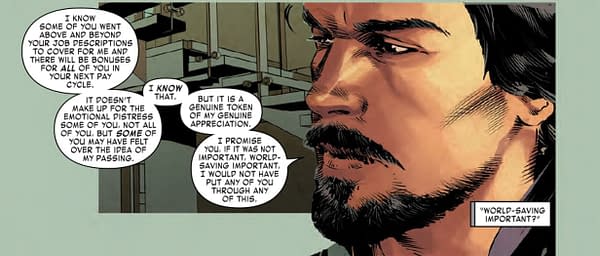 Despite the success of Robert Downey Jr.'s take on the character which has done more than anything to hold the Marvel Cinematic Universe together, he hasn't looked like him in the comic books. Even if you sounds a lot more like that version of the character.
But in today's Punisher #1, Szymon Kudranski makes him look more like Robert Downey Jr. than ever before.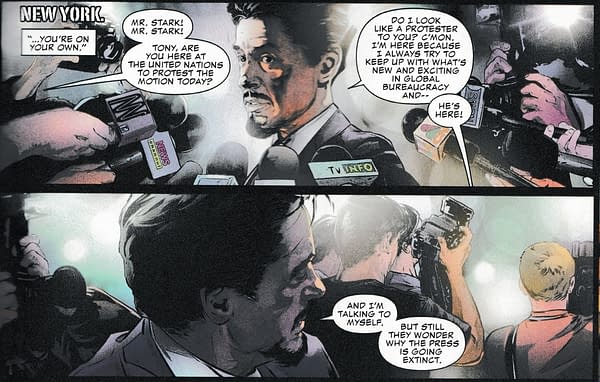 You don't suppose there might be likeness rights at stake?
PUNISHER #1
(W) Matthew Rosenberg (A) Szymon Kudranski (CA) Greg Smallwood
YOU CAN TAKE THE PUNISHER OUT OF THE WAR MACHINE…
Punisher no longer has the War Machine armor, but he retained his newly acquired taste for big game, and he's hungry for more. However, the paths to such perilous pursuits are fraught with dangers bigger than any Frank has faced before, and this lone wolf could use otherworldly help on his way up to the world stage. MATTHEW ROSENBERG continues pushing the boundaries of the Punisher, and now joined by acclaimed artist RICCARDO BURCHIELLI (DMZ, Northlanders) Szymon Kudranski, this is the book Punisher fans will be talking about for years to come!
Parental Advisory In Shops: Aug 22, 2018
SRP: $4.99