Which Marvel Comic This Week Reveals It's Been a Secret Dawn of X Book All Along? [SPOILERS]
It looks like X-Men fans without the good taste to be reading [SPOILERS] haven't gotten the full picture of the Dawn of X, because Marvel Comics today, in one of the ever-more-rare examples of a legitimate comics "surprise," revealed that one comic book not listed as part of the Dawn of X relaunch has been a part of it the whole time. Total mindf**k, right?!
Yes, we're going to spoil it for you, but we recommend you read your stack of comics this week first, in case it's a book you've been reading (it should be), so you can experience the twist for yourself. After that, if you haven't been reading it, then it won't matter if you're spoiled, right? Well, unless now that you know about the twist, you're going to go out and buy every Marvel comic on the stands this week to find out the old-fashioned way. And honestly, we just wouldn't feel right about sending all that money Marvel's way when Ike Perlmutter is just going to spend it on… you know what, never mind. If you want to be spoiled, continue below. If not, then go ahead and live your life not knowing. That's fine with us.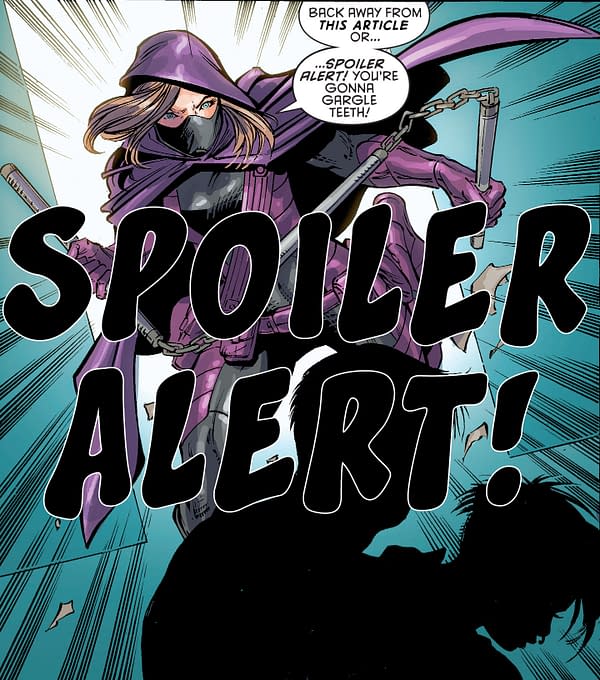 In today's Gwenpool Strikes Back #5, expertly crafted by Leah Williams, David Baldeon, Jesus Aburtov, Guru-eFX, and Joe Caramagna, it's Gwen's final chance (because the mini-series is ending) to prove her worthiness to continue starring in Marvel comics, lest she fade away and be forgotten. For those who don't know, Gwen comes to the 616 from our universe, where the heroes of Marvel Comics are fictional characters starring in comic books. But during their final showdown in Gwenpool Strikes Back #5, Ms. Marvel proposes another scenario: that Gwen made up the whole idea about comic books to cover up a childhood trauma and that her powers have just recently manifested because of adolescence. In other words…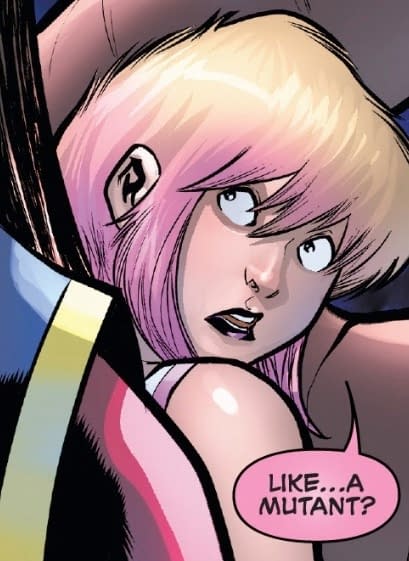 Of course, that's not true. But with Gwen's ability to walk the whitespace between panels and retcon her own comics, it can be. Which is, perhaps, how Gwen finds herself invited through a Krakoan gateway, one which only allows mutants to pass.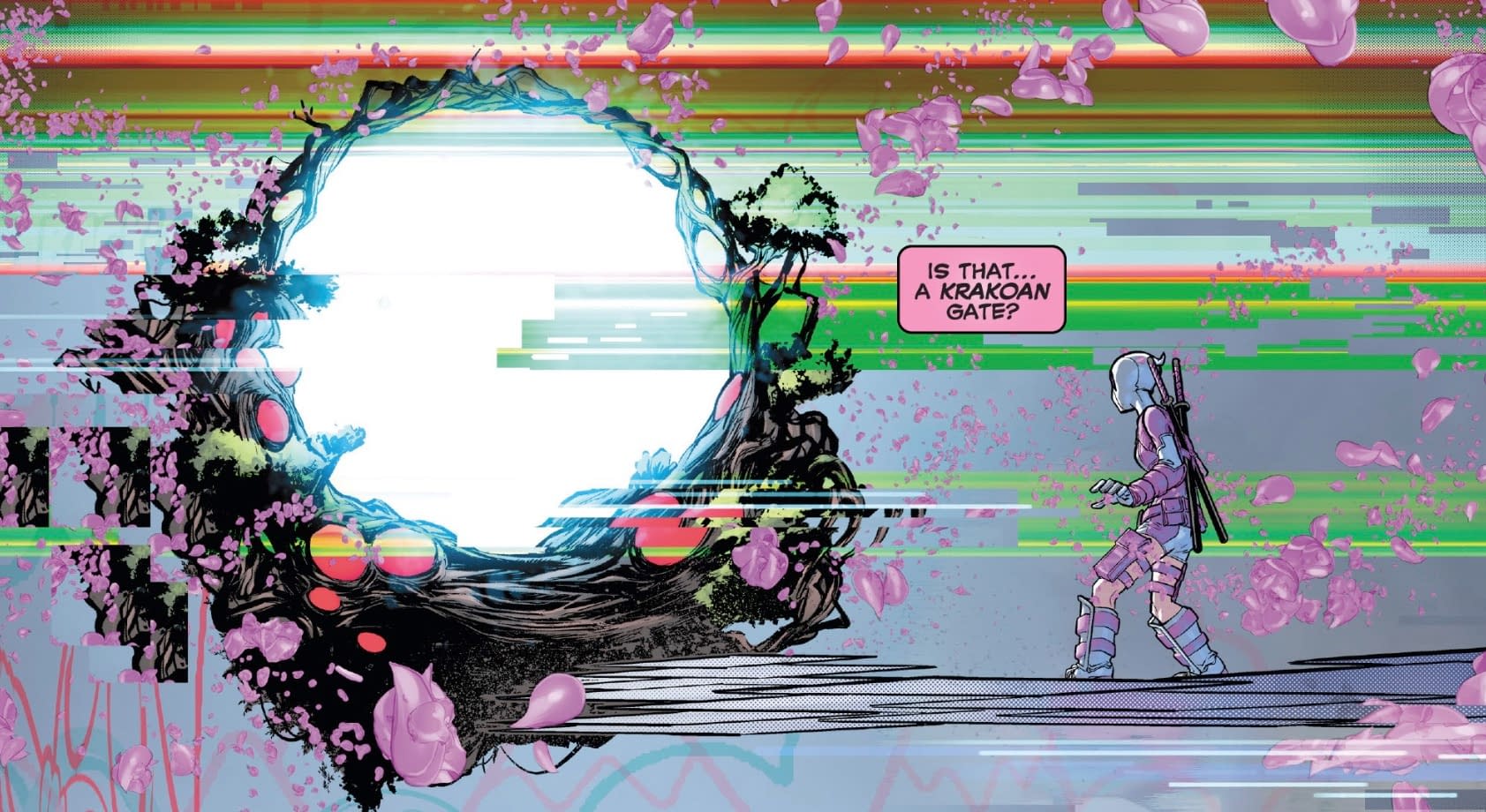 Indeed it is. Which means that Gwenpool Strikes Back must be officially part of the Dawn of X. And in case anyone doubts that this "counts" due to the humorous nature of Gwenpool Strikes Back, we ask you… has a Hickmanesque infographic page ever lied to you?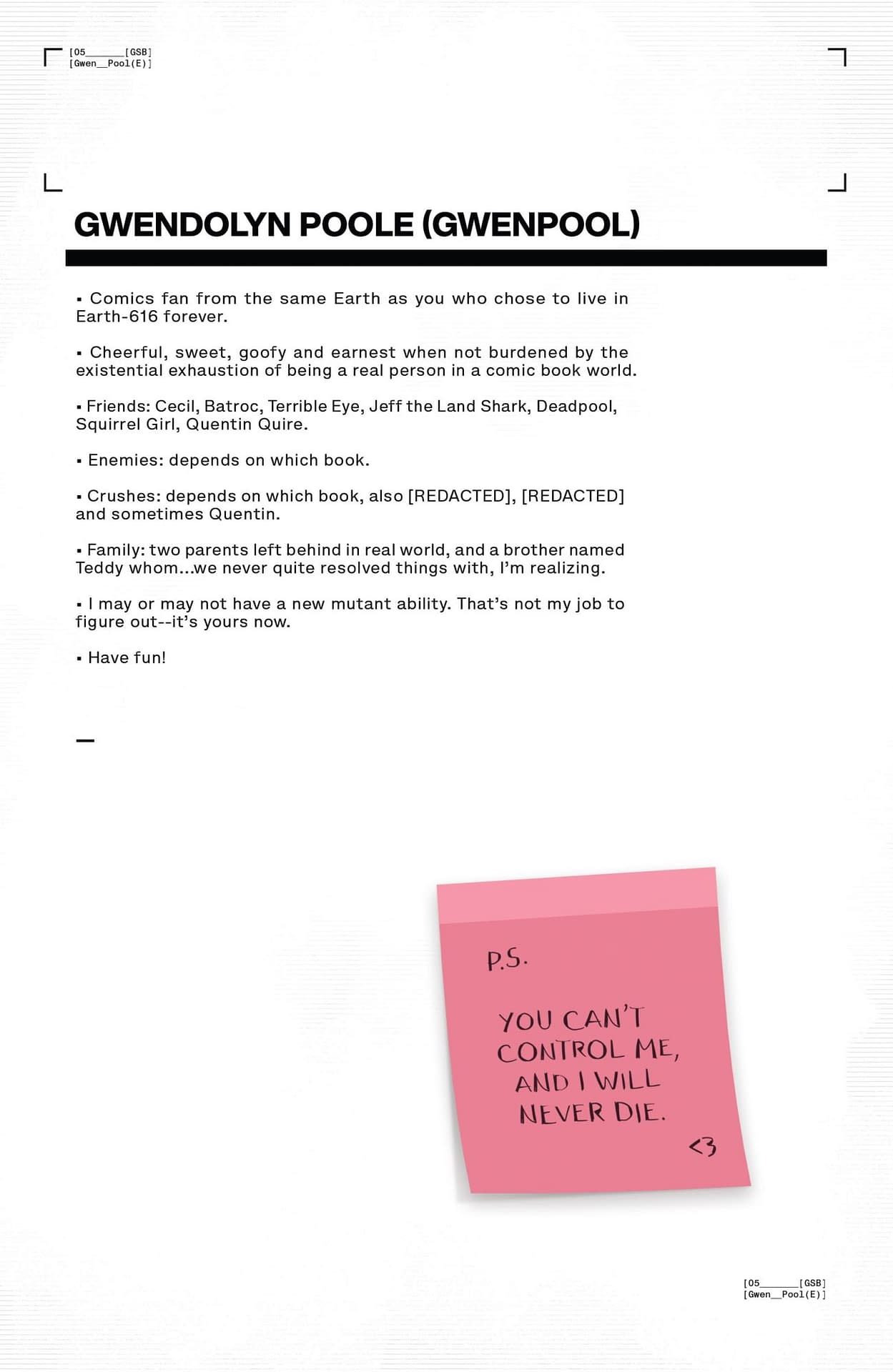 So Gwenpool Strikes Back, the first issue of which shipped back in August, is not only part of the Dawn of X, but it's the first Dawn of X book, published the same week as Powers of X #2. All of which leaves us with two questions: where does this lead for writer Leah Williams' promised Dawn of X Wave 2 book? And as the first Dawn of X book, are speculators about to make a killing on eBay?
Gwenpool Strikes Back #5, in stores now… while they last. And look, it was on the cover all along.
GWENPOOL STRIKES BACK #5 (OF 5)
OCT191031
(W) Leah Williams (A) David Baldeon (CA) Judith Stephens, Elena Strikes
GWENPOOL GOES HOME?!
As Gwen's mad rampage comes to a close we learn the real truth about her origins! Is this Gwen's greatest retcon yet? Will she go big or will she go home? Find out… once and for all!
Rated T+
In Shops: Dec 18, 2019
SRP: $3.99