Why Did Nathan Grey Create His Age Of X-Man Like This Then? Marvelous X-Men #1 (Spoilers)
Love is all you need. That has been teased in Age Of X-Man Alpha, promising a brand new sexual revolution to this pocket universe of reality created by Nathan Grey. But how has this reality been achieved – and why? Tomorrow's Age Of X-Man: Marvelous X-Men #1 has some explanations.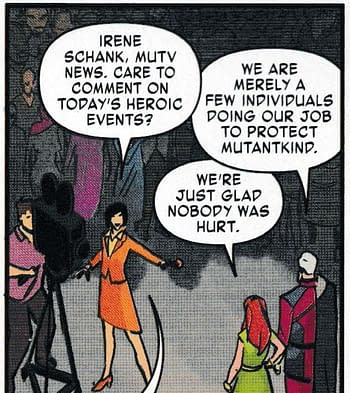 Mutantkind. With everyone in the world a mutant and everyone's life is controlled, and no super-villainy, what need is there of X-Men? Well, there are always acts of god, disasters waiting to be tackled and people to be saved. All under the label of identity, autonomy and harmony.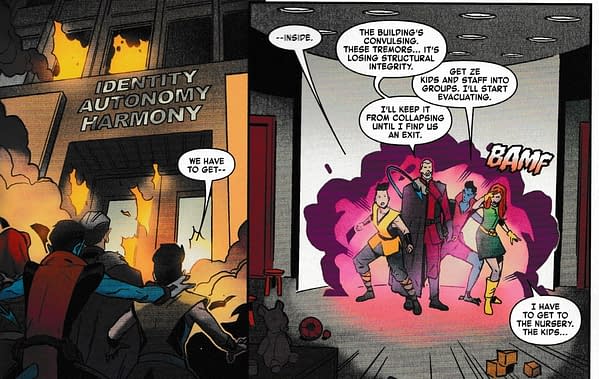 As long as there is no romance.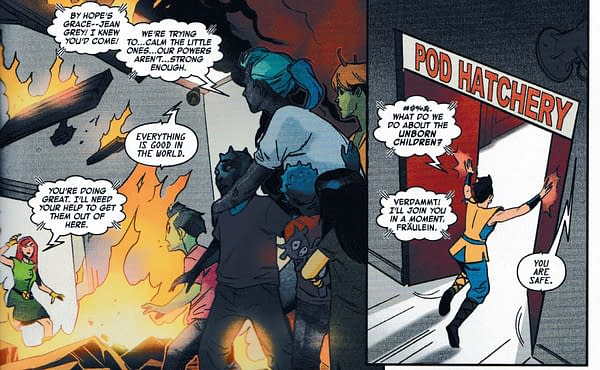 People happen a different way. In Alpha, we heard about the hatcheries…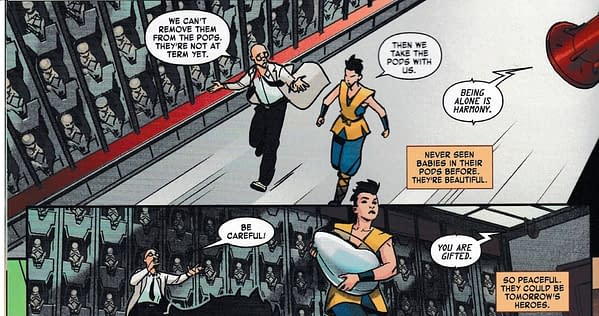 …in marvellous, we get to see them. Bleeding Cool talked about the sexual and reproductive politics of post-apocalyptic and future-set science-fiction. It means a lot, it dehumanises, it emphasises the selfish self, but sometimes it's seen as the only way.
In the absence of such, there is the safe romantic fantasy of course, And Nightcrawler plays that role as superhero and superstar actor.

But why this way? Why would Nat Grey create a world without romance, without sexuality, without… oh…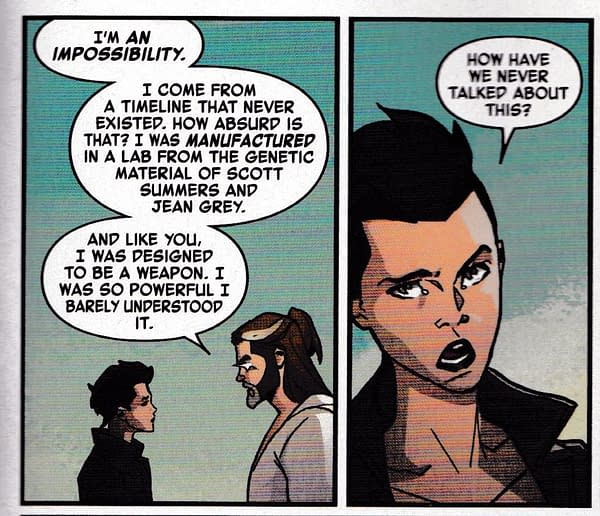 Yeah, if you were the result of a genetic experiment, created from the genes of a couple with a turbulent lovelife, you might… overreact too. From a certain X-Man -1.
Write what you know, I guess.
Age Of X-Man: Marvelous X-Men #1 is published tomorrow.
AGE OF X-MAN MARVELOUS X-MEN #1 (OF 5)
(W) Lonnie Nadler, Zac Thompson (A) Marco Failla (CA) Phil Noto
ENTER THE AGE OF X-MAN!
The perfect heroes for a perfect world! The X-Men have helped make the world into a utopia where living in fear and hatred is a thing of the past. All people are united under the banner of mutantkind, and all of mutantkind idolizes the X-Men. Jean Grey! Colossus! Storm! X-23! X-Man! Nature Girl! Magneto! And of course, the amazing Nightcrawler! When danger threatens the world, the Marvelous X-Men set things right for the good of all. And no one dares say otherwise.
Rated T+In Shops: Feb 06, 2019
SRP: $3.99