X-Men Characters' Odds of Survival Directly Linked to How Cute Ed Brisson Feels
In the current crop of X-Men writers, who once gleefully discussed plans to kill Honey Badger on Twitter, Canadian Ed Brisson claims the crown as the most savage, bloodthirsty of all. Brisson brutally murdered adult Cable, Bloodstorm, and Mimic in Extermination, and he wasn't exactly kind to the time-displaced original five X-Men either. Brisson is literally writing a series called Dead Man Logan right now, the purpose of which is to KILL A WOLVERINE.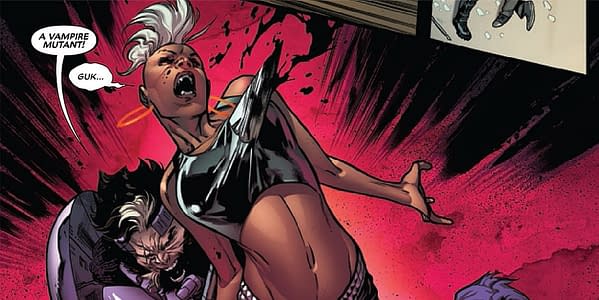 But is Brisson just getting started?
In a shocking social media post Friday, Brisson revealed that, contrary to popular belief, he doesn't just senselessly murder beloved characters for no rhyme or reason. In fact, this new evidence proves that Brisson's propensity to kill off X-Men is directly correlated to how cute he feels on any given day.
Brisson posted the following photo of himself to Facebook, taunting X-fans who are at this moment wondering whether Warpath will live or die in X-Force…
Trying out a pair of blue light blocking glasses while writing. Couldn't resist getting in on the latest meme to prove that I'm still super cool and relatable.

Posted by Ed Brisson on Friday, April 12, 2019
Could Brisson have written a script Friday that killed off Glob Herman in Dead Man Logan? Will Rachel Summers get the ax in X-Force? Maybe Brisson has cooked up a super-mega-crossover event where he can kill dozens of X-Men at one time! The terrifying truth is that Brisson likely feels cute all the time– just look at him, he's adorable– and none of our favorite characters are safe!