X-Men Free Comic Book Day Suggests Sunset Of X to Follow Dawn Of X
Today sees the X-Men Free Comic Book Day 2020 released in comic book stores for Free Comic Book Summer. If you can get to a comic book store that is. And it has plenty of portents for the future for the X-Men comic books. Last summer, they had a big relaunch with Jonathan Hickman as showrunner, reinventing everything under the Dawn Of X banner, tipping over the applecart, turning everything its head and showing a mutant race engaging in isolation, led by a newly revived Professor Xavier, in a world where every mutant can be brought back from the dead, where previous relationships have turned polyamorous, with the bad guys treated as compatriots and each of the different titles examining the intricacies and politics of the mutant island of Krakoa and the effect they have on the world. it' been really fun, but it does suggest it has to be heading in a certain direction.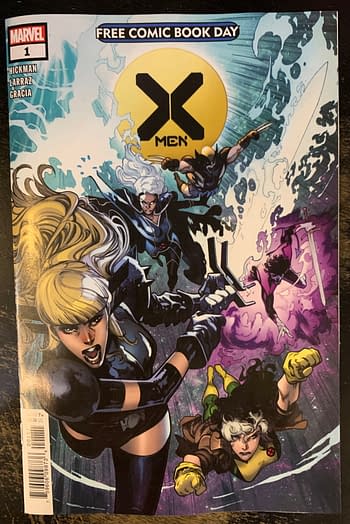 Courtesy of House Of X legend Pepe Larraz, we have another time and another place, we see alien beings using portals not unlike those grown on Krakoa, and used to transport mutants around the world – or indeed the galaxy.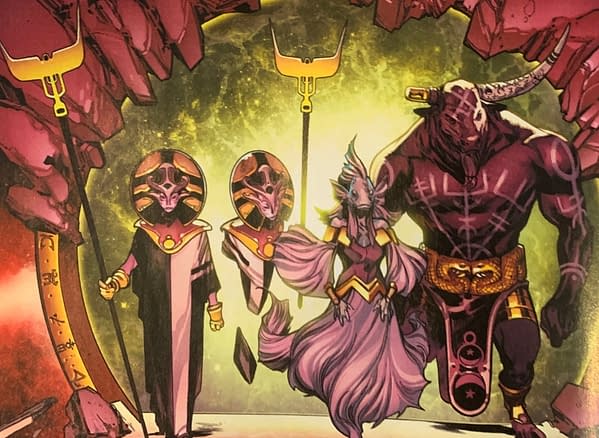 Animalistic, resembling Egyptian gods and Greek myth. Conjuring their own sigils which resemble Jonathan Hickman's Builder Code rather than the Krakoan language.
Though using Norse runes to summon that Lovecraftian incursion. Translated, that reads EMAGICAL GIBBERISHG. So that's that.
This time we have ESOLAR GIBBERISHG in Norse… but the creature is speaking ith Skrull letters that don't match up with anything close to English.
The minotaur is called Quo, he speaks more Magical Gibberish but their destination is Saturnyne, so I hope you've all been reading your Excalibur. If not, that may be the House of X title that you may need to most catch up on, as well as the main X-Men book.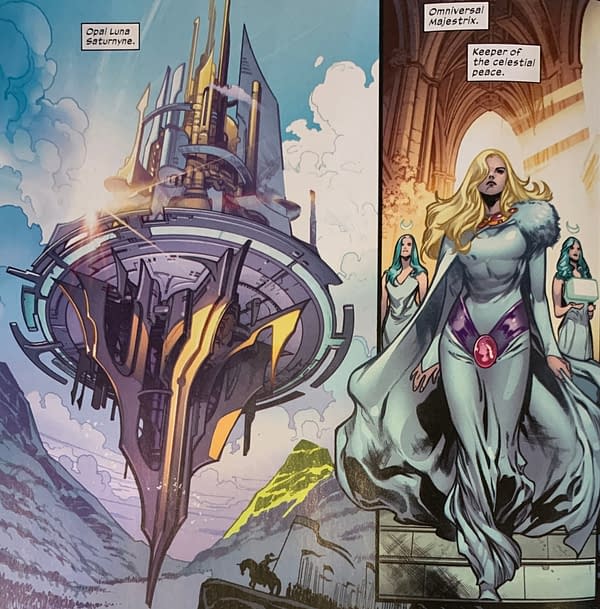 Because here is where it is all kicking off. When Captain Britain was rebooted by Dave Thorpe, Alan Davis and Alan Moore, Braddock met a parallel version of his girlfriend Courtney Ross, the Omniversal Majestrix-ruling Saturnyne, and an evil usurper and another parallel dimensional duplicate, Sat-Yr-9, who had quite the obsession with Kitty Pryde.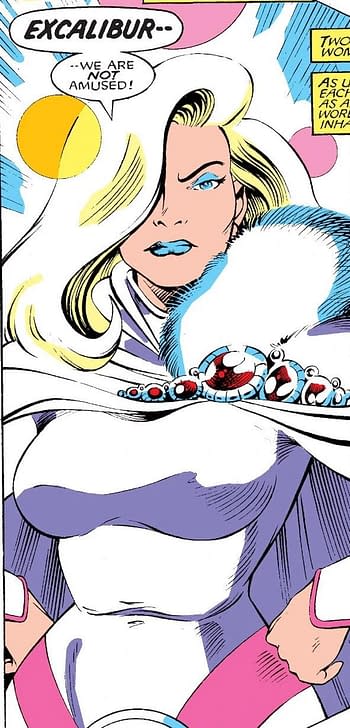 Excalibur #9 saw her return to the Starlight Citadel and the Omniverse. With Apocalypse and the rest of the team forming against her. With Apocalypse recalling his original Four Horseman and their role in dividing the island that one half of which would become the sentient island Krakoa, home to the mutant nation.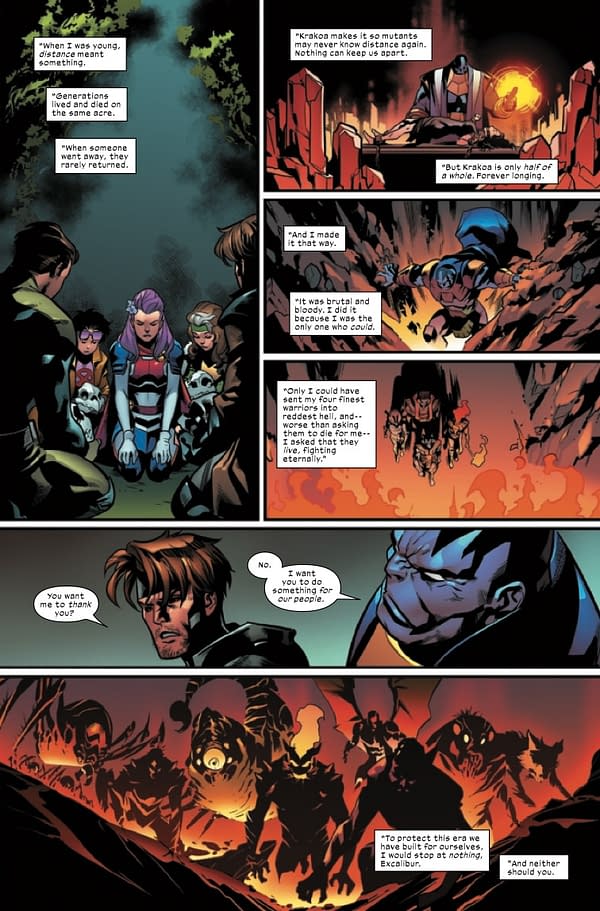 Those we had a better look at in Marvel Comics #1000. Remember that?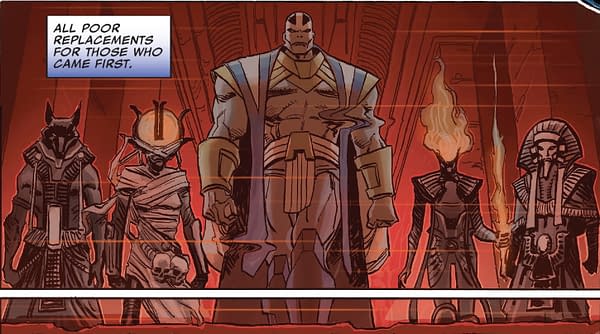 So Saturyne draws the tarot. Her predecessors Merlin and Roma preferred to play chess. She deals the cards.
So we view what is to come. Apocalypse staring into the abyss… is that Black Swan? No, but that appears to be a character related to a Gardener or a Builder from Jonathan Hickman's Avengers run. UPDATE: No, it's High Summoner from the Arrako island, where they live with the monsters, the second half of Krakoa, before they got jiggy together again. Another character that incorporates Hickman's preference for stark white/black character designs. With Kirby Krackle to boot. Judgement mean just that but also a rebirth or a second coming. Which is what Apocalypse now has.
With the original four Horsemen of Apocalypse in full battle. How are they related to the creatures we saw at the beginning of the issue? The Four Of Wands should be all about joy and satisfaction after achieving an important goal. Home comforts – very little of which are on display here.
But we have a new Apocalypse team made up of Horsemen, X-Men , New Mutants and more. Especially those who have experienced or embraced the dark side and who have, at one time in their lives, been the bad guys. Here they are the Hanged Man, which symbolises self-sacrifice more than it does, punishment.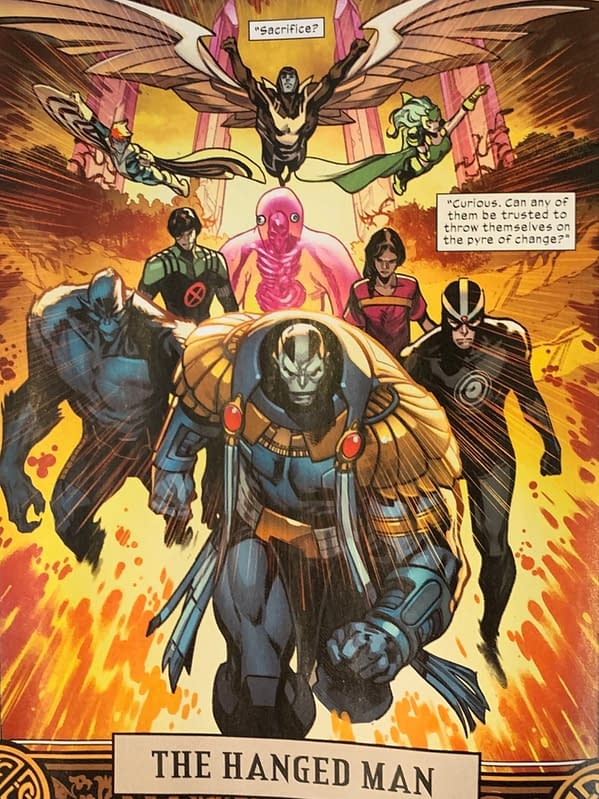 The half mask looks a little Ex Nihilo… is that Rahne watching on? The Eight Of Cups is about a break with the past, falling in love with something and out of love with something else, a progressive move to the future. A shaking off of the past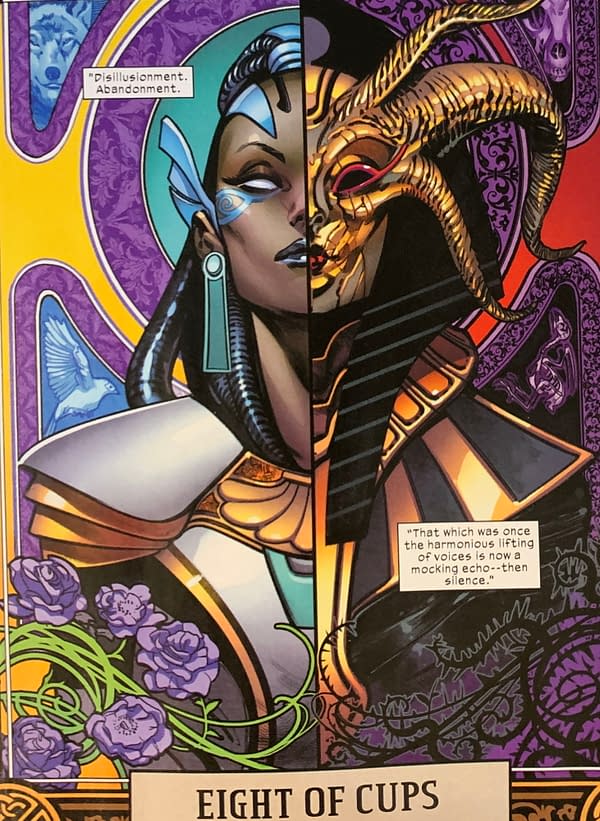 And finally, the official pronunciation for the upcoming X Of Swords event.
The Ten of Swords card, which represents an end to the nightmare, the exhaustion, the finality of it all being over. And a Sunset Of X perhaps? Weapons raised…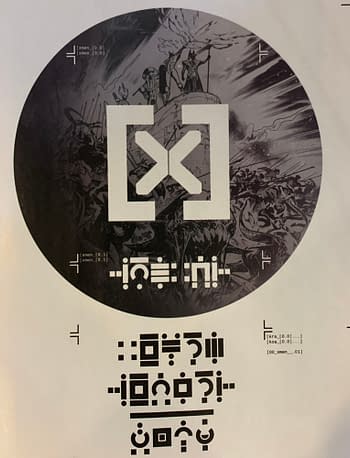 X Of Swords coming in July. Well, this Free Comic Book Day edition was printed way back in February.