While fans the world over are highly torn over the series finale of HBO's Game of Thrones, many eyes are turning to the next project for co-creators David Benioff and Dan Weiss– a film in a galaxy far, far away.
As confirmed by Bob Iger, the next Star Wars film following Star Wars: Episode IX The Rise of Skywalker will be whatever title Benioff and Weiss are working on. This was met with some mild outrage (that's putting it gently, really) after the season 8 show-ending finale of Game of Thrones, and fans are taking their opinions to Change.org to again launch a petition that will more than likely not amount to a damn thing.
There was of course THIS petition to "rewrite season 8 with competent writers" that has over a million and a half signatures, but now there's two regarding Benioff and Weiss's Star Wars involvement calling for them to be removed and replaced.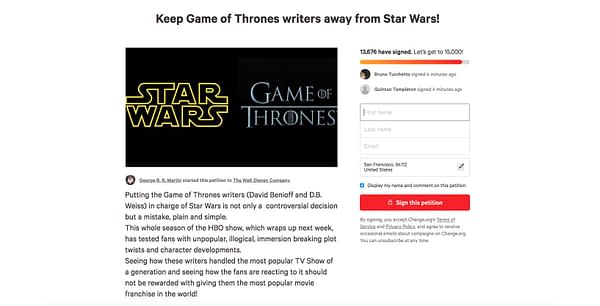 This particular petition's description reads:
Putting the Game of Thrones writers (David Benioff and D.B. Weiss) in charge of Star Wars is not only a  controversial decision but a mistake, plain and simple.
This whole season of the HBO show, which wraps up next week, has tested fans with unpopular, illogical, immersion breaking plot twists and character developments.
Seeing how these writers handled the most popular TV Show of a generation and seeing how the fans are reacting to it should not be rewarded with giving them the most popular movie franchise in the world!

It is in the company's best interest to remove David Benioff and D.B. Weiss as writers on their upcoming film. The writers have a crutch for plot devices and rushed stories, with emphasis on "shock and awe" storytelling and eager to leave projects half-finished when they have other projects on the horizon.
Their respect of lore alone does not make them fit for this project

The latest episode of Game of Thrones got positive reviews from a record-low 46% of critics, according to aggregator Rotten Tomatoes. In fact, every episode this season has received worse reviews than the one before it.
This will happen with every installment of Star Wars that they touch!
Save the franchise from completely being ruined, please!

I've seen a petition called "Remake Game of Thrones Season 8 with competent writers." going viral on the internet but you should know that's not a possibility!
What is a possibility is stopping a great franchise from being buried by those same writers who caused the first petition to go viral.

There are plenty of talented writers and producers loyal to the franchise that would make much better work in the Star Wars Universe.
There is a second one, with fewer signatures:
Disney just announced that Game of Thrones showrunners, David Benioff and D. B. Weiss will write and produce the next Star Wars film.

The final season of Game of Thrones has had terrible writing. It has been sloppy, rushed, nonsensical and several important character arcs have been ruined. They have shut out women and PoC from the writers' room and the result is a misogynistic, racist, disappointing mess. It is clear that they do not know how to write women, characters of color, or bring together complicated storylines in a satisfying way.

The Star Wars universe is beloved, vast, and complicated. If Benioff and Weiss are so careless and clueless with the stories in GoT, who knows how they will ruin Star Wars. Star Wars fans deserve more than to have the series they love handled by these two men who have disappointed so many fans already with their bad storytelling.
Needless to say, we wish you fake petition starters would use your efforts for more important things. Like constructing the Death Star for real.
Enjoyed this article? Share it!