Batman, Wonder Woman, Paddington and Bugs Bunny Join New Statues in London's Leicester Square
'Scenes in the Square' is a new installation at London's Leicester Square next month that will include eight dynamic statues – which means they will be integrated into the existing landscape of the Square, rather than actually move or anything. Regarded as the home of cinema in Britain, Leicester Square has had a statue of Charlie Chaplin for many years. From February 27th, he will be joined by statues of Laurel and Hardy, Bugs Bunny, Gene Kelly, Mary Poppins, Batman, Mr Bean, Paddington and Wonder Woman, sculpted by David Field.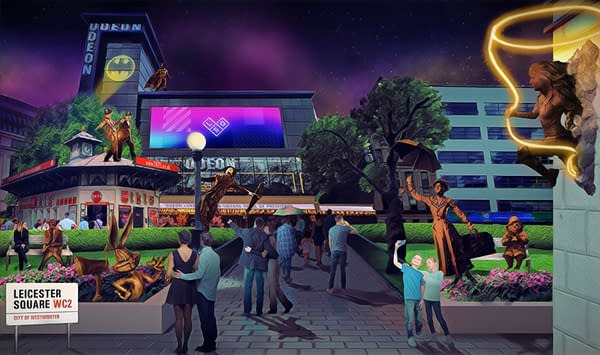 Representing the 1920s to 1940s will be legendary comedy duo Laurel and Hardy who starred in over 100 films together, including Liberty (1929) which is the inspiration for the daring stunt that will see their statues playfully teetering on the roof of the Leicester Square Half-Price Theatre Tickets Booth.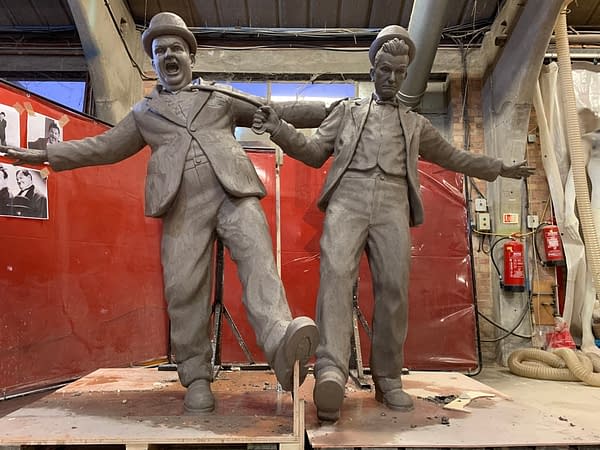 Celebrating his eightieth birthday, as a statue of Looney Tunes' Bugs Bunny, the animated character to have appeared in the most films in history since his first official appearance in 1940's A Wild Hare, will grace a nearby flower bed.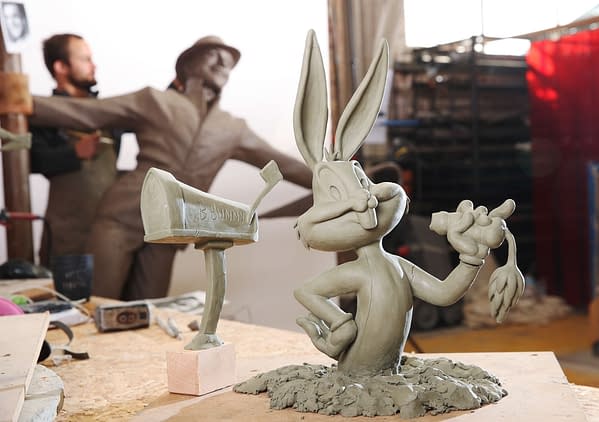 Representing the 1950s will be the joyful and iconic figure of Gene Kelly on a lamppost from the dance sequence he directed and choreographed for Singin' in the Rain'(1952). The film is regarded as one of the greatest movie musicals of all time.
A statue of Mary Poppins will appear to land gracefully in Leicester Square gardens, the 1964 film still relevant today with Disney and Cameron Mackintosh's West End musical now playing at the Prince Edward Theatre.
Batman will be keeping watch over London from the top of the Leicester Square Odeon, the statue celebrates Batman's onscreen presence in every decade since the 1980s.
Mr. Bean, who bumbled his way to box office success in his first big-screen outing Bean in 1997, after first appearing on our television screens 30 years ago in 1990, with the versatile comic performer Rowan Atkinson playing the hapless hero.  Only 14 episodes of the original live-action TV series were made, followed by a further two feature films and three animated series. Mr Bean is now the biggest TV brand on Facebook globally, with 89 million fans. Visitors will be able to share a bench in Leicester Square gardens with Rowan Atkinson's globally popular creation.
Representing the 2010s will be the British icon Paddington, whose cinematic outings Paddington and Paddington 2 premiered in Leicester Square in 2014 and 2017 respectively. Visitors to Leicester Square gardens will be able to sit on a bench and have lunch beside this marmalade-loving star of the two BAFTA-nominated films.
Representing the 2020s and the future of cinema, will be Wonder Woman who stands for justice, peace and equality. Bursting dynamically through a wall, the figure celebrates the 2020 release of Wonder Woman 1984, starring Gal Gadot.
Some of the statues will be illuminated at night, whilst the 'film trail' between them will be enhanced with interactive content including maps, video and music.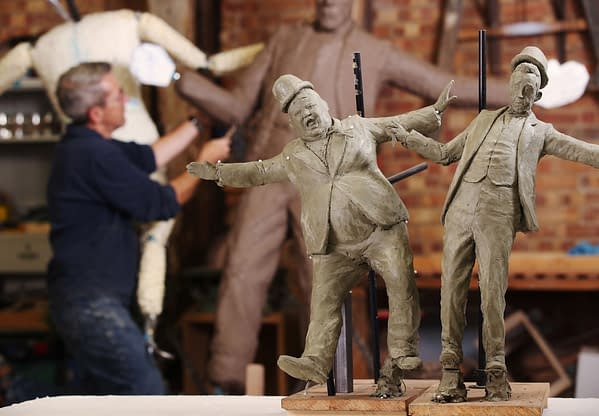 ---
---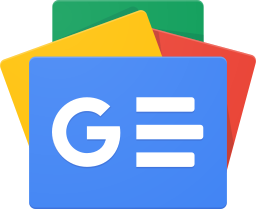 Stay up-to-date and support the site by following Bleeding Cool on Google News today!