"Joker": Todd Phillips, Scott Silver Make Script Available Online
Joker became one of the biggest hits of 2019. An expected success, the film surpassed projections on a grand scale breaking the record for highest-grossing R-rated film. Joaquin Phoenix stars as Arthur Fleck, a mentally-disturbed performer with dreams of a career as a stand-up comic. Director Todd Phillips and co-writer Scott Silver made the subversive script available online.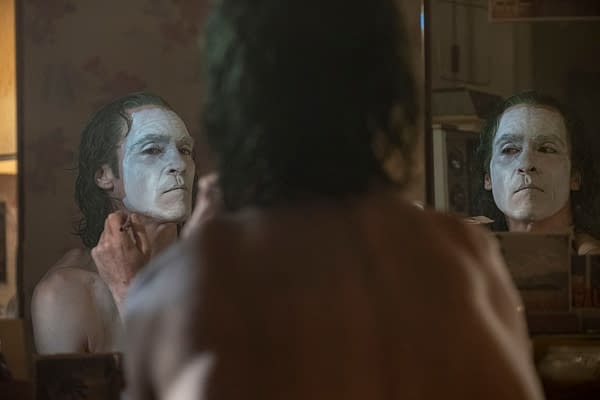 Trying to live a normal life in a morally-bankrupt Gotham City, Fleck starts to break from a series of events that make his fragile existence even worse. Enduring indignity after indignity, Flecks is assaulted, quality of psychological care plummets, and becomes a laughing stock for the wrong reasons on local television.
Joker Inspirations
While Fleck's exploits garner him media attention, a transformation taking place shaped by delusions and rejection. Phillips unapologetically drew inspiration from Martin Scorsese's films Taxi Driver (1976) and The King of Comedy (1982). Both starred Robert De Niro, who played Travis Bickle and Rupert Pupkin, respectively. Phillips cast De Niro as talk show host Murray Franklin, the object of Fleck's idolization a la The King of Comedy. Scorsese was originally attached to co-produce.
Phillips spoke with Deadline Hollywood about making the film.
"We purposely set out to leave some things vague and unanswered. That was a clear intent from the beginning. I think a lot of different things about the film have really connected with people and one of the things I've noticed has really caught on is the idea of what Arthur writes in his notebook: 'The worst part of a mental illness is that people expect you to behave as if you don't.' That really resonated with a lot of people who do suffer from mental illness and saw a little bit of themselves in the movie, or in Arthur, or in his experiences in different ways. I've had so many people write me emails or posts on my Instagram saying, 'That line is exactly what it feels like…' ""
Phillips contrasts the differences between a physical health issue and a mental one.
"If you have a broken leg people hold the door open for you and you clearly have an ailment, but when you have a mental illness it's a hidden thing so even when people know you have it they just expect you to behave as if you don't. They don't see it on you and often they don't see you at all."
Joker will be available on home release on January 7.