It sounds like if you want first dibs at the latest Star Wars movie you're going to have to head to France. Acccording to The Hollywood Reporter Solo: A Star Wars Story is set to premiere at the Cannes Film Festival on May 15th ten days before its debut in North America.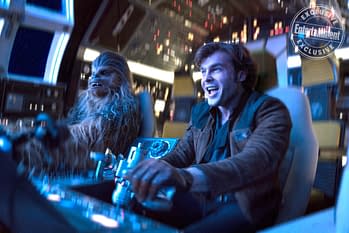 It's becoming more and more common to premiere big movies at film festivals. Just last month Warner Bros premiered Ready Player One at South by Southwest. Film Festivals can't survive on the pretentious crowd alone so these bigger names draw in more mainstream audiences. Those audiences are already there so perhaps they'll end up seeing an indie they wouldn't have sought out otherwise.
"Star Wars has had a presence at Cannes in the past. Both 2002's Attack of the Clones and 2005's Revenge of the Sith played out of competition at the festival. The previous three Star Wars films — 2015's The Force Awakens, 2016's Rogue One and 2017's The Last Jedi — have had their world premieres in Los Angeles. Howard brought his Da Vinci Code to the fest in 2006.
What does this mean for the spoiler crowd? We'll have to see but fans who want to go in without knowing anything should probably start avoiding social media after the 15th.
Summary: During an adventure into a dark criminal underworld, Han Solo meets his future copilot Chewbacca and encounters Lando Calrissian years before joining the Rebellion.
Solo: A Star Wars Story, directed by Ron Howard, stars Alden Ehrenreich, Emilia Clarke, Donald Glover, Woody Harrelson, and Thandie Newton. It will be released May 25th.
Enjoyed this article? Share it!