Spare Parts Star Julian Richings: Living in the Mad Max-Inspired World
Character actor Julian Richings is a man of all seasons, always ready to answer the call on film or television, whether if it's a tentpole franchise with DC, Marvel, a long-running series like the CW's Supernatural, or an indie film like RLJE Films' Spare Parts. With work spanning five decades, Richings isn't slowing down any time soon. I spoke to the star about his latest film, director Andrew Thomas Hunt, and filming at a freezing junkyard during the Canadian winter. The film follows an all-girl punk band who are kidnapped, maimed, and forced into gladiatorial combat with their replaced limbs to the joy of a sadist and his followers.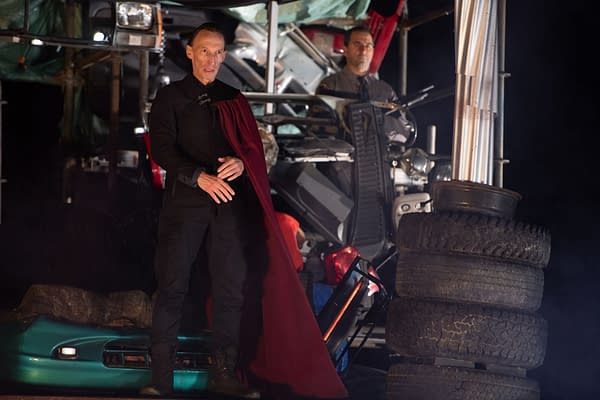 When Richings was approached, it wasn't a hard sell. "I'm a fan of the kind of post-apocalyptic sort of junkyard take-no-prisoners form of a movie," he said. "I must have been a fan of Mad Max as an early inspiration to me. This has that kind of dimension and that baroque quality. It looked like a lot of fun. I also know the director sort of through different means, and I'm always interested in his work." The Chaos Walking star plays The Emperor, who oversees the chaos.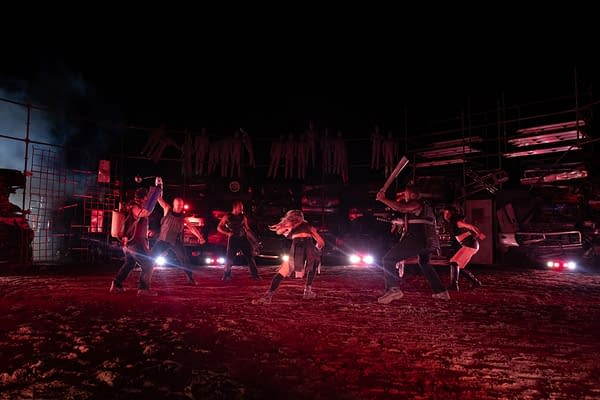 "There's a lot of physical choreography with the band doing a live gig, fights, and then a gladiator arena in a junkyard," Richings said. "There's a lot of technical issues, but we have an incredible production designer Vince Moskowec, who I actually worked with on other shows. He is able to create these worlds with actually very limited resources. We filmed on location where we didn't need to fabricate the place. We actually filmed in a junkyard, and Vince created this incredible arena with the shelves of broken-up cars."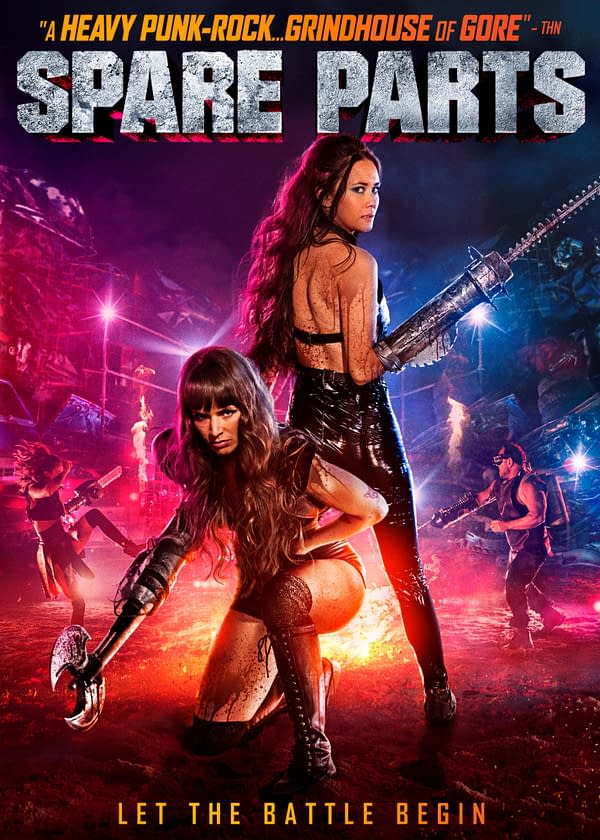 The Doom Patrol actor mentioned despite the resourcefulness of production; there were still the elements to battle. "It was a wonderful environment," Richings said. "The thing that we all fought with was that we filmed it in Canada, in northern Ontario in November. It was cold, but I was fortunate. I played the Emperor, so I was at least able to have a cloak, a bigger gun, and some power garments. The female leads that played the band members had undergone the customization of axes; chainsaws and stuff were absolutely freezing. It was actually a very smooth shoot. It was very well orchestrated, but I guess the biggest thing we'll all take away was the cold in November at the junkyard."
While Richings is open to almost anything, he realizes the demand for the way he looks fits in Hollywood. "I am an actor," he said. "I love performing different roles. I also like comedy too, believe it or not. You would never believe that with watching Spare Parts or Anything for Jackson. That's my job as an actor. I don't categorize myself. The reality is I look a certain way. I perform a certain way, and so I'm inevitably going to get cast as a particular type. That tends to be an outsider, an outlier, an alien that creepy, [and] vindictive guys. So the role that I have in Spare Parts is not a surprise to me, but I really enjoy the genre. I enjoy putting myself into that world, and I'm totally happy to do that kind of stuff. It's less about the category of movies that I do. It's more about the ability to bring in a primary color into a new project. That's what I enjoy most is the ability to go, 'Okay, so I've got a small part in this, but it's a very specific thing that's important in this scene and that scene, and I'm going to do that in other scenes' where I have a large arc, and I like the challenge of the variety."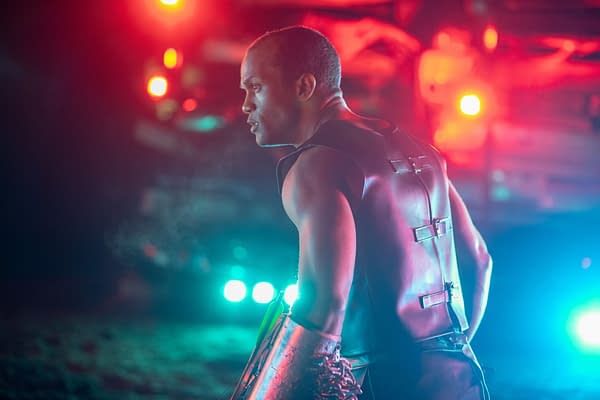 To say Richings had fun as the Emperor would be an understatement especially working with the likes of Hunt and another familiar face he ran into on the set of Spare Parts. "Andrew is very shrewd," he said. "He hasn't directed a lot of films, but he's produced and been around the film for a long time. He knows all the different stages, so he knows how to be pragmatic in shooting. So there was crispness and efficiency in what we did that was really good. We didn't waste time. He knew what he wanted, how to shoot from one scene to another, and how it's going to cut together. A lot of directors waste a lot of time sort of trying to figure things out on the fly. Not with Andrew. He had it all figured out. So that is the kind of set he ran, and it was great. I know Ryan Allen, who played Driller, the leader of the gladiators and trainer. I had actually taught him at a performing arts school a while ago. So we had good chemistry and a good rapport. You never see that because in the shooting of the film, we never really got to work together too much. So it was just good positive energy."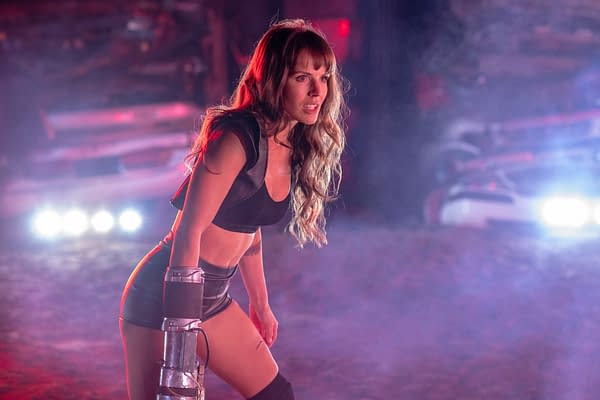 Spare Parts, which is written by David Murdoch and Svet Rouskov, also stars Michelle Argyris, Emily Alatalo, Kiriana Stanton, Chelsea Muirhead, and Jason Rouse. The film is available on VOD, Digital, DVD, and Blu-ray.