Why the [SPOILER] Refused to Come Out in Avengers: Infinity War
Still airing on the side of caution when it comes to spoilers and Avengers: Infinity War. If you still haven't seen the movie consider this your warning.
One of the interesting bits to come out of Avengers: Infinity WarM was what they ended up doing with the Hulk. During the first scene of the movie the Hulk fights Thanos and loses. The only reason he survives at all is that Heimdall sends him to Earth. Once he arrives on Earth he reverts back to being human and Bruce is unable to make him come out. Fans have been speculating why the Hulk refused to come out but according to co-director Joe Russo during the audio commentary (via CBR) the Hulk wasn't afraid but instead felt taken advantage of.
"This is an interesting journey that we went on with Banner, trying to decide how to move him forward in the Marvel Universe," Russo said in the commentary over the early New York City street scene in which the Hulk refuses to emerge to fight Cull Obsidian of the Black Order. "What makes him unique as a character is that there's a host body being fought over by two distinct personalities who hate each other, and who both want control of the host body. And so we thought an interesting direction to take him in is, what if Banner, who typically uses the Hulk to solve crisis situations, what if the Hulk were no longer interested in solving those problems for Banner?"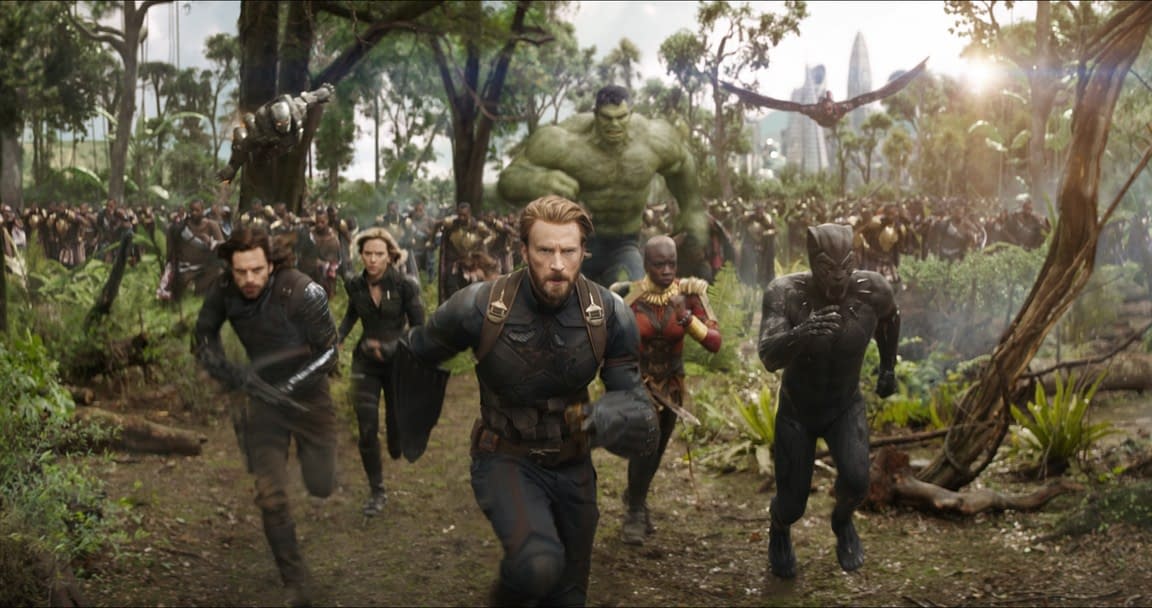 In Thor: Ragnarok we learned a bit more about the relationship that Hulk and Bruce have with the idea that Bruce might not be able to come back if he turned into the Hulk at the end of the movie. Now it looks like it's the other way around where we won't see the Hulk until him and Bruce have a heart to heart.
Summary: As the Avengers and their allies have continued to protect the world from threats too large for any one hero to handle, a new danger has emerged from the cosmic shadows: Thanos. A despot of intergalactic infamy, his goal is to collect all six Infinity Stones, artifacts of unimaginable power, and use them to inflict his twisted will on all of reality. Everything the Avengers have fought for has led up to this moment – the fate of Earth and existence itself has never been more uncertain.
Avengers: Infinity War, directed by Anthony and Joe Russo, stars Robert Downey Jr., Josh Brolin, Mark Ruffalo, Tom Hiddleston, Chris Evans, Chris Hemsworth, Jeremy Renner, Chris Pratt, Elizabeth Olsen, Sebastian Stan, Benedict Cumberbatch, Paul Bettany, Chadwick Boseman, Benedict Wong, Zoe Saldana, Karen Gillan, Vin Diesel, Dave Bautista, Pom Klementieff, Scarlett Johansson, Don Cheadle, Tom Holland, Bradley Cooper, Sean Gunn, and Anthony Mackie. It's out now on digital and out on DVD and Blu-ray on August 14th.