Terry Goodkind Apologizes to Artist After Trashing Cover to Own Book
Author Terry Goodkind found himself in a self-inflicted controversy of the bad kind on Saturday after making several Facebook posts mocking and denigrating the cover to his own book, Shroud of Eternity.
"SHROUD OF ETERNITY is a great book with a very bad cover," Goodkind wrote on Facebook Friday. "Laughably bad. So let's have some fun with it." Goodkind encouraged fans to mock the cover in a contest, in which ten random entries would be chosen to receive a free copy of the book.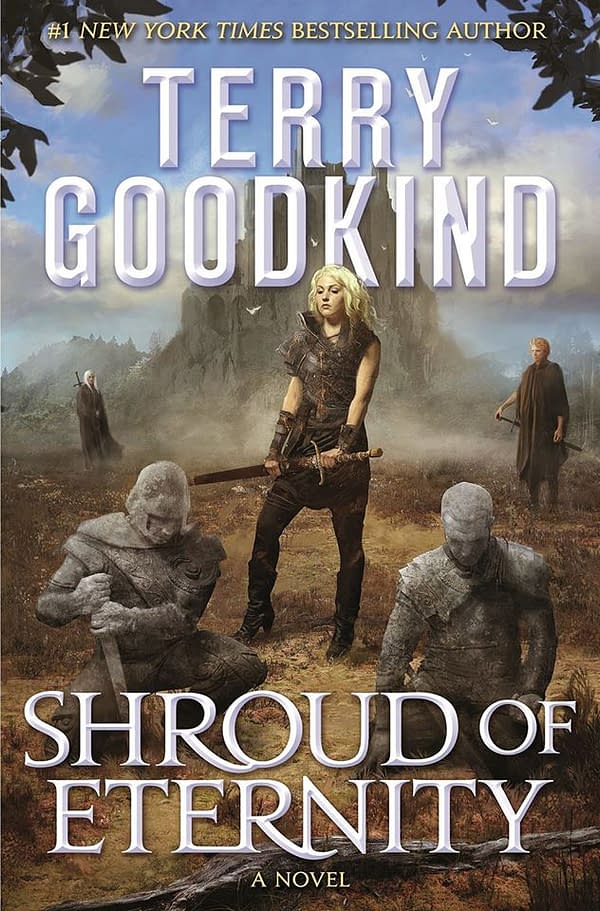 While many fans played along, there were also a great deal of negative comments, accusing Goodkind of shaming and bullying the artist. Some comments pointed out that the artist has little input in the content of the cover, instead creating what the publisher's art director asks for. Some readers pledged never to buy another book by Goodkind again.
The furor also spread like wildfire on Twitter, where the artist was named as Bastien Lecouffe-Deharme (the artist is not credited on the publisher's website for the book or on Goodkind's Facebook page, though we couldn't tell you whether this is standard practice in the book publishing industry). Lecouffe-Deharme is a successful and well-regarded artist whose work you might be familiar with from Magic the Gathering. Here's a few of the most widely-shared tweets:
https://twitter.com/CrysCurtisArt/status/967541242581184512
Eventually, Lecouffe-Deharme responded to Goodkind's original post, writing on Saturday, "It was nice working with you Terry. What you are doing is totally disrespectful. As if I didn't create those covers accorded to exactly what I was told to do. In my entire career I have never seen an author behaving like that."
He also thanked commenters for their support, adding, "What a weird surprise to discover this type of behavior on Facebook today. What would push an author to do something like that? Low sales? Frustration?"
On Twitter, he noted:
All of this backlash prompted Goodkind to make another post Saturday night, apologizing.
"I'm reading some of the comments being shared and I want to clarify a few things," Goodkind wrote. "The contest and poll below, is poking fun at my own book. The artist is obviously an exceptionally talented creative. The problem is with the publisher. I created the poll as a way to poke fun at the cover art, because it is a poor representation of characters within the book. Characters I am deeply passionate about. It's impossible not to be emotional about such things, when I've spent the last 30 years of my life devoted to their every nuance."
"In no way do I feel the quality of the art is rendered poorly," he continued. "For any misunderstanding, I apologize to the artist, his friends, and of course my own community here."
Goodkind went on to explain that his publisher, Tor Books, commissioned the artwork, sent it to Goodkind at the last minute, and overruled Goodkind's complaints and those of his team. Goodkind said the purpose of the contest was not to insult the artist, but rather to encourage his publisher to be more thoughtful about cover art in the future. He also noted that he would leave the contest up and give away the books as planned.