1923 Season 1 Episode 5 "Ghost of Zebrina" Images: Prelude To War
With Taylor Sheridan's Harrison Ford & Helen Mirren-starring 1923 set to return this weekend, here's a preview for S01E05 "Ghost of Zebrina."
---
This weekend brings the return of Taylor Sheridan's Harrison Ford & Helen Mirren-starring 1923, so what better day than today and what better time than now to share with you some preview images from the streaming series' midseason return? With Jacob (Ford) still in the land of the living, Cara (Mirren) is in full-on, calculated-planning/revenge mode as Spencer (Brandon Sklenar) begins making his way home to take on a very different kind of war. We have a feeling that Banner (Jerome Flynn) and Whitfield (Timothy Dalton) are going to wish they finished the job the first time. But before we take a look at S01E05 "Ghost of Zebrina"…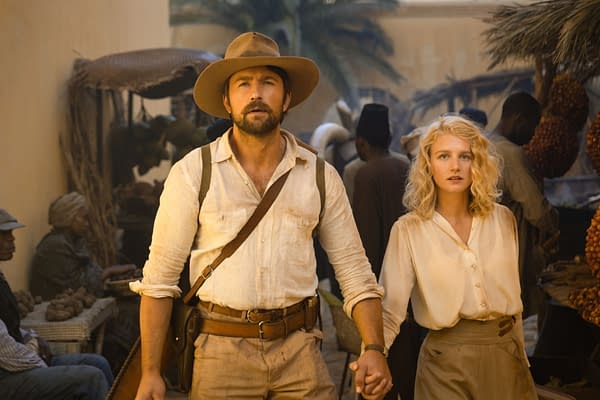 Here's a look back at the clip from Ford's interview with TODAY Show host Savannah Guthrie, which included the (potentially) big reveal that Ford will be back for the second season. Well, it would be easy to assume that means Jacob survives whatever else the season has to offer. But then again, as we saw with Ryan Phillippe when he was promoting his run on ABC's Big Sky only to be killed in the first episode, there's always the possibility that it could be a swerve. We'll let you be the judge…
Here's a Look at 1923 Season 1 Episode 5 "Ghost of Zebrina"
1923 Season 1 Episode 5 "Ghost of Zebrina": Spencer (Sklenat) and Alexandra (Julia Schlaepfer) begin their long journey back to Montana. Banner (Flynn) and Whitfield (Dalton) plot their next move to control the valley. Teonna (Aminah Nieves) goes to great lengths to secure her freedom and safety. Written by Sheridan, here's a look at the official preview images released for this weekend's return episode:
Here's a look back at the midseason trailer for Paramount+'s "Yellowstone" prequel series, 1923 (followed by a featurette focusing on what the cast & creative team had to say about how the prequel series plays into the overarching "Yellowstone" storyline):
The cast of Paramount+'s 1923 also includes Brandon Sklenar (The Offer), Darren Mann (Animal Kingdom), Michelle Randolph (A Snow White Christmas), James Badge Dale (Hightown), Marley Shelton (Scream), Brian Geraghty (Big Sky), Aminah Nieves (Blueberry), Julia Schlaepfer (The Politician), Jerome Flynn (Game of Thrones), Peter Stormare (Fargo, The Big Lebowski, American Gods), Tim Dekay (Oppenheimer, White Collar), and Amelia Rico (Dark Winds, Yellowstone). Produced by MTV Entertainment Studios, 101 Studios, and Bosque Ranch Productions, 1923 is executive produced by Sheridan, John Linson, Art Linson, David C. Glasser, Ron Burkle, David Hutkin, Bob Yari, and Ben Richardson.
Paramount+'s 1923, the next installment of the Dutton family origin story, introduces a new generation of Duttons, led by patriarch Jacob (Ford) and matriarch Cara (Mirren). The series explores the early 20th century when pandemics, historic drought, the end of Prohibition, and the Great Depression all plagued the mountain west and the Duttons who call it home.