1923 Star Harrison Ford Not Exactly Your Best Source For Season 2 News
1923 star Harrison Ford on joining Taylor Sheridan's "Yellowstone" prequel & if he spoke with Kevin Costner. But don't ask him about Season 2.
---
Headin into this weekend's next episode of Taylor Sheridan's Harrison Ford & Helen Mirren-starring 1923, Spencer (Brandon Sklenar) receives his mother's (Mirren) letter to return home to fight in a very different, very personal war. Unfortunately, we're left with the feeling that Spencer's next journey may have ended before it's begun. While we await word on preview images and an overview of the sixth episode, we had a chance to check in with Ford to see what he had to share with The Hollywood Reporter regarding the "Yellowstone" prequel series. Specifically, Ford addresses what attracted him to the role after meeting with Sheridan, if he knows how the second season will differ from the opening season, and if he ever spoke with Yellowstone star (at least, for now?) Kevin Costner regarding joining Sheridan's universe.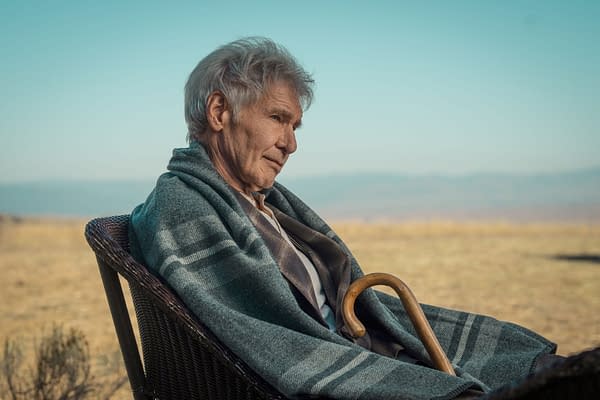 "When Taylor and I first met face-to-face, there was no script because he didn't want to write a script for people that are going to turn him down. But there are things in the scripts that I never would've anticipated that are emotionally consistent with things that have happened in my life. So when I was reading it, I was thinking, 'What the fuck?'" Ford shared as he explained what it was about Jacob Dutton's story that he connected with. "They're little things. I'm not going to tell you what they are. But he talks about turning a natural place into a city and the consequences to nature and for people that live there. He talks about it with real understanding and real complexity. I'm struck by how consistent it is with what I think — or what I might have thought were I a rancher with the same personality in '1923.'"
Now that it looks like Ford will be back for the second season (see below), he must know what Sheridan has planned… right? "I haven't got a fucking clue," was Ford's not-exactly-vague response. And when it came to speaking with Costner, Ford made it clear that his work with Sheridan and in 1923 are based on his direct dealings & interactions with Sheridan. So there was no need to speak with Costner or anyone else. "I wanted my own singular relationship with Taylor to rule my behavior and my thoughts. I didn't want to dirty up the road with somebody else's," Ford explained. "I have no idea how they get along. I would assume they get along great because Kevin does a great job."
Here's a look back at the clip from Ford's interview with TODAY Show host Savannah Guthrie, which included the (potentially) big reveal that Ford will be back for the second season. Well, it would be easy to assume that means Jacob survives whatever else the season has to offer. But then again, as we saw with Ryan Phillippe when he was promoting his run on ABC's Big Sky only to be killed in the first episode, there's always the possibility that it could be a swerve. We'll let you be the judge…
The cast of Paramount+'s 1923 also includes Brandon Sklenar (The Offer), Darren Mann (Animal Kingdom), Michelle Randolph (A Snow White Christmas), James Badge Dale (Hightown), Marley Shelton (Scream), Brian Geraghty (Big Sky), Aminah Nieves (Blueberry), Julia Schlaepfer (The Politician), Jerome Flynn (Game of Thrones), Peter Stormare (Fargo, The Big Lebowski, American Gods), Tim Dekay (Oppenheimer, White Collar), and Amelia Rico (Dark Winds, Yellowstone). Produced by MTV Entertainment Studios, 101 Studios, and Bosque Ranch Productions, 1923 is executive produced by Sheridan, John Linson, Art Linson, David C. Glasser, Ron Burkle, David Hutkin, Bob Yari, and Ben Richardson.