Now that we've all made it through the holidays and the networks are starting to fire up regular programming again, there should be more to watch on television. And that is going to be nice with the frigid weather conditions through out most of the United States. I heard them talking about a 'bomb cyclone', a term I'd never heard before. The name comes from the scientific term bombogenesis, which isn't any better, but it means a storm that drops 24 millibars of pressure over 24 hours. In other words, grab some snacks, put some fresh batteries in the remote and hunker down in your snuggy, it's time to stay in and watch TV.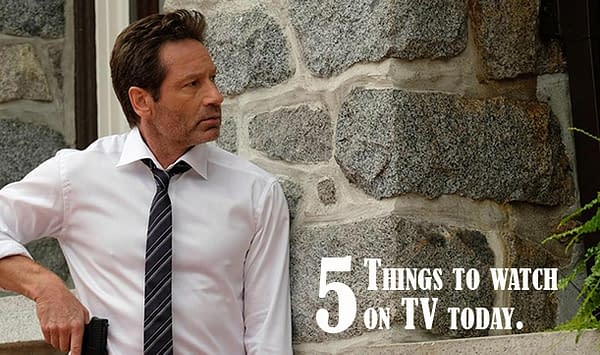 The biggest thing on the plate today has to be the return of the X-Files for it's eleventh season. Fox Mulder (David Duchovny) and Dana Scully (Gillian Anderson) are back for one more round of the sci-fi /supernatural thriller that has practically defined a genre. And this one seems extra personal as the Agents find out that the fate of the world may rest on them finding their long lost son. Anderson has come out recently and said that this will be her last go round as Scully, so there is a finality about this season. This starts at 8 PM on Fox.
Another return starting tonight is the Amazing Race starting it's thirtieth season. Now I know the show hasn't been on thirty years, so they count seasons very differently than I do. Things kickoff with the competitors making their way to Iceland, where they have to traverse a massive canyon high above the Geitargljufur River. By the way, if you Google 'Geitargljufur' they ask you if you meant 'Jokulsargljufur'. No… I definitely did not. The new Amazing Race airs at 8 PM on CBS.
Meanwhile over on ABC, we get the series premiere of Grown-ish, a spinoff from Black-ish. This new series focuses on Zoey Johnson (Yara Shahidi) as she begins her freshman year at college; Deon Cole (Angie Tribeca), Chris Parnell (Rick and Morty), Emily Arlook (The Good Place), Trevor Jackson (American Crime) and Francia Raisa (Secret Life of the American Teenager) co-star. Grown-ish airs at 8 PM on ABC.
Also premiering tonight is the new Fox drama 9-1-1. The buzz about it hasn't been great but the cast will still get people to tune in. It's from executive producer Ryan Murphy and focuses on the first responders, including a police officer (Angela Bassett), a firefighter (Peter Krause) and a 911 dispatcher (Connie Britton); Aisha Hinds (Underground), Kenneth Choi (People v. O.J.) and Oliver Stark (Into the Badlands) co-star. The series airs at 9 PM on Fox.
And if you are looking for something completely different, season 3 of The Match Game kicks off tonight with host Alec Baldwin. Panelists include Claws' Niecy Nash, UnREAL's Constance Zimmer, Kevin (Probably)'s Jason Ritter, Goliath's Mark Duplass, Community's Joel McHale and Sabrina's Caroline Rhea. The Match Game airs at 10 PM on ABC.
Enjoyed this article? Share it!