Into the Badlands returned on Sunday, April 22nd with Enter the Phoenix. This season looks like it'll be bigger, bloodier, and more badass than ever. Contains spoilers.
From the large-scale battle to the return of the now one-handed Nathaniel Moon (Sherman Augustus, rocking a mix of Jaime Lannister stone hand mixed with Buster's claw from Arrested Development), the opening feels a little Game of Thrones-esque. That is not a complaint.
The martial arts are back and as badass as ever, with a spectacular fight between Moon and The Widow as she tries to recruit him as her regent. Her ultimate offer of revenge for Moon upon Sunny (Daniel Wu) perks Moon's interest enough to get him to enter the game, I mean war.
Fun fact: Wu starred in a 2004 action film also titled Enter the Phoenix.
Speaking of Sunny, we catch up to him roaming the woods with his adorable baby Henry in tow. If this entire season is just a father-son road trip I'd be okay with that, but we all know that isn't going to happen.
We see Tilda (Ally Ioannides) leading a group of ninja assassin… thieves, sporting some Bane-esque masks. She drops in on Bajie (Nick Frost), who once again managed to find himself a prisoner.
Back with The Widow, who seems to be holding M.K. (Aramis Knight) prisoner in what can only be assumed to be the nicest prison ever, complete with conjugal visits and drugs! We're still unsure if M.K. has regained his gift, and he doesn't seem keen on bothering to find out one way or another.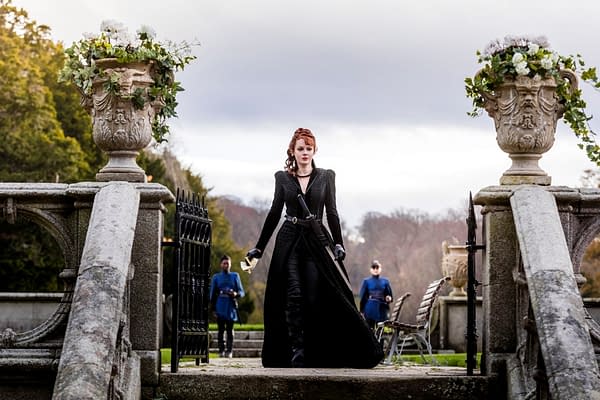 We rejoin Sunny and baby in their makeshift RV home (which looks like it may have been recycled from AMC's Breaking Bad), where it becomes apparent Sunny is spiraling down a dark path. He awakens to Henry's cries — he appears to have spiked a fever in the night, as well as an attack from a few random ne'er do wells. A close-quarters fight ensues complete with lots of blood. I forgot how much this show enjoys blood. Sunny finds out he's got quite the price on his head.
Lydia (Orla Brady) seems to have found her place helping refugees and following in her father's footsteps. Tilda arrives with the caravans she'd attacked earlier, and Bajie in tow. Lydia counsels Tilda she may want to cool it on the revenge plot against her mother, The Widow. Tilda tries to convince Bajie to help her rescue M.K.
In his attempts to heal Henry's fever, Sunny is directed to a nearby refugee camp — we can guess who's in charge of said camp. They head out on the road, and somehow get seen immediately at the camp by the healer. Apparently health care in the Badlands will still somehow get you seen faster than many HMOs?
Bajie and Sunny are reunited when Bajie is caught cheating at a game and is relieved of the compass he took from Sunny. It's not the warmest of reunions to start.
The healer draws a little blood from baby Henry to run some tests, and it looks like M.K. isn't the only young person in Sunny's life with "the gift." Sunny and Bajie argue over the existence of Azra.
We also finally get our first glimpses of season 3 baddies Pilgrim and Cressida (Babou Ceesay and Lorraine Toussaint respectively) and their escort of gifted bodyguards, which ends in a blood-drenched fight.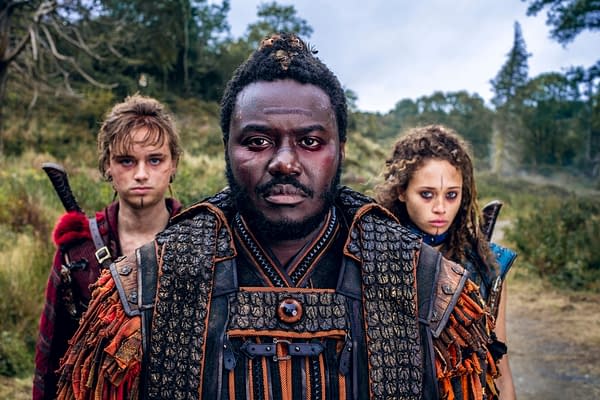 Overall the season premiere did what it needed to do: it caught us up with the players who remain. Like a Phoenix, it seems many of the denizens of the Badlands are rising from the ashes of the previous season. However, it feels like this is the calm before the oncoming storm of Cressida and Pilgrim.
Enjoyed this article? Share it!