'Alpha' Exclusive Clip – Creating a Language
Bleeding Cool is pleased to present this exclusive clip with linguist Christine Schreyer (Game of Thrones Avatar, Superman: "Kryptonian") on creating a unique language for Alpha.
Schreyer, a member of the Language Creation Society served as head linguist on the film, and had to draw from primitive languages historians believed humans would have spoken.
More about the film: Young Keda tries to survive alone in the wilderness after he's left for dead during his first hunt with his Cro-Magnon tribe. He soon forms an unlikely alliance with a lone wolf that was abandoned by its pack. Facing overwhelming odds and nonstop danger, Keda and the wolf must now trek through a harsh and unforgiving landscape to make it home before winter.
Starring Kodi Smit-McPhee, Leonor Varela, Spencer Bogaret, Johannes Haukur Johannesson, Natassia Malthe, and Jens Hulten. Directed by Albert Hughes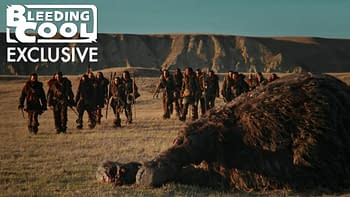 Alpha is available on Digital now, and Blu-Ray/DVD on 11/13