'Big Bang Theory' Creator Chuck Lorre Doubts Sarah Huckabee Sanders Has God on Speed Dial
Let's get a quick definition out of the way, since there may be some of you out there not familar with what a "vanity card" is (perfectly understandable):
Vanity Card: A logo used by movie studios and television production companies to brand what they produce and to determine the production company and the distributor of a television show or film. Production logos are usually seen at the beginning of a theatrical movie or video game (an "opening logo"), or at the end of a television program or TV movie (a "closing logo").
Perfect example is Joss Whedon's vanity cards for his production company Mutant Enemy, with the end credits logo and mascot first appearing on Buffy the Vampire Slayer:
Now, The Big Bang Theory creator Chuck Lorre has pretty much earned his black belt in "vanity carding" (pretty sure that was just made up) over the years. In fact, there's a website where you can find all of Lorre's past vanity cards collected – and YouTube is not lacking in those who give voice to Lorre's words.
While Lorre has covered a pretty broad cross-section of topics over the years, the past two years have seen a good chunk of his attacks aimed at one target in particular: Donald Trump's administration. This past week was no exception, with The Big Bang Theory "The Donation Oscillation" and Young Sheldon "A Math Emergency and Perky Palms" both sharing Lorre's vanity card #612 – clearly taking issue with White House Press Secretary Sarah Huckabee Sanders' interview on Wednesday with CBN News Chief Political Analyst David Brody and Senior Washington Correspondent Jennifer Wishon.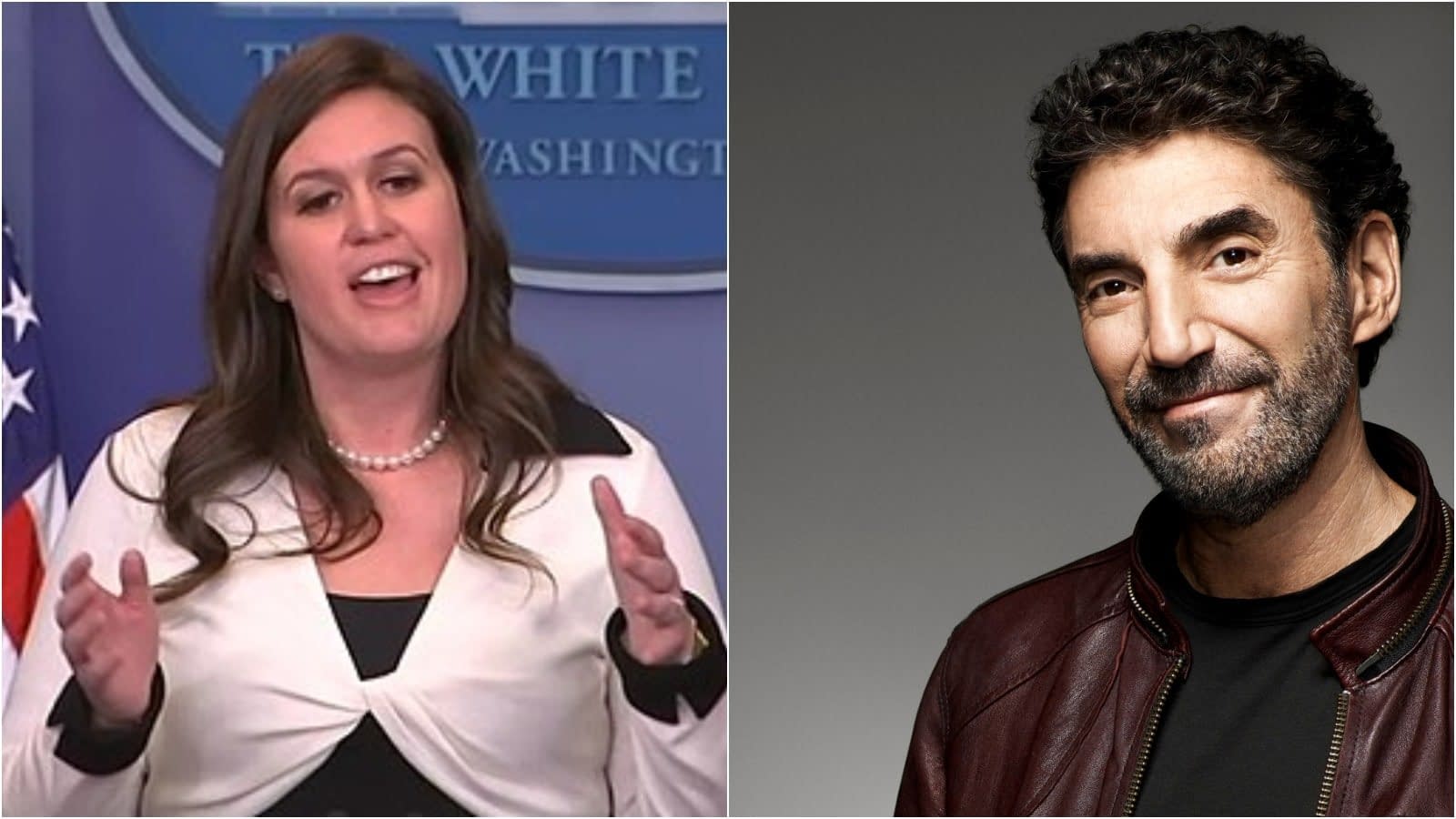 Lorre took particular exception with Sanders' claim that God put Trump in The White House ("I think God calls all of us to fill different roles at different times and I think that He wanted Donald Trump to become president."), so he went right to the source – "The Big Cheese" himself/herself/itself/themselves – for a little clarification: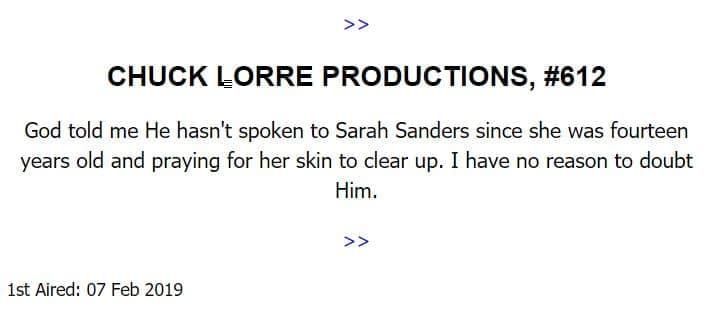 As for how Lorre's words are being seen and interpreted? It's 2019, folks… we'll leave that to where your "political leanings" stand.
Fox News:

Deadline Hollywood:

https://youtu.be/BJccQQ225bg
The Big Bang Theory s12e15 "The Donation Oscillation": Penny tries to seduce an abstaining Leonard to ruin his "donation" for her ex-boyfriend, Zack (Brian Thomas Smith), and his wife, Marissa (Lindsey Kraft). Also, Wolowitz, Bernadette, Anu (Rati Gupta) and Koothrappali turn Koothrappali's canceled bachelor party into a couple's trip aboard the "vomit comet." Keith Carradine returns as Penny's father.
https://youtu.be/C0gnlZHv3gM
Young Sheldon s02e15 "A Math Emergency and Perky Palms": Sheldon and Dr. Sturgis (Wallace Shawn) have their first fight when Dr. Sturgis marks a question wrong on Sheldon's test. Also, Mary takes over for Pastor Jeff (Matt Hobby) when he's out sick.